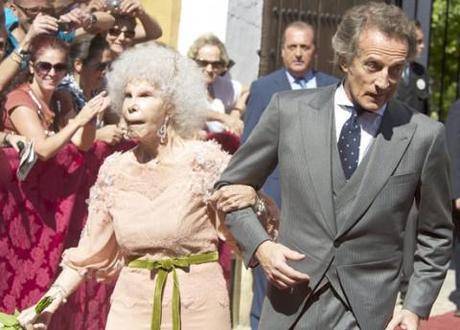 The Duchess of Alba and her husband on their wedding day (Photo http://www.mirror.co.uk/news/top-stories/2011/10/05/duchess-of-alba-85-flamenco-dances-as-she-marries-60-year-old-toy-boy-115875-23469357/)
There's hope for octogenarians yet: a Spanish aristocrat, the 18th Duchess of Alba de Tormes, has, at the tender age of 85, tied the knot with Alfonso Diez, a man without titles, who is a massive 25 years her junior. CBS News reported that she celebrated the event by "kicking off her shoes and dancing flamenco" outside her palace in Seville. The Duchess has appeased her children by giving them enormous chunks of her wealth and estates, and Diez has apparently signed a document renouncing any claim to the wealth of the House of Alba. In a minor scandal, on the eve of her wedding a 30 year old picture of her topless was printed on the cover of the Spanish magazine Interviu.
The white-haired, squeaky-voiced, slightly alien looking Duchess has the most titles of any noble in the world (including Grandee of Spain, 12th Countess-Duchess of Olivares, and, somewhat strangely, the 11th Baroness of Bosworth.) Her titles pack a punch – her godmother is Queen Victoria of Spain.
What do we know about the Duchess?
1. Bit of a mouthful. Her full name is Maria del Rosario Cayetana Alfonsa Victoria Eugenia Francisca Fitz-James Stuart y de Silva, but she prefers to be known as Cayetana.
 2. Starry relatives. She is descended from James II of England, through his illegitimate son the Duke of Berwick, which makes her related to the Queen, Princess Diana and Winston Churchill.
3. But the Queen still rules. Although it is said that the Duchess outranks the Queen of England, this is simply untrue, as a reigning sovereign outranks a mere Duchess. Her Majesty would certainly not have to curtsey if they met - in fact it would be the other way round.
4. There's no place like home. Like St John's College, Cambridge in England, The Daily Express reports that the Duchess can walk from the northenmost tip of Spain to the southernmost without leaving her own lands.
 5. A nice way to go to church. She does not have to kneel before the Pope, a privilege that may have been granted to either the 2nd or the 3rd Duke of Alba, but then, neither does the Queen. She also, should she so wish, has the right to ride on horseback into Seville Cathedral.