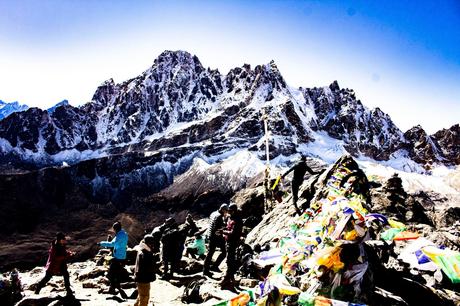 Destination:- Everest base camp
Altitude:- 5600 meter
Difficulty:- Moderate
Starting point:- Kathmandu-Lukla
Duration:- Almost 3 weeks
Tribes:- Mostly Sherpas & Tibetans
Every traveler and the backpacker around the globe have a dream to be at the root of the world's tallest peak Mt. Everest. Being at the point under the top of the world is such a dazzling experience that no-one can feel it except the one who had already been there. Every year, hundreds of backpackers throughout the world visit the Everest region/Khumbu region to be the witness of the heavenly moment. Except for the Everest base camp, this region is also well known for the wide variety of flora & fauna, ethnic group & unique culture, the cute heart of Sherpas with its amazing natural beauty.
You surely want to achieve your bucket listed travel destination with full of joy and memory. Thus, here some of the most relevant tips are given to make your dreamed trip much more successful.
Prepare Physically as well as mentally
Many of you are scared and made to believe that you should be an Athlete to go for the Base Camp trek, it's totally false but you should need to be prepared physically & mentally to walk 5-8 hours per day carrying a light pack, up and down in the hill. You are going to carry some of your personal items like water, snacks, camera, etc although porters will carry the remaining loads for you.
To build your stamina and strength, I suggest you train your body for walking, simply like morning-walk or evening-walk can be the first step of your training. Also, you can join the Gym for the proper exercise. Short hiking at nearer places of your city, on your off days, could help during the trekking. You don't need any professional mountaineering skills for the base camp trek, but the above-suggested activities will surely help you while you are walking on the trail of the Khumbu region.
Proper Bag-Pack & Gears
You can rent the gears on Kathmandu & on Lukla as well, also you can buy your own gears but for the few days trek, it is better to rent it. I recommend you not to trust on the cheap and low-quality product, it may harm you during the trek. Just carry essential and useful gears for you.
Bag packing always remains one of the challenging and essential parts of trekking, it becomes much more difficult while you need to decide what to carry and what to leave. You just need to carry some of your personal items like sun cream, snacks, camera, raincoat (the weather is uncertain and it may rain), Diamox, Personal Toiletries, etc, and don't forget to manage a small space for water.
You can carry an almost three-liter water bottle to be saved from dehydration. In the evening the porter will bring all your gear and load and again you can arrange for the next day trek. I personally suggest you manage all the things that you are going to carry during walking no more than 10 KG.
Be Hydrate
Being Hydrated is the most important thing in trekking. Drinking a Minimum of 3-liter safe water a day makes you hydrate enough for walking. Hydration helps you to acclimate with surrounding and it also somehow helps to prevent you from altitude sickness and AMS. So, you should need to be Hydrated throughout the Trekking in the Himalayas.
Acclimatization
Acclimatization is the most important factor in the trek. To acclimate to the environment you need to climb slowly. Do not be in a hurry to trek, as you move upward the height from sea level increases and the oxygen level will decrease as a result the altitude sickness can attract you. So, to be safe from acute mountain sickness, just climb slowly. As more you walk slowly the chances of altitude sickness decrease. I suggest you rest enough and sleep well to acclimate with the environment and also focus on a balanced & healthy diet.
You can also use Diamox and other drugs to be safe from AMS but if possible, it is better to consult with your regular/personal doctor to use the drugs.In case, if you feel some symptoms of acute mountain sickness like headache, vomiting, difficulties in breathing, etc you should be back to the lower altitude, it is necessary to be at a lower altitude to be safe after contamination of altitude sickness.
Don't Forget to Bring Cash USD & Rupees
In the Everest region, the availability of Banks and ATMs is very low. So, it is better to carry it from Kathmandu by exchanging it. You can also bring USD but the exchange rate in the Everest region is terrible. Prices increase with altitude. You need to pay for your personal comfort activities like the internet, charging phone & Camere. So, make sure you have enough and you don't run out of it on the halfway of the trip. If you are not comfortable carrying a large amount of money, then just carry as much as your comfort.
Final Words
At last, I suggest all of you for the Trekking insurance. I hope, everything will be perfect but in case of an accident or any kind of emergency, it really helps you, especially on such a risky and adventurous trail.
Being environmentally friendly is our responsibility. So, be careful about nature, flora & fauna while achieving your dreamed bucket-list destination. The information about the weather forecast, rain, snowstorm, and any kind of weather changes may affect your planned duration, so try to make a flexible plan so that you can stay a few days more or less. Finally, to make your trekking memorable, don't forget to keep a few things on your mind like acclimatization, hydration, altitude sickness, proper backpack, essential gears, and about the cash.
For more information, Kindly drop your queries, our experienced representative will contact you as soon as possible.