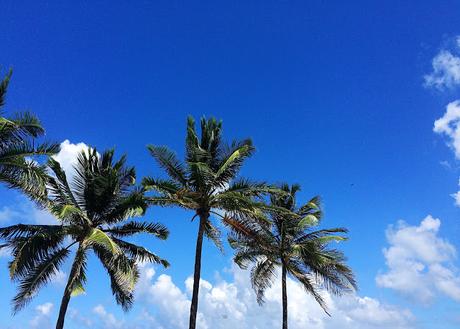 Hey Loves! 
There's no shame in my 30+ game. I mean, it's no secret. I'm far from a spring chicken but just because (to some) I'm one foot in the grave doesn't mean I don't know how to enjoy life. With that being said- I planned a trip with my friend to South Beach, Miami this past July. Initially, I was like "this is AWESOME! We're going to party!". BUT I quickly realized that's not what I wanted to do when I was there. Trust me, I'm always down for a good party night but I actually wanted to see the sights, enjoy the weather and bond with my bestie. The recovery time for a hangover at my age is killer btw. 
So here are 5 things you can do in Miami alone or with your friends. Trust me, it's fun to be a boring adult. Just kidding, I'm far from boring. Check out my list! 
1) EAT: There are a bazillion places to eat when you're in South Beach. Ocean Drive has some of the best eats on the beach. We ventured out a bit and took a stroll down Espanola Way by total accident. It ended up being our "go to" for dinner. We dined at a few of their best spots like Havana 1957 and Pane & Vino. There's so many great places that you can't go wrong.
2) SHOP: Like every beachy town, they have local shops where you can buy a $60 bathing suit with MIAMI written across your boobs. When you get pass the local shops and pick up the keychains you promised your friends, you can trek down Lincoln Road where all the shopping happens. OR you can settle for even closer spots on Collins Avenue where the infamous DASH store is. 
3) BEACH IT: I'm not one to lay in sand and bask in the sun. To be honest, I actually hate it. BUT I didn't want to be a buzz kill because my friend Anita loves the beach. We went a few times but spent most of the time at our hotel's pool which is great alternative. Most hotels will even bring you drinks poolside! 
4)

ART DECO TOUR:

This was an unexpected treat. South Beach is known for their Art Deco which line their palm tree filled streets. The buildings are beautiful. The tour's first stop is the well known Versace Mansion. It's only a couple of hours out of your day and that's with stopping for water breaks. 
5) WYNWOOD:Wynwood, Miami is known for their graffiti art culture. Only 30 minutes from South Beach it was a must see for me. We didn't get to fully experience the greatness that was Wynwood because we got there before most restaurants opened. We did get to take a walk through Wynwood Walls and had a refreshing drink at Mister Block Coffee.  
  __________________________________________
It was such a fun trip. Relaxing and filled with food. Not kidding, I think I spent ALL my money on food. Check out my little Miami Photo Diary! Things I ate, wore and saw!