This is a guest post from James Halliwell of FireSpinJan.co.uk.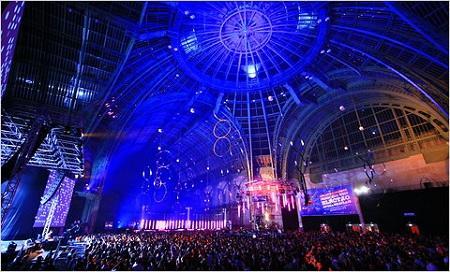 Photo Credit: James Halliwell
So you have gotten to Paris, you have seen the sights, been shopping, eaten yourself silly and are awake from jet lag wondering what to do next.
Why not check out the night life and go dancing? But what club and what to wear?
Paris is the city of fashion after all.
Well, here is some information on the five of the top clubs in Paris:
Batofar
Batofar is perhaps one of the most unique clubs in Paris. It is docked along the river Seine. Yes that's right docked. This club is a lighthouse boat remodeled in the 1990s to make it a perfect place for hosting concerts and a late-night dance scene.
On board, the club patrons can wander about and explore the different decks, each containing seating areas, dance floors, and bars. The club has a casual dress code so no worries if you haven't had the chance to go shopping yet.
Bands and DJs play mostly electronic music, but they mix it up with a touch of disco, hip-hop, blues-rock, reggae, soul, jazz, R&B, metal, and dancehall now and then.
Address:
Port de la Gare
75013 Paris, France
Metro: Quai de la Gare, line 6
www.batofar.org
+33 1 53 60 17 00
Chez Moune
Chez Moune is a more historical club its history taking it back to 1936 when it was known to be on the edge of what was socially acceptable as the first lesbian cabaret in Paris. Since 2008, this club has expanded to open to all interested. The dress code has remained casual through the years.
The music is mainly spun by guest Dj's and consists mostly of electronic, rock, and pop although the occasional performer does take the stage some nights. The décor feels a bit like an unfinished cabaret but you can almost guarantee the DJ's are some of the best in the underground electro scene and the crowd is always going when most are ready to call it a night.
Address:
54 rue Jean Baptiste Pigalle
75009 Paris
Metro: Pigalle, lines 2 & 12
01 45 26 64 64
www.yelp.com/biz/chez-moune-paris (in English)
Showcase
Showcase is another unique nightclub related to boats and along the Seine. This massive club is located under Alexander the third bridge and inside the old boat hangars.
While its views of the Seine aren't as wonderful as those of Batofar they will still leave you happy. However it's unlikely you will be here for the view of the river alone as the Showcase is a spectacular dance club with acoustics unlike any other. The club keeps an ever-changing line-up of international DJs here to spin the music that keeps this club moving.
With this changing DJ lineup it keeps a varied flow of music lovers coming in from all over Paris. The dress code is casual.
Address:
Port des Champs Elysées
75008 Paris, France
Metro: Invalides (lines 8, 13, & RER C)
+33 1 45 61 25 43
www.showcase.fr
Le Baron
Le Baron is a trendy and secluded club that has been the David with a Goliath reputation since 2004 when it opened. The music, while mostly electric, varies nightly depending on DJ or guest performer. The dress code is a bit more upscale at the Smart casual to designer dressy levels.
The lounge is red velvet surrounded by two-way mirrors but this opens up to the long bar and large collection of fashion photography. This club is small and a bit more exclusive feeling than the others but is still among the top places to go while you are visiting Paris.
Address:
6 Avenue Marceau
75008 Paris, France
Metro: Alma-Marceau (line 9)
+33 1 47 20 04 01
http://www.clublebaron.com/
Rex Club is a place to come and dance the night away since the early 90's. It provides live music and/or DJ's that play electro, house, drum and bass, techno, hip-hop, and reggae. The dress code is a stylish casual. This clubs heart is the music and dance floor is its soul. It is greatly recommended that you make a reservation of a table as a place to rest between songs is a bit sparse as the night wares on. The entire feel of this club is more like a concert in lighting, stage, and dance floor all the while being comfortable with the bars and seating.
Address:
5, Bd poissonnière
75002 Paris France
Metro: Bonne nouvelle (lines 3 & 8)
+33 (0) 1 42 36 10 96
www.rexclub.com/
You can get great cheap flights to Paris online check here to find out more and we will see you dancing the night away soon.
In Paris, as long as you are awake and ready to go exploring the night life, there are lots of places to go.
And the music will always be ready to welcome you no matter what time or what you wear.
Now tell us: What's your favorite nightclub in Paris?

Vote for my article on WorldTravelist.com, sharing the best travel content on the web.