Fed up of beaches and museums to visit? If you find yourself with some free time whilst travelling, forget the obvious and instead venture into the weird and wonderful. There are many great sites to see from the creepy and the unexplained to the astounding and quirky. Here are just a few that you should put on your travel to-do list.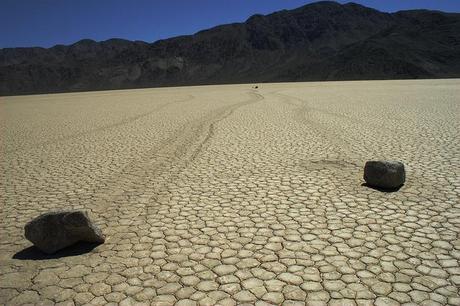 Image courtesy of Marc Kjerland
Sailing stones of Racetrack Playa – USA
Death Valley, a flat desolate and strange place in itself, is made all the odder by the sailing stones. During the winter when the floor becomes mud, these 700 pound stones move themselves around. This sounds normal enough if there are really high winds; yet the marks left by the rocks show that they often suddenly change direction and move at a right angle to the direction they were traveling before. It was hoped that one day someone would be able to catch this phenomenon on camera and finally solve the mystery but the Death Valley National Park is a protected area so no cameras can be placed within it and no one is allowed into the park during the wet season when it is thought the rocks move.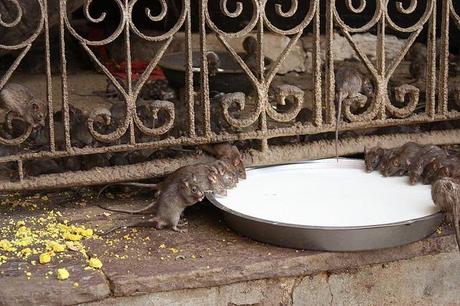 Image courtesy of Avid Hills 
Karni Mat Temple - India
In the small town of Deshnok in India you will find the Karni Mata Temple which is steeped in legend. The now abandoned temple has around 20,000 rats running free but surprisingly tourists still come. As the legend goes, these rodents are the incarnations of the Karni goddess's family.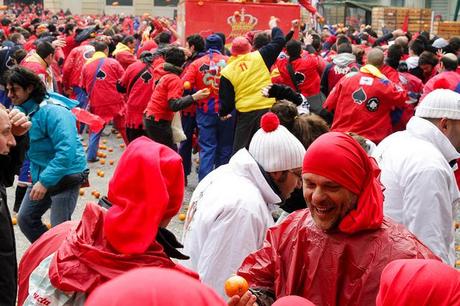 Image courtesy of Carmelo Speltino
Carnevale di Ivrea - Italy
For three days in February the only place to be in Italy is Ivrea, near Turin. This normally quiet town turns into an orange battlefield. Yes I did say oranges. They are used as a symbol of the 12th century Italian Duke's head and everyone gets into the spirit of things by holding the Carnevale di Ivrea and throwing the oranges at each other.
Hell's Door – Turkmenistan
This site, in the Kara-Kum Turkmenistan desert, can seem almost supernatural unless you believe the sensible theories behind it. Known locally as the 'Gate to Hell', it is a hole measuring 70 metres wide and 25 metres deep which glows continuously. It's believed that it was caused by drilling into a natural gas chamber which then collapsed. It's also thought that the reason it glows is because the drillers decided to light the gas they had found rather than let is escape into the atmosphere. Although it can't be known whether this explanation is true, the glowing circle makes for a fascinating spectacle at night.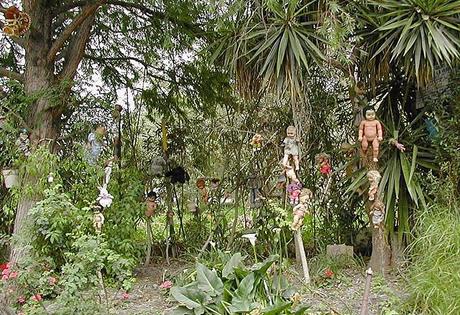 Image courtesy of Rick Hall
Island of the Dolls – Mexico
If the name of the island isn't already strange enough, you have to get a special wooden boat for two hours through winding canals to get there. Once you arrive you'll be greeted with hundreds of mouldy dolls, some covered in crawling insects all hanging around this spooky island. The myth goes that a man who had chosen to isolate himself there was haunted by a little girl so he used the dolls to try and stop the haunting. The man no longer lives there (supposedly he drowned) but tourists now come to see the gruesome sight.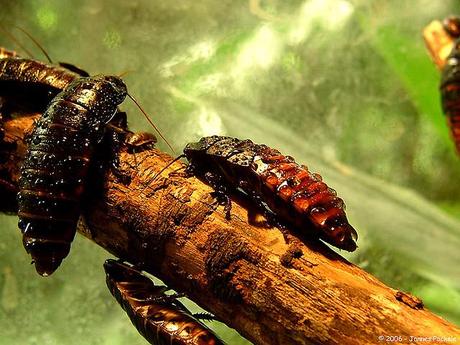 Image courtesy of Jannes Pockele
Cockroach Hall of Fame - Texas 
Most people run away when they see a cockroach, but the creator of this exhibition hopes you won't. It's an odd idea born from a pest-control specialist's desire to make people smile instead of scream. To make this come true, many of the dead cockroaches are dressed up in costumes and given names of famous people.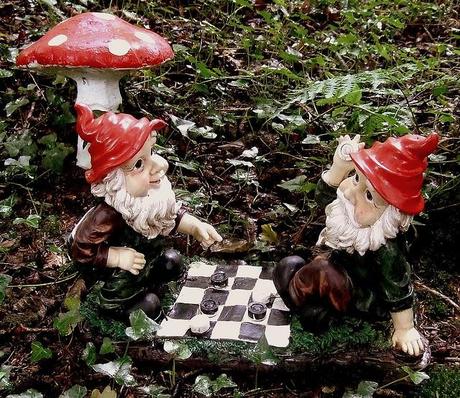 Image courtesy of David Masters
Gnome Reserve – Devon
If you want something rather more quirky and light hearted then consider the Gnome Reserve in Devon, England. This reserve has over 1,000 gnomes just waiting to be found around the park.
By Jenny Collins
Once you've finished this magical mystery tour, why not check out all of Frontier's opportunites to volunteer.