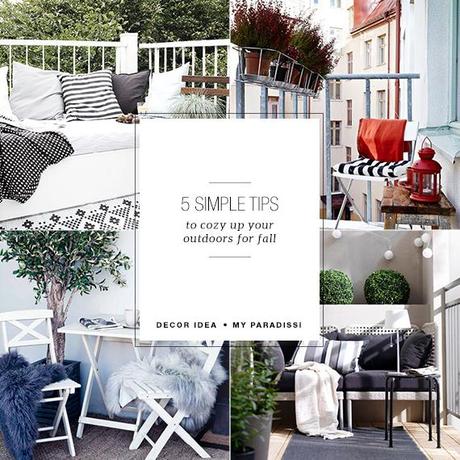 We went to our friend's home last night for
some bbq and chatting at their terrace and, boy, did it hit me; fall is finally here. It was that blissfully chill temperature when you feel perfectly well with a soft cardi yet it is still warm enough to enjoy some more nights outdoors. I know this type of weather will probably last for at least a month over here but, how is it in your country? Are you still spending some time outside or is it already too crisp to handle? In any case, here are
5 simple tips
you can follow to make your outdoor space a tad more cozy and welcoming before the wintery weather comes for good.

Keep a basket with a couple woolen blankets close by for some extra weather protection as night proceeds.
Extra tip: Throw a knitted hat or two in the basket as well. Your guests (and you) will be so very thankful when time comes.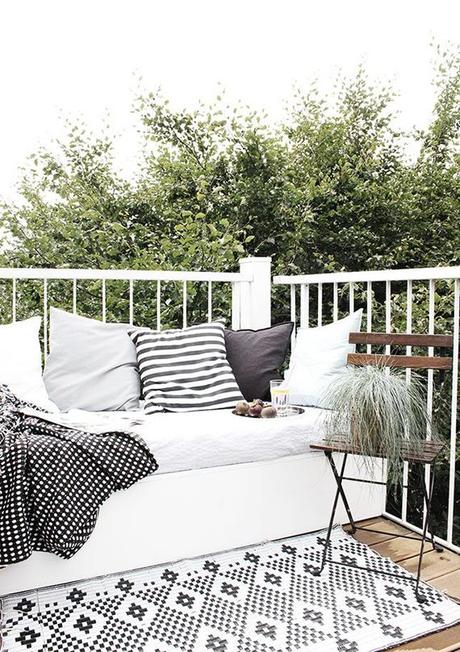 Image via Oh what a room.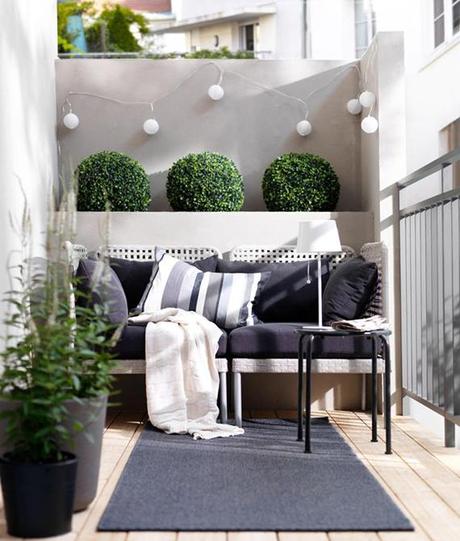 Image via Ikea.

If your outdoor space does not have a roof protection of some kind (
like, for example, a pergola
) you can always use an umbrella to amplify the chill and protect from those sudden raindrops.
Extra tip: Even if you do have a closed porch, consider the idea of hanging drapes in the openings for some extra coziness.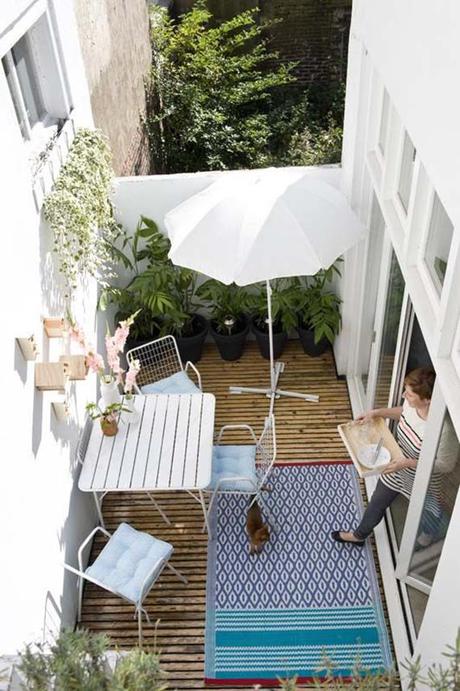 Image via Karwei.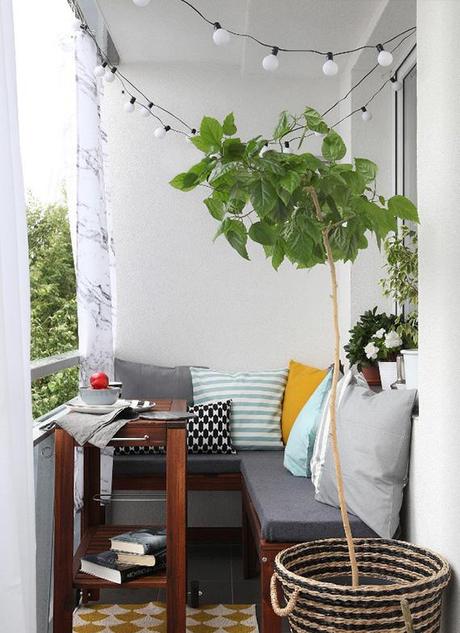 Image via Soffa magazine.

A few lit candles might not rise up the temperature of the space like an open fire does but will definitely give the impression of warmth.
Extra tip: Try some scented ones with a deep wooden fragrance, like sandalwood or cinnamon.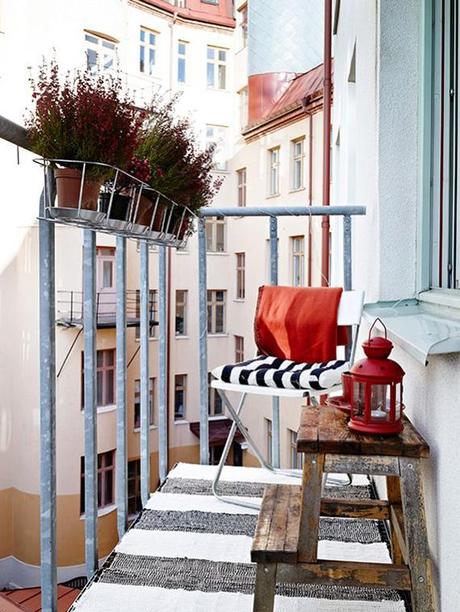 Image via Stadshem.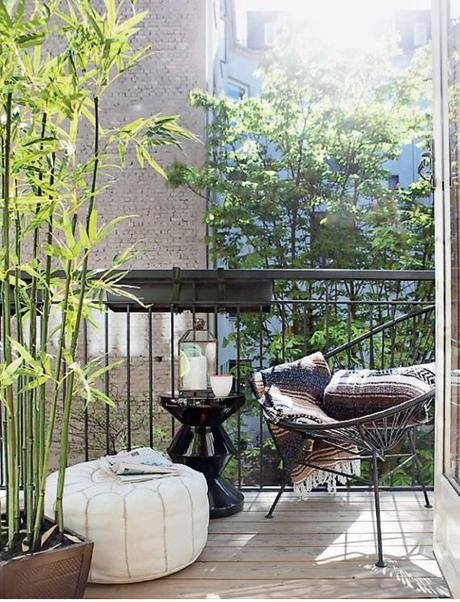 Image via Femina.

The more textiles you bring outside the cozier the feeling will be. A rug is a must but so are cushions for the chairs and/or floor.
Extra tip: Opt for wintery textiles like knitted wool or alpaca for cushions and sturdy, durable synthetics for rugs.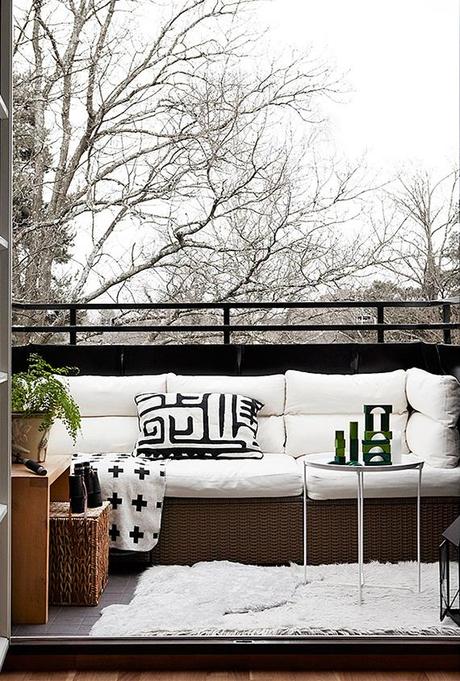 Image via Fantastic Frank.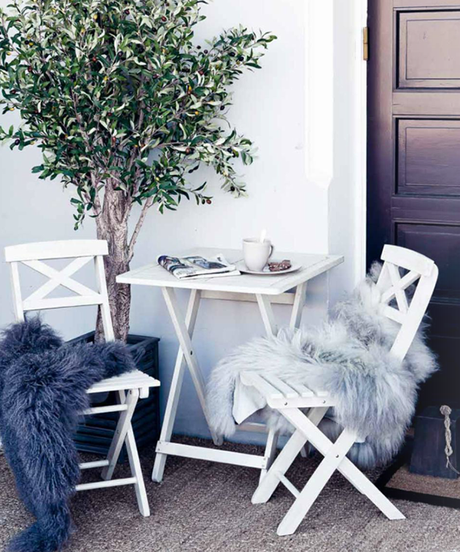 Image via Home and Cottage.

Natural finishes look always better during the chillier months as they are warm and friendly to the touch. Prefer wooden and rattan furniture to metallic or plastic ones for that reason.
Extra tip: You don't have to splurge on new furniture if you're not in the mood, just try adding some details in wood or fiber, like a basket or a rattan pouf. You can also cover up your cold metallic chairs with a sheepskin or a knitted blanket.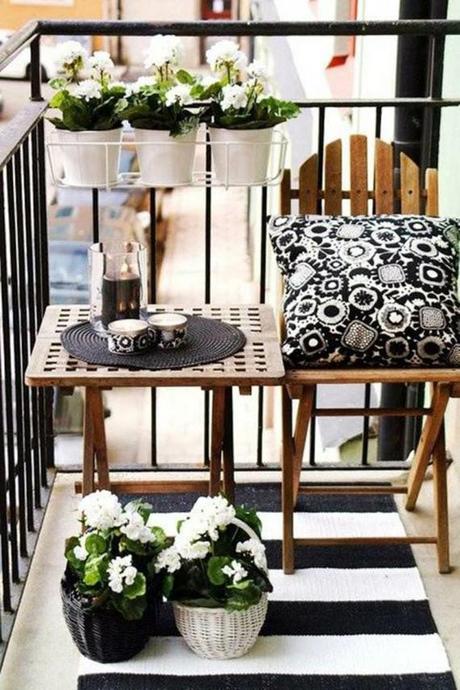 Image via Marie Claire Maison.
*This post is kindly brought to you by Conservatory Furniture. Thank you for embracing the sponsors that support My Paradissi. All text and opinions are my own.
Join the fun