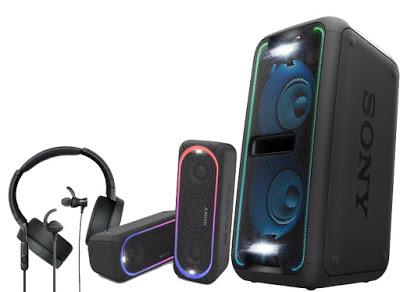 A
udiophile or not, techie or not, I think it's best for every Juan to have a perfect device which he could carry around and could give him the best quality of music when he plays his favorite tunes, tracks, beats & mixes anytime, anywhere.
Music is everywhere and we all know about it. It comes in different styles, types and genres. The most notable of which is the type of music called E.D.M. also known as Electronic Dance Music. Personally, I prefer E.D.M. over other music genres in most occasions because of its upbeat style complemented by bass which comes in various level of intensity. It can easily stimulate my mood and it can get me moving instantly. It almost have the same effect like when I drink my favorite coffee. :) :)
What is EDM?
Here's an information which I think can give you an easy-to-understand definition of EDM. If you want to explore more technical information about EDM, you can click on the underlined links to visit the website of each source that I have provided below.
"Electronic dance music (also known as EDM, electronic music, or dance music) is a genre of music largely produced for music festivals, clubs and raves. EDM is generally used by DJs as they transition from one dance music track to another. Within electronic dance music is a plethora of sub-genres including House Music, Dubstep, Drum and Bass, Mashups, Moombahton, Electro, Glitch, Trap, Trance, Hardstyle." - Source: edmsauce(dot)com 
"...Rather than designating a single genre, electronic dance music (EDM) encompasses styles ranging from beatless ambient music to 200-beats-per-minute hardcore, with house music, techno, drum and bass, dubstep, and trance among the most-notable examples." - Source: Encyclopedia Britannica
So, if you enjoy the musics of Avicii, David Guetta, Calvin Harris and DJ Snake, I think you are the type of person who likes upbeat music and other music styles that fall under EDM genre. EDM isn't just limited to those DJs and music artists that I have mentioned. There are thousands of  EDM tracks in different music stores and most of those tracks are being played in the clubs, music festivals and radio stations all over the world. And because you like EDM, SONY has a series of headsets, portable speakers and portable home audio systems called

EXTRA BASS

™

 Line-up

 especially perfected for people like you who love Electronic Dance Music. I'll give you "5 Reasons Why SONY EXTRA BASS Line-up is perfect for Electronic Dance Music (EDM)".

5 Reasons Why SONY EXTRA BASS™ Line-up is perfect for Electronic Dance Music (EDM)

1. SOUND QUALITY

While growing up, my father has influenced me about how good Sony electronic products are especially their speakers. Sony then became my first choice of brand when choosing speakers for different purposes. I also recommend Sony to my friends everytime they ask me for suggestions about speakers, home theaters or multimedia systems. I am confident that I recommended them the best brand because as far as I know, Sony provides the best Sound Quality in all of its audio products including the 

EXTRA BASS

™

 Line-up

,

the main topic of this article

. 

Sony's 

EXTRA BASS

™

 Line-up is divided into three (3) categories: the High-Power Home Audio Systems, the Headphones and the Portable Bluetooth Speakers. 

There are two special features unique to Sony Extra Bass

™

 Home Audio Systems 

GTK-XB7

and

GTK-XB5

that could give you the best sound quality for you to enjoy your favorite music and relive your previous EDM concert experience at home!

ClearAudio+ - it automatically adjusts sound settings to enrich your EDM listening experience. By bringing together expertise in digital signal processing technologies, ClearAudio+ is able to optimize audio to deliver a consistently clear, high quality sound, whether you're gaming or enjoying music and movies.
Digital Sound Enhancement Engine (DSEE) -  it automatically restores quality of your EDM tracks by upscaling the compressed files. When an original music source is compressed, it loses the high frequency elements that add detail and richness to your favorite tracks. The Digital Sound Enhancement Engine (DSEE) faithfully restores these to produce high quality sound that's closer to the original CD recording. 
Those two special features sound very technical but to simplify things up, it only means that the quality of sounds produced by
GTK-XB7
and
GTK-XB5
is superb which makes it perfect for EDM.
2. EXTRA BASS
™
Each item in the Sony's Extra Brass™ Line-up is perfectly engineered to bring the possible best bass output regardless of its size. By default, all headsets, portable speakers and audio systems under Extra Bass
™
 Line-up have Deep Bass functionality which provides rich and clear sound details to the speaker unit. On the other hand, there are some units in the Extra Brass™ Line-up each of which has a special button that enhances the bass output even further; that button is called
Extra Bass
or
Bass Boost
or
Bass Effect
button. The button's name varies depending on the unit but they all functions the same: it enhances the low-end tones, giving bass a boost to the speaker unit despite its compact size.
To add some serious low-end power to the music you're playing, simply push the
Extra Bass
button and voila! Activating that button reinforces the bass lines to create deep and invigorating punchy bass effect on your favorite EDM! EDM is indeed all
about that
bass
and that Extra Bass feature (with or without extra button) validates the reason why Sony's Extra Bass
™
 Line-up is your perfect for your choice of EDM.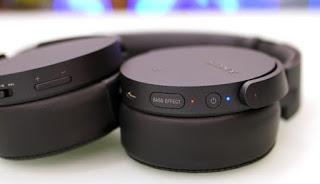 Bass Effect Button of a Sony MDR-XB950N1 [Source]
3. LED LIGHTS
In the EDM world where lighting is an essential part of the groove, Sony has come up with the design which a portable speaker is no longer just a boring box that produce sounds. It became an interesting box where LED lights are integrated as a visual representation of the music being played. The sound of any music synchronizes with the LED light which produces an illumination scheme running along the edges and face of the speaker unit  as it adapts freely to the tone and flow of every song. The result is an amazing display of lights dancing to the tune of your favorite EDM. The pulses speed up and slow down depending on how the song develops, automatically recreates the dynamics of a live stage lighting. The LED lights and extra bass make a perfect combination that can trigger excitement and a party vibe even when you're just partying at home; another reason why Sony's Extra Bass
™
 Line-Up is perfect for EDM. :)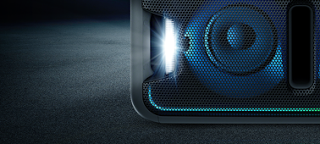 Sony GTK-XB7 featuring LED Lights
4. WIRELESS CONNECTIVITY
It's 2017 and we are currently in the era where wireless connectivity plays a big role in simplifying our techie lifestyle. Wireless Connectivity simply removes the need for wired connections and complex set-up sequence. With that being said, most tech companies incorporates wireless connectivity such as NFC and Bluetooth to its current gadgets. The Sony's Extra Bass
™
 Line-Up is not an exception to that trend. Connectivity can be one of your deciding factors when choosing your perfect speaker unit to match your favorite EDM's need for a device that can handle the deep low and high bass, so I added wireless connectivity to the list. Wireless connectivity is self-explanatory but the advantage of Wireless Connectivity feature of Sony's Extra Bass
™
 Line-Up can be summarized below: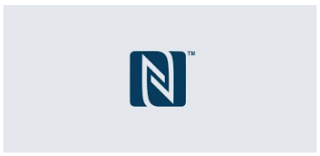 You can easily pair your NFC-certified device to the NFC-certified speakers and headphones like the GTK-XB7, GTK-XB5, SRS-XB30, MDR-XB950N1, MDR-XB650BT, etc. Simply touch your NFC-enabled smartphone to the headphones or speakers for a quick, seamless connection, to get the beats going.
If you're partying, you can set-up a Party Chain where you can add extra power to your speaker system by connecting multiple speakers and play music all at once. The multiple speakers will be interconnected to each other via Bluetooth and can be controlled by an app called SongPal. 
With SongPal, you can customize sound settings for great, balanced audio. SongPal can be downloaded from Apple App Store and Google Play Store for free and it allows you to control several speakers interconnected via Bluetooth.
5. OTHER EXTRA FEATURES
EDM is all about that bass and lights and upbeat music and brilliant DJs and party people and you and me; however, there are extra features that you can get from the Sony's Extra Bass
™
 Line-Up to maximize your EDM experience in any situation.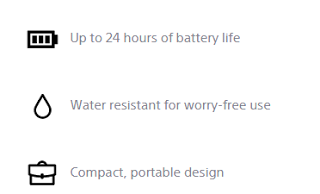 Water Resistance - with the water resistance capability of headphones and speakers, you can do pool party and setup a series of interconnected water resistant speakers so that everyone would enjoy the music you're playing without worrying about it getting wet. Portable Wireless Bluetooth Speakers SRS-XB30, SRS-XB20 and SRS-XB3 are rated IP X5 which means these are protected from water jets in any direction. Same is true for XB510AS and XB80BS EXTRA BASS™ Wireless Sports In-ear Headphones which are also rated IP X5. The XB50BS is rated IP X4 which means you can still keep the music going, even when you run in light rain.
Noise Cancellation - be the first to experience the first ever wireless Noise-Canceling EXTRA BASS™ headphone created by Sony: the MDR-XB950N1. The Digital Noise Cancelation cuts out ambient noise so you can hear more of the detail in every track. It will be just you and the music. 
Long Battery Life -  this  feature is an important factor when choosing your desired wireless headphone or portable speaker. You really wouldn't enjoy your wireless listening experience if the longevity of one fully charged battery is limited only to a few hours of continuous playing. The good thing about the wireless headphones and portable speakers of the Sony's Extra Bass

™

 Line-up is that the battery lasts longer than that of an average speaker unit in the market. You even get notified by a voice feedback function when it's time to recharge! How cool is that?
Stylish Designs - The designs of the speaker units and headphones are incredible. Most of it are compact and lightweight The designs are very well thought of and each unit is carefully designed to cater to its specific purpose. There are also several colors that you could chose from. Indeed, Sony's Extra Bass

™

 Line-Up is simply a collection of perfect EDM devices in any aspect you could think of. 
You can see the full list of products from Sony Asia's micro site for Sony's EXTRA BASS™ line-up by clicking this link
.
Disclaimer: Images featured on this article are sole property of Sony
™ 
unless a back-link to the original source is created. I only made a little bit of editing to the original image file to match it with my writing style for this specific article. No copyright infringement intended.