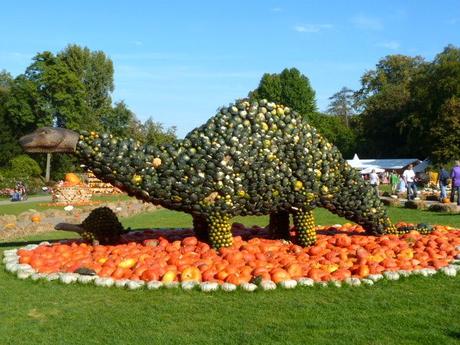 The world's largest pumpkin festival is home to some 400,000 pumpkins. It's held each year in Ludwigsburg, Baden-Württemberg, Germany, located just 17 km north of Stuttgart.
The first time I went was three years ago, albeit reluctantly. J.P. (my German husband) dragged me and said it would be fun. Having never been to a pumpkin festival and not really wanting go, I thought it sounded cheesy and something just for kids. I've since changed my mind and have been each year ever since. I suspect I'm not the only Pumpkin Festival doubter out there, so here are:
5 reasons to visit the world's largest pumpkin festival:
1) Pumpkin Art
Each year the Ludwigsburg Pumpkin Festival has a theme. The first year I went it was Under the Sea featuring dolphins and blue whales made out entirely of pumpkins. Another year it was larger than life dinosaurs made of pumpkins: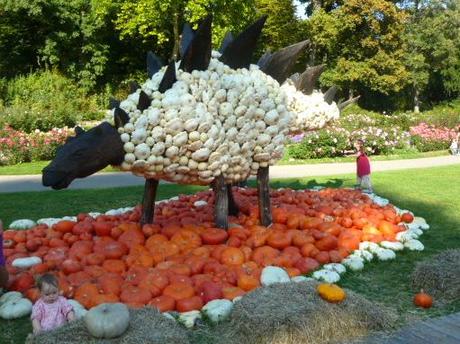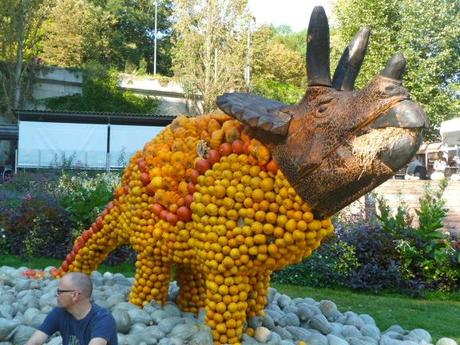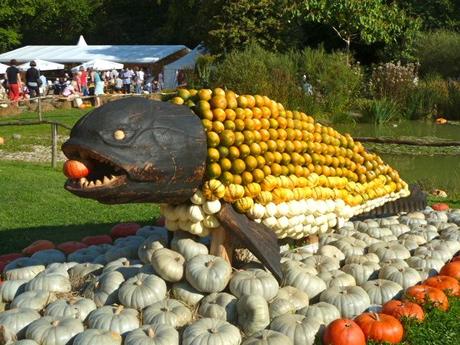 Kids loved seeing the dinosaurs, but so do kids at heart, at least I did. This year (2016) the theme is Pumpkin Circus, which looks like a lot of fun! It's a great place to get some pumpkin carving inspiration, including some that are easy to do at home, aka, not life-size!
2) Pumpkin Shopping
Not surprisingly the world's largest pumpkin festival is an excellent place to buy a pumpkin with featuring different kinds from all over the world, get your pumpkin carving toolkit ready! Anything pumpkin is also available, including pumpkin pasta, pumpkin beer, pumpkin spiced coffee and my personal favourite pumpkin sparking wine. I know that pumpkin and wine sounds like a strange combination, but it's actually really good. I love serving it to guests, as it always takes them by surprise.
3) Eating
In keeping with the theme you can also eat an assorted variety of pumpkin goodies so go hungry. My favorite is the pumpkin soup, which is consistently the best I've ever tasted. J.P. tried the Pumpkin Rösti (fried grated potato) which had an interesting flavour, although I wouldn't have wanted to eat a whole plate of it. The Maultaschen (the German take on ravioli) looked amazing as well.
4) See Pumpkins from All Over the World
What would the world's largest pumpkin festival be without a judging competition? The judging doesn't happen until October but these two unique ones get my vote:
5) Ludwigsburg Pumpkin Festival Setting
The festival is behind Ludwigsburg Palace, one of the largest Baroque buildings in Europe. Just walking through the palace gardens and grounds is worthwhile in itself. However, seeing the contrast of a palace and pumpkins is really something else. It also is my favorite castle tour in all of Germany, and you can easily combine it with the festival. If you do decide to do the castle tour, and are doing some other sightseeing in and around Stuttgart, consider the StuttCard, which gives you free entrance to the castle, which normally costs €13.30.
The Ludwigsburg Pumpkin Festival is great for both kids, and kids at heart!
Know Before You Got to the Ludwigsburg Pumpkin Festival 2016:
The theme for 2016 is Pumpkin Circus
It runs from September 2nd to November 5th, 2016
The festival is open daily from 9:00 to 8:30 pm
The shops are open from 10:00 to 6:00 pm
Pumpkin dining is available from 10:30 am to 5:30 pm
Tickets cost €8,50 for adults, and €4.20 for children 4 - 15. You ticket also includes entrance to the fairy garden, which children enjoy - OK, I liked it too.
Allow several hours to visit the festival, more if you also want to do a palace tour.


Where to Stay in Ludwigsburg:

If you're traveling with a car, I recommend Schlosshotel Monrepos, a 4-star castle hotel situated on the lakeshore of Monrepos See, with its own golf course, riding stable and wine estate. It's a 10-minute drive to the centre of Ludwigsburg.

If you don't have access to a car, nestor Hotel Stuttgart-Ludwigsburg is a better choice. This 4-star hotel is just 400 metres from Ludwigsburg Palace, features 19th-century brickwork design, elegant rooms and a traditional German bakery.
More information can be found here.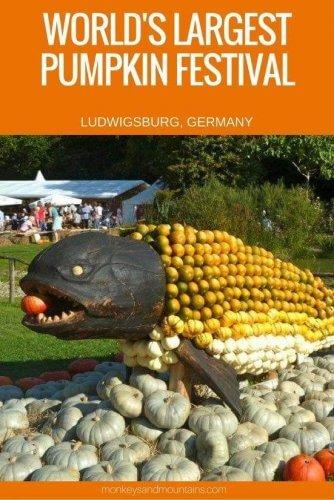 Note: This article was originally published in 2011, but was updated in October, 2016 to provide the most up-to-date information.