Last Updated on June 3, 2022 by Jeremy
Disclaimers: Our site uses demographic data, email opt-ins, display advertising, and affiliate links. Please check out our Terms and Conditions for more information. Listed prices and attraction details may have changed since our visit and initial publication.
When we decided to visit Mexico City, we knew we would be imbibing an absurd amount of mezcal and tequilas. These spirits are synonymous with Mexico and, to be fully honest, the best stuff rarely ever leaves the country.
So when we arrived at our apartment in Roma Norte, we knew that we had to explore nearby to find some of the best bars in Mexico City that use the country's most iconic spirits.
As it turns out, the area in and around Roma Norte is a hotspot for amazing cocktail bars, mezcal bars, and even some great spots for another prized alcoholic beverage, pulque, and we really got our fill.
So in this one, we thought we'd share five of the best bars in Mexico City that we tried, all located within walking distance of Roma Norte proper!
Licoreria Limantour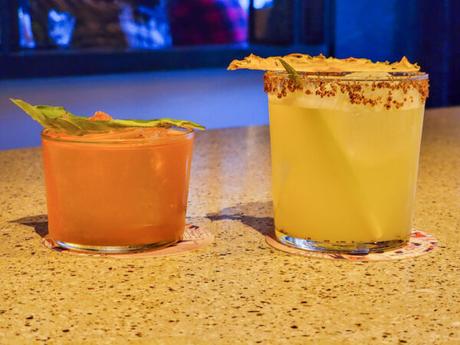 Licoreria Limantour is often considered to be one of the Top 50 bars in the world (#6 during our visit) much like how nearby Pujol is often considered to be in the Top 50 restaurants (#9 during our visit).
Naturally, with a reputation like that, we knew we had to visit shortly after our arrival in Mexico City.
This one lives up to its hype.
The first half of the menu featured unique cocktail creations made by some of the world's best bartenders. From there, you can head through a robust cocktail menu that is split up by base spirit to really hone in on what will tickle your tastebuds.
During our visit, we had gems like the Tommy Tomberry (created by Juan Yi Jun of the No Sleep Club in Singapore, which featured cherry tomato infused mezcal, strawberry, and clarified lime juice), the Mezcal Stalk (mezcal with Cointreau, pineapple juice, agave, and worm salt rim), and more. Each iteration had impressive flavors from their respective ingredients, and you could tell that the attention to detail here was unlike just about any other bar we visited in the city.
As a bonus, the price point at Licoreria Limantour were among the more reasonably priced options for high-end cocktail bars in Mexico City. During our visit, most cocktails ran about 160 to 250 pesos which, while expensive compared to beer and other base spirits, definitely was appreciated for what you get.
But be warned- this bar is popular. You'll do well to arrive early in the evening if you are unable to procure a reservation as this one fills up fast!
Licoreria Limantour is located at Av. Álvaro Obregón 106, Roma Nte. in Mexico City.
Baltra Bar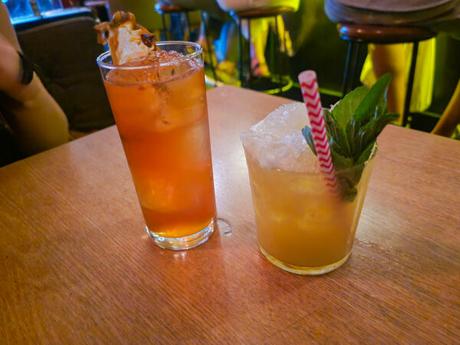 If ambiance is something you look for when going out for a libation, Baltra Bar is sure to deliver. This bar is nautical-themed, particularly around all things Darwin, and is the kind of place where you'll be looking at the decorations as much as what is in your glass.
Much like Licoreria Limantour, Baltra Bar is also present on the top 50 bars in the world list clocking in at #38 during our visit.
Cocktails here may not be as out-there ingredient-wise as Licoreria Limantour, but certainly still are quite creative. Local Oasis was mezcal based with aperol, tepache, and lime juice and Tahona featured tequila, apricot liqueur, peppermint, and agave to name a few. All the cocktails we had featured bright and vibrant flavors that worked with the tequila and mezcal base quite nicely!
La Lavanderia and La Clandestina
Baltra Bar is located at Iztaccihuatl 36D, Colonia Condesa in Mexico City.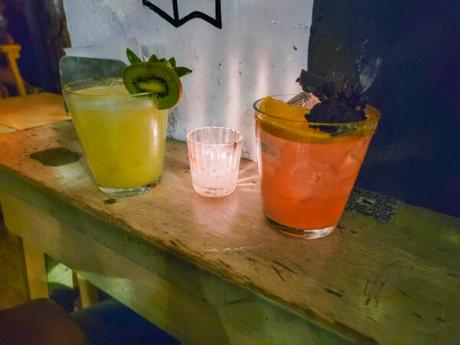 If you have mezcal on your mind, you'll want to visit La Lvanderia or La Clandestina- two bars located next to each other by the same owners with a virtually identical menu all around.
When visiting these bars, you have a few options. First, there is straight mezcal. This one features an array of mezcals available in small pours and makes for a great opportunity to taste your way around this interesting spirit (seriously be sure to look at their displays inside, it is beautiful). Second, you can hit up the cocktail menu which, while admittedly simple, helps highlight mezcals with one or two core flavors like basil, fruit, and other unique options.
We visited both bars and quite enjoyed their straightforward drink menu, but we have to admit that we were somewhat disappointed that the menus weren't that varied despite being literally next door to each other.
That being said, while we still would recommend a visit, you should be aware that these bars typically require a food order with the drinks. So be sure to grab an order of guacamole with chapulines (small fried grasshoppers) or another delicious bite while you are there!
Pulqueria Spiritu Santo
La Lavanderia is located at Av. Álvaro Obregón 298-B, Hipódromo and La Clandestina is located at Av. Álvaro Obregón 298, Colonia Condesa in Mexico City.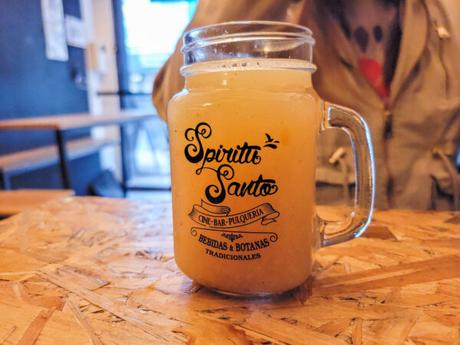 When you are in Mexico City and looking for an alcoholic beverage, be sure to give pulque a try at least once.
This beverage is an interesting one as it ferments the sap from the maguey plant and is a viscous, sour-like fermented brew that is lower in ABV and most certainly an acquired taste (think sour, yeasty, creamy, and otherwise somewhat neutral in flavor).
While base pulque is, well, not for us, bars like Pulqueria Spiritu Santo help make things a bit more palatable by adding fruit puree into the brew to make the flavors really shine. If you are able to try any with tropical fruits, like passionfruit, you will be in heaven as the tart and tangy notes sing in pulque form!
But if you find pulque is not to your liking, well, you won't be too far from any of the other bars featured in this guide all the same!
La Botica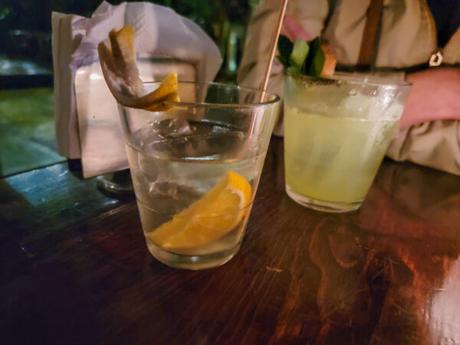 Pulqueria Spiritu Santo is located at Medellín 162, Roma Nte. in Mexico City.
Finally, we come to La Botica. If you think that the above bars are too high-end for your liking and you simply want to taste a lot of mezcal straight up or want a cocktail made with just a few mixers along with the spirit, La Botica is for you.
This no-frills bar (some may even call it a dive bar) literally overflows with seats out onto the sidewalk and features a reasonably priced menu of an array of mezcal served with traditional orange slices and worm salt or no-frills cocktails that highlight the spirit with one or two core flavors (much like La Lavanderia and La Clandestina above).
We found ourselves returning to this bar several times over our visit because it was quite approachable, reasonably priced, and had one of the largest selections of mezcal we found in the entirety of Mexico City. So when we wanted to use our drinking as a learning experience, there really was no better option than this one!
Do you have a favorite cocktail bar in Mexico City, especially in and around Roma Norte? Comment below to share!
Looking for more in Mexico City? Check out our Culinary Backstreets food tours, the best tacos in Mexico City, and how many days in Mexico City guides!
La Botica is located at Orizaba 161, Roma Nte. in Mexico City.