RAVENOUS
:
The Dark Forgotten
By Sharon Ashwood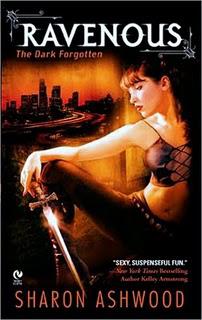 Blurb From Back Cover

Holly Carver is a small-time witch who busts ghosts for tuition money, but ends up wrangling a demon when a haunted house job goes bad.

Her Undead business associate, Alessandro Caravelli, suspects the demon is somebody's not-so-secret weapon. The supernatural community is at war, and Holly's unpredictable magic holds the key to hell's doorway. Soon Holly is on everyone's "must have" list, and not in a good way.

Alessandro wants her for more than magic. A lover with six centuries of experience, the vampire is walking seduction, but he's also a predator. Every moment he spends guarding Holly, every second he spends falling under her witch's spell, he becomes more and more of a threat himself. As Holly's sharp-tongued grandma warns her: vampires are like a box of rich chocolate—they seem so tempting, but over-indulgence is a killer…
Review: 
What do you get when you cross a ghost busting witch, vampires, and demons?  One hell of a story filled with vampire politics, repressed memories,interpersonal relationships, big magic and some serious demon ass kicking.  Ms. Ashwood brings her characters to life in this book.  I actually wanted to know Holly and Alessandro.
Holly Carver a witch with some unpredictable magic, and an indomitable spirit, that makes  you want to jump up and root for her success.  Very early on in the story, you get to know that Holly has some difficulties with her magic.  I wanted to know why, and further on in the story, Ms Ashwood gives you the back story!  I loved that look back into Holly's life to explain things.  Ms Ashwood did not keep me guessing after the book was finished. She gave me what I needed to make the whole story complete.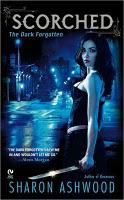 SECOND IN THE SERIES

Alessandro Caravelli, a six hundred year old vampire, is Holly's partner.  The descriptions of Alessandro are of a dark, brooding, yet extremely hot vampire.  You can tell early on that there is something brewing underneath the seemingly "business" relationship between him and Holly.  You just want to know more!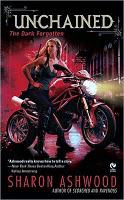 THIRD IN THE SERIES
The whole story comes together when Alessandro's real "boss lady" comes to town asking for help.  You get the feeling that things are going to go from bad to Armageddon in the blink of an eye. 
The author kept the pace of the story exciting.  I did not want to put this one down!   Every page I turned, I wanted to add another so that the book would not end.  Personal note: I did not read the sample chapter in the back.  I want to be surprised when I read the next book by this author!  This one gets 5 mrrrroows for all the hot and steamy pages between the really hot cover and great blurb in the back!
Keep them coming Ms. Ashwood.  I want to read more!
 You can find out more about Sharon Ashwood and her books at:
www.sharonashwood.com/
You can Purchase her books from:
http://www.amazon.com/ or
http://www.barnesandnoble.com/s/sharon-ashwood?store=book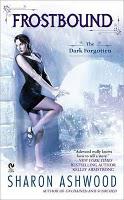 FOURTH IN THE SERIES RELEASED JUNE 7TH 2011!