Kurti for women is one of the most comfortable and casual outfits amongst Indian ethnic wear. Indian women regularly purchase kurtis online, due to the availability of a wide variety of styles and designs. Depending upon the design, a kurti can make you look both ethnic as well as contemporary. Here is a list of 5 kurti styles that every modern woman must have in her wardrobe!
Straight Cut Kurti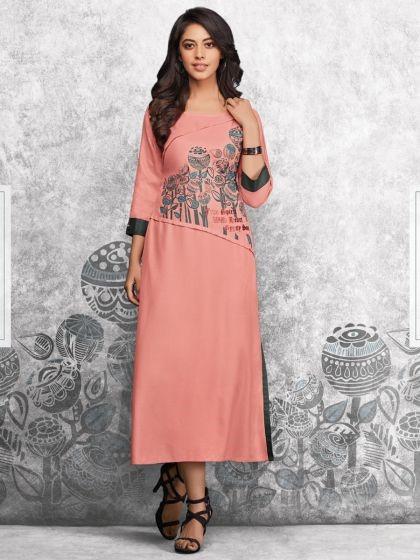 Get this
The straight cut kurti is the most common kurti design that is adored by Indian women. Generally worn long, this kurti style elongates the frame and makes women look tall. This versatile kurti for women can be paired with different bottoms like leggings, palazzos, jeans, trousers, long skirts and more. The straight cut kurti style is most suitable to be worn to the office, due to the formal and professional look it gives. Pair this kurti style with elegant and classy jewelry and pumps to create the perfect formal look.
Empire Cut Kurti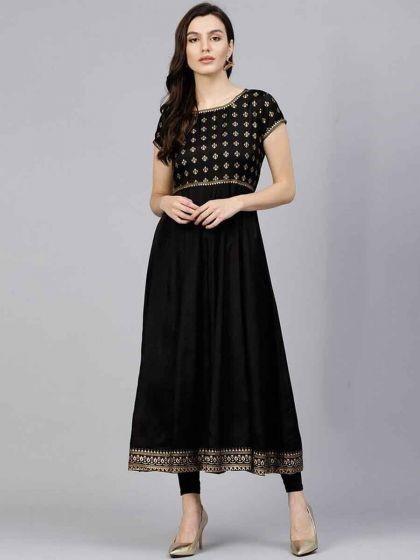 Buy
The empire cut clothing style is a popular women's fashion design which originated in the late 18th century as part of neoclassical fashion. French and English aristocratic ladies especially loved this style due to its flattering form and look. Normally seen in gowns, the empire cut style features a tight bodice till the bust and a flowy length below the bust. This design is increasingly being adopted in different types of women's clothing. The empire cut kurti for women is one such ethnic outfit which has become very popular amongst Indian women. Suitable for women with a slimmer waist, the empire cut kurti design can be paired with leggings or worn as a dress if the length is long. The empire cut design is a kurti style that every modern woman must have in her wardrobe!
Kaftan Style Kurti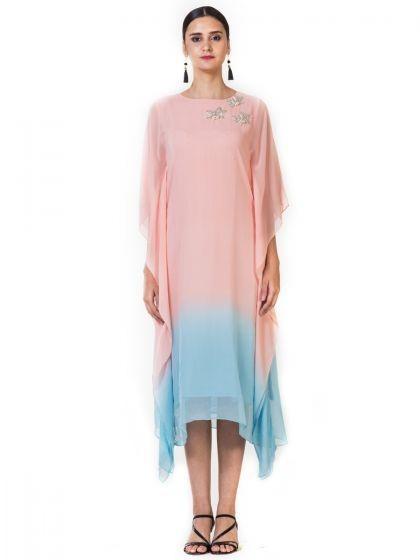 Check this out
The kaftan is an outfit that goes back to the Ottoman empire, when it was worn by men. The kaftan style was introduced in the west in the 1890s and further gained popularity during the 1950s due to famous fashion designers like Christian Dior. Nowadays, the kaftan style can be seen in almost all type of women's clothing, especially during summers. The kaftan style kurti online is vastly popular amongst women. The loose, flowy design of the kaftan kurti for women is very suitable to remain cool during hot summers. The kaftan can be paired with leggings, jeggings, jeans or even worn without any bottom wear.
Kurti styling tips that make short women look taller
Shirt Style Kurti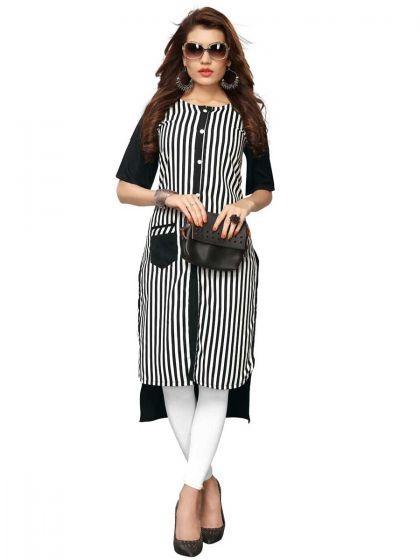 Buy
The shirt style kurti is a kurti style that every modern woman must have in her wardrobe. This is a novel design that combines ethnic and western wear. Due to the similarity to the formal western shirt, the shirt style kurti design is most often worn to the office. This Indo-western kurti style looks smart and professional at corporate events and meetings. Buy the shirt style kurti online and pair this kurti for women with jeans or leggings and elegant jewelry to look chic and classy.
Cold Shoulder Kurti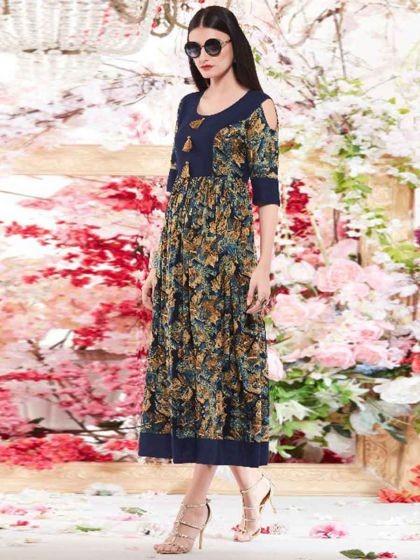 Check this
The cold shoulder kurti is the current rage in women's fashion wear. No women's clothing item has been spared the cold shoulder trend. Cold shoulder kurtis are a great way to modernise an otherwise ethnic outfit. Women buy the cold shoulder kurti online to wear for parties and college events. This trendy design looks very stylish and fashionable on all body shapes and types. The cold shoulder kurti for women, paired with jeans or leggings and classy jewellery, will make any woman look like a diva!
Indian women of all age groups buy kurtis online to wear as daily clothing as well as for parties and events. Kurti for women is slowly moving out of the traditional wear category and becoming more contemporary and Indo-Western. The above 5 designs are some stylish kurti styles that every modern woman must have in her wardrobe to look chic and sophisticated at every event in her life!