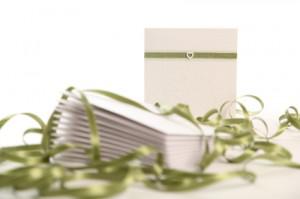 So you've said, "Yes!" to a sparkly ring and now you're ready to start in on your planning. But as you look into each aspect of a wedding and start adding up figures, whew! Between the cake, the venue, the dress and everything else, the cost is enough to bust even the largest of bank accounts.
One possibility for saving money is to consider making your own invitations and announcements. Not only can you save some money, but it can also give you an opportunity to add a personalized touch. Look around at invitation—there are a lot of samples and images that can be found with a simple web search. Once you have a look that you like, you can try to recreate it yourself. Here are some options for making your own invitations.
1. Build From Scratch
This could be a good option for brides that are feeling crafty. Have a clear vision of what you look you want and how you are going to achieve it. Buy high-quality paper. Mixing a cute print like stripes, polka dots, or hounds tooth with a solid color can give a clean, modern look. An easy and classy-looking way to attach different layers of paper is to punch a couple of wholes through both and tie them together. A nice ribbon could look great, or for some rustic texture you could even use jute.
2. Spruce Up Premade Invites
There are a lot of wedding invitation kits that are stylish and very cute. They can also be a great choice if you want a foundation to which you simply add your own pizzazz. One way you could do this is with cut out shapes, like flowers or a fleur de lis. If you do some searching, you may also find some adorable rubberstamps that, paired with bright colored ink, can be just the touch your invites need.
3. Design Your Own
If you have some experience with design software (or know someone who does), you might consider designing your own invites. You can get exactly the look you want and can include some beautiful details. Bold, typographic invitations are a style that is popular and simple to design yourself. If you print them yourself, it can be a great way to save money and the time you might spend stamping, tying or gluing.
4. Use A Template
If you aren't confident in your design skills, a lot of designers offer wedding invitation templates. You can find one that you like and modify the text and print these yourself. Again, it's easy and simple but can still save you some cash. If you are worried that your home printer is up to the task, there are many printing companies that can give you a high-quality look with reasonable prices.
5. Print On Embossed Paper
This may the simplest way to make your own invitations that will look really lovely. A lot of paper companies offer blank cards that have raised designs, including flowers, blossoms, leaves, monograms and brackets. These may be a little pricier than plain cards, but can save you a lot of time. All you have to do is layout your text (which can be done with most any word processor) and print them. And voila, you have a classic, beautiful invitation.
Ultimately, you have to be realistic about what you can do. You don't want to stress yourself out by leaving too much on your plate. Wedding invitations will be the first impression guests will have of you as a couple and your wedding event — so they should look great. There is always the risk that your invitations will not turn out well and you will have wasted your money.
Homemade invitations won't be able to compare to professionally made invitations in quality. If you want the best without going crazy, look into having your invitations professionally made by somebody like LookLoveSend before making your decision.