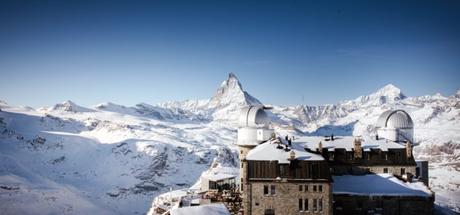 I had the awesome experience of visiting Switzerland in winter this season. No trip to Switzerland is complete without a visit to the Matterhorn, the iconic mountain peak. One of the cool things about the Matterhorn is that mere mortals can climb it.
But this mere mortal quickly decided that it was not for me... it's cold! And a lot of work!
There is still much more to do in Switzerland, and the great thing is you get to gaze up at the beautiful Matterhorn while doing much of it.
Here are some things to know if you've never been there:
This cannot be said enough-dress warmly! Even if you're someone who overheats quickly, dress in layers. The temperature averaged -5 ℃ (23 ℉) when I was there-yikes! I'm someone who gets cold easily, so this was top of mind the entire time I was there.
I found this to be delightful for some reason: Stores will require you to pay a franc (about $1 U.S.) to use their bathroom; they don't want tourists only coming into their stores to use the facilities. But afterward, you can buy something and the cost of your restroom trip can go towards your purchase (I did just that. It cost a franc less to buy).
There isn't a Swiss language. The country is surrounded by Germany, Italy, and France. So you'll encounter a kind of mash-up called "Swiss-German" or "Swiss-French" depending on where you are.
That said, you should know that is the formal way to say hello in Switzerland.
Each 'state' of Switzerland is called a canton and each canton has its own flag. One way to tell where you are in Switzerland is by looking at the flags on the license plates (just look at a picture of the flags you get lost.)
5 healthy ways to spend your time at the base of the Matterhorn:
I found walking around at night to see the sights to be soothing. When you have a busy day ahead or are completely tired, a nice walk is great to ease your mind. Most of the time I was outside, but there would be a lot of people around and I couldn't get my peace and quiet.

Go on a horse sleigh ride at St. Moritz. Take pictures while you are going to a stop to get a warm drink and relax. After you warm up you could always see the sights or just marvel at how beautiful it is.

You can always find a Christmas market, and get lost in the crowd (in a good way). While I was there I went to a bunch of Christmas Markets but the one that I loved the most was our first stop in Lucerne. They pulled out all the stops - it was a spectacular, storybook scene!
Visit Chillon Castle in the capital of Switzerland and hear the history of the place. Tour guides explain why the castle is on the water--because the owner of the castle wanted the ability to flee to Italy if the castle was ever attacked. You'll also get a detailed account of the castle's most "famous" prisoner, Franço is Bonivard--who you may know because of a poem called The Prisoner of Chillon by Lord Byron. It's also just a beautiful place and a perfect way to see how people lived in the past.
Music lovers will love going to the town that the late Freddie Mercury called a second home--Montreux, where you'll find a statue of Freddie Mercury looking out onto Lake Geneva. There is also a Freddie Mercury parade every year in the first week of September. People dress up in costumes and just have a very good time.

Overall, my experience was amazing despite not climbing the Matterhorn. One thing I recommend is to find a tour group--it's an easy way to make friends on your trip!