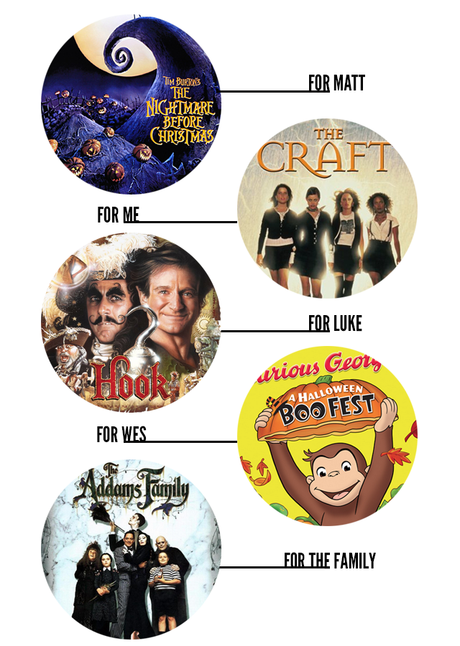 I feel it my solemn couch potato duty to share the Halloween movies currently in our Netflix queue. I take my holiday themed movies very seriously. (Sidenote: when did they change the "my queue" to "my list"? I will always refer to it as the queue, which always make me want to say "oooeey oooeey" every time I spell it, although it is pronounced nothing like that. Those dang French people.) Actually, I take all movies pretty seriously. If I had a dollar for every movie I've watched, I'd be a millionaire. Oh wait, that's what the people in Hollywood do! Looks like I'm on the wrong career path. For reals though, I would be a spectacular casting agent. Especially for rom coms and dramas. I can sense a world-changing, onscreen chemistry like no other. Now I'm beginning to think I could have a solid career in matchmaking as well...
I digress.
Pinky promise I will remain focused on the Halloween movies for the rest of this post, although I could talk about movies and TV all the live long day, so holla atcha girl if you want to gab about it.
1. Okay, so for Matt we have the cult classic Tim Burton film, The Nightmare Before Christmas. Definitely a Halloween staple. Also, when I was 16 and had my first job at PacSun, this dude who came in to buy a pair of black Vans slipons had the CRAZIEST Nightmare Before Christmas scene tattooed on his entire upper arm. I'm not one for tattoos, but I am pretty sure I just stared at it for five minutes solid with my jaw hanging wide open. It was insane! Like, it looked exactly like the movie on this guy's flesh! So, yeah. My point here is, go watch it. And if you're going to get a tattoo, get a colorful sleeve of Jack Skellington and Sally.
2. For me, we have The Craft. As a tween of the 90's and growing up in the grunge capital of the world, this movie was and is naturally part of my library. (As well as every other angsty girl of my generation.) Fairuza Balk will always scare the crap out of me, even opposite Adam Sandler. Also, what ever happened to Neve Campbell? Ahhh, long live the 90's.
3. Next up is Hook for the little Lukester! I get a bit misty-eyed when I scroll through Netflix and see all of the Robin Williams movies I grew up on as a kid, and want Luke to experience that same magic. Hook is absolutely the best of the best, and since Luke loves anything with pirates and imagination, this one is for sure going to be a hit.
4. It wouldn't be Halloween if we didn't have Curious George! Remember how Luke and I dressed up as Curious George and the Man with the Yellow Hat for his first Halloween? We obviously hold a special place in our hearts for that darn monkey and Curious George: A Halloween Boo Fest is a must for all the little people in your house.
5. Last, but certainly not least, we have The Addams Family. I think this movie is hilarious. Truly, I laugh my guts out every year when we watch it. Also, the tagline is the best... "Weird is relative." Amen to that!
Alrighty, now it's your turn to spill the deets on what is in your Netflix queue. Whether it's Halloween-themed or not, I am always in search of good recommendations. I will admit, I am partial to stupid romcoms that receive dreadful ratings, but I like a good indie flick and documentary, too. Give me all the movies!