It's been a little while, but it's time for another cruelty-free collab with Liza from
Makeup Matters
by LNC
and Catherine from
Buying Cruelty Free
! Since it is officially Fall, we thought we would each share our top 5 cruelty-free eye shadow picks for the season. I wanted to make sure the shadows I picked were still available and not in limited edition collections, which proved to be quite a challenge! I didn't realize just how many of my eye shadow palettes and sets were a limited edition! I managed to figure everything out, so without further ado, here are my Top 5 Cruelty-Free Eye Shadows for Fall!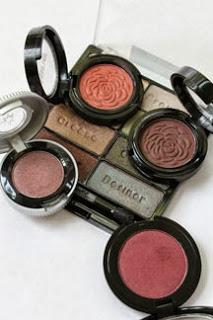 Don't forget to check out Catherine and Liza's picks as well!!!
J

Catherine from
Buying Cruelty Free

Liza from
Makeup Matters by LNC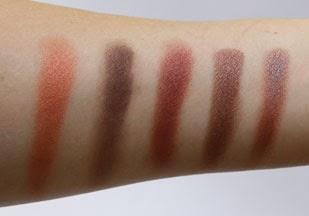 Left to Right: Jane's "Canyon", Jane's "Trillium",
Stila's "Pigalle", Urban Decay's "Roach", Wet N' Wild's
"Comfort Zone" Palette - Bottom Right Corner
I love autumnal hues for eye shadows in general and, though I'm not looking forward to Fall weather, I'm really excited for warm, cozy hued eyes this Fall. My first favorite seems like a perfect turning-leaves kind of color that can be worn somewhat sheer, or it can be built up to enhance the color. It is from Jane Cosmetics recently re-released line and it is a beautiful semi-shimmering orange called "Canyon." The color is gorgeous and it creates a beautiful fall hue on the eyes without being too in your face, or too difficult to wear. This shadow is nicely pigmented, blends wonderfully, and it wears well…with a primer. You need a primer with this particular shadow because it will fade on its own. I am completely in love with this shadow! 
Another shadow from
Jane Cosmetics
that I absolutely adore for fall – for anytime really – is called "
Trillium
." It is a deep neutral matte brown. It may look plain and simple, but it's quite versatile. You can use this for a liner, or apply it with a light hand to deepen the crease and outer "V." It is also
very
pigmented and blends quite nicely. I love pairing this with "Canyon" for a rich Fall look.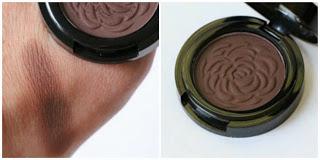 I love shimmery browns in the Fall and my absolute favorite in this color family is Urban Decay's "Roach." I think this was the first Urban Decay product I ever bought (ages ago!) and I've loved it ever since! This is actually what I wore to "my" prom (it wasn't really mine, but the only one I attended). I actually love this shadow all by itself for a quick and easy look. 
J
 It's also great for deepening the crease and outer "V." Like all Urban Decay shadows, this is super pigmented, easy to blend and wears beautifully!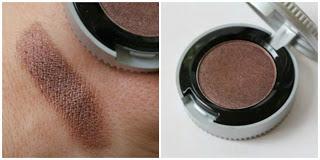 Keeping with the warm and cozy theme, I really love
Stila's
"
Pigalle
" this Fall as well. It's a beautiful burgundy shadow with a subtle shimmer. It's right on trend for the season and, paired with a neutral deep brown shadow like Jane's "Trillium" or Urban Decay's "Roach," this is gorgeous! I know burgundy can seem difficult to wear because the red tones can make one look sickly, but I find that as long as it's worn with lots of mascara or a darker shade of liner, it looks quite striking. Just ensure that there is something between the burgundy and your eye and you'll have a beautiful on-trend look for Fall!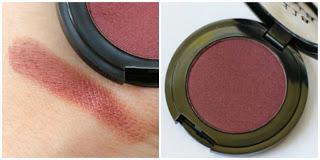 My final favorite shadow for Fall is from
Wet 'N Wild
. It is the right side "definer" shade in the "
Comfort Zone
" six shadow Color Icon palette. This is an amazing duo-chrome shadow that looks brown, green or reddish depending on the light. It's an absolutely beautiful shadow! It too is quite pigmented and blends nicely. It wears well and the duo-chrome effect is beautifully unexpected. It's a shadow that can easily be worn by itself and still look "finished." There are a number of other shadows that are quite similar, if not dupes for this shade. Among them are "Lounge" from Urban Decay (now discontinued), "Petal to the Medal" from Too Faced, "Girly" from Too Faced's "Pretty Rebel palette, "Club" from MAC (not cruelty-free) and "Hocus Pocus" from Prestige (I was planning to choose this shadow, but realized it lends itself to a fair amount of fall out, which the Wet 'N Wild does not). In general, the "Comfort Zone" palette is full of shadows that are great for fall, but the bottom right shade is simply stunning!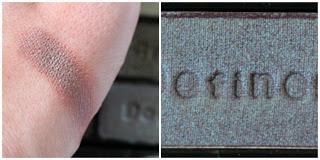 That does it for my Top 5 Eye Shadows for Fall! I am now realizing that these shades are somewhat similar, but they
are
what I'm gravitating towards as the weather gets cooler and the leaves start changing! I would have included a Green and possibly a Navy, but I felt like the shadows I chose are more wearable on a day-to-day basis…at least for me!
J
I hope you enjoyed seeing my picks and don't forget to check out
Liza's
and
Catherine's
picks as well! Let us know what shadows you're excited about this Fall! I certainly would love to know!!!
J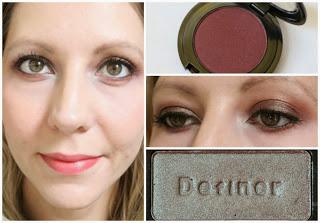 On eyes: Wet 'N Wild "Comfort Zone" bottom right shadow
over Milani's Shadow Pencil in "Brown Deluxe" on lid
with Stila's "Pigalle" in the crease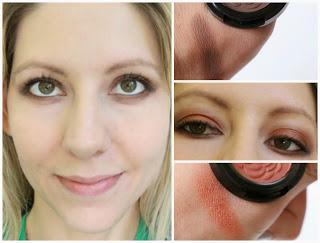 On eyes: Jane's "Canyon" on lid with "Trillium" in crease
and outer corner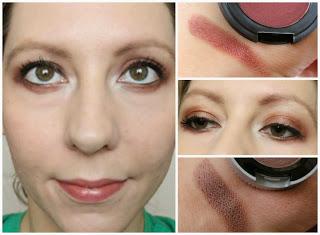 On eyes: Urban Decay's "Roach" on lids with Stila's
"Pigalle" blended into crease and outer corner
In case you missed them, here are our other collaboration posts:
Top 5 Summer Beauty Products:
Liza's Post
Catherine's Post
My Post
5 Favorite New Products:
Liza's Post
Catherine's Post
My Post
Top 5 Cruelty-Free Brushes:
Liza's Post
Catherine's Post
My Post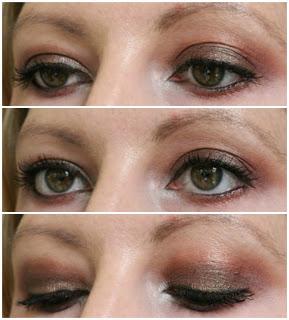 Wet 'N Wild "Comfort Zone" bottom right shadow
over Milani's Shadow Pencil in "Brown Deluxe" on lid
with Stila's "Pigalle" in the crease and Urban
Decay's "Zephyr" around the tear duct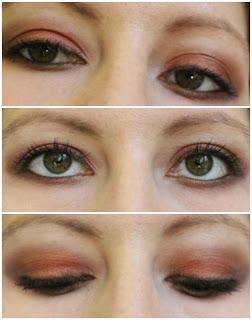 Jane's "Canyon" on lids with Jane's
"Trillium" in crease and outer corner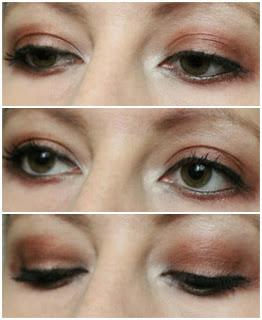 Urban Decay's "Roach" on lid with Stila's
"Pigalle" blended into the crease and outer
corner