There are so many flashy fashionistas out there flaunting their fabulous styles and creating such amazing and unique posts on their women's swimwear that it's very difficult to find this week's best from across the web. So we've assembled a list of some of our best loved bikini and bathing suit blog posts of the past week from some of our favorite bloggers in the glamorous world of fashion.
Around Lucia – Flirty Ruffles – 7/22/14
"We only need two things, a great bikini and sunscreen." What a great quote from sunny California Blogger Lucia Mouet. She starts off the best swimwear posts of the week rocking the very flirty floral flounce bikini from one of our favorite swimwear brands, Bikini Lab. She points out that flounce bikinis are great for skinny girls as they add a little bit of volume to the body. She completes the ensemble with a pair of gladiator sandals and a cute straw hat.  Check out this glamorous bikini post as she struts around the beach lounge in this adorable Bikini Lab swimsuit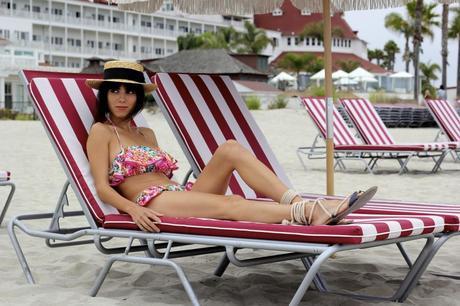 Lucia Mouet of the Fashion Blog Around Lucia looking fun and flirty in this floral Bikini Lab flounce bikini
http://aroundlucia.com/2014/07/22/flirty-ruffles/
Peace Love Shea – Wanderlust – 7/18/14
One word describes this hot blonde blogger's Bali photo shoot; "Wow!" This Hollywood based fashionista is Shae Marie from the fashion blog Peace Love Shea. Shea poses in a crocheted halter top bikini from SHE MADE ME. The elegant bikini is complimented by an assortment of beautiful gold jewelry.  With amazingly gorgeous photography like this set it's no wonder she's amassed 567,043 followers on Instagram. Let hope we can all one day take a visit to Shea's happy place as she likes to describe the beaches of Bali.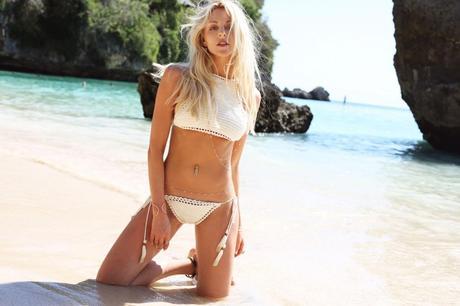 This gorgeous blonde in the two piece bikini on the beaches of Bali is Shea Marie. one of the world's most beloved fashion bloggers. (At least according to her Instagram followers)
http://peaceloveshea.com/wanderlust
Ria Michelle -  Insta-Outfit: Triangl Swim – 7/17/14
Miami fashion blogger Ria Michelle took a moment at her condo's pool to just relax before the whirlwind of events for the Mercedes-Benz Fashion Swim Week in Miami. She has a busy week of taking shots at shows, backstage, at parties etc until she can't stand anymore. For this quick photo shoot Ria donned a black neoprene bikini by Triangl. This fab material has a latex feel to it and hugs your curves even more than spandex but it does require some extra care. For sure Ria looks ready to kick it with the biggest names in women's swimwear fashion.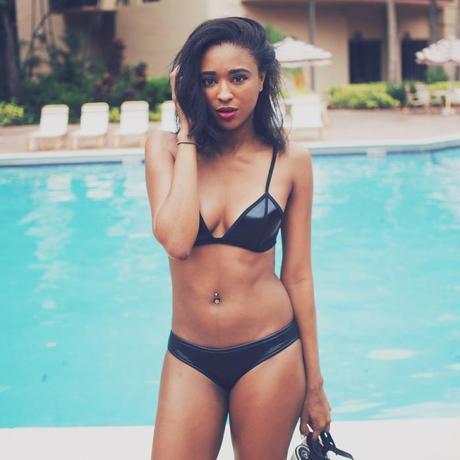 Fashion blogger Ria Michelle getting ready for the Miami Mercedes-Benz Fashion Swim Week in a neoprene bikini by Triangl
 http://riamichelle.com/insta-outfit-triangl-swim
Stylish Me – A Stylish Way to Cover Up at the Beach – 7/16/14
In this glamorous swimwear post, Vanessa of the fashion blog Stylish Me, divides beach goers into three groups. The beach bums who can lie in the sand for hours enjoying the rays of sunshine, the active gals, always ready for swimming, a game of beach volleyball, throwing the football or even surfing, and the neither who just like relaxing at the beach. As someone who burns easily, Vanessa is proud to be in the third category. Her photos remind remind readers of the simplicity and calmness of the beach. Her swimwear outfit consists of a white lace cover up, a nice pair of sunglasses and a big hat, a beach essential. Her cover up reminds us of a longer version of the Just a Peak Tunic by Becca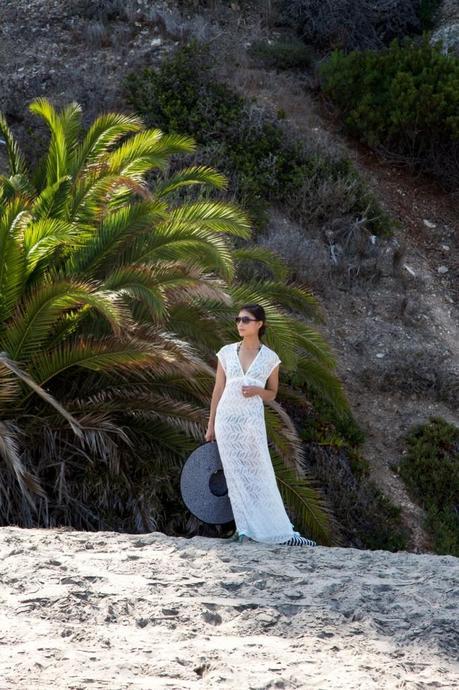 Vanessa from the fashion blog Stylishly Me looks quite angelic in her white lace swimwear cover up and large sun hat.
http://stylishlyme.com/style/stylish-cover-up-at-the-beach
Sally and Molly of the fashion blog,  A Piece of Toast, visited the beach this week. They each looked fabulous  in their brightly colored bikinis from Old Navy.  Molly (pictured below) is wearing a pink striped french cut bikini with a pink tie bottom, big shades and a big hat. Her red and white cover up looks adorable. Sally on the other hand is rocking a halter top bikini with a fun brightly colored  geometric pattern, a white tunic cover up sunglasses and a straw fedora. These two blonde beach babes look like they're ready for a day in the sun.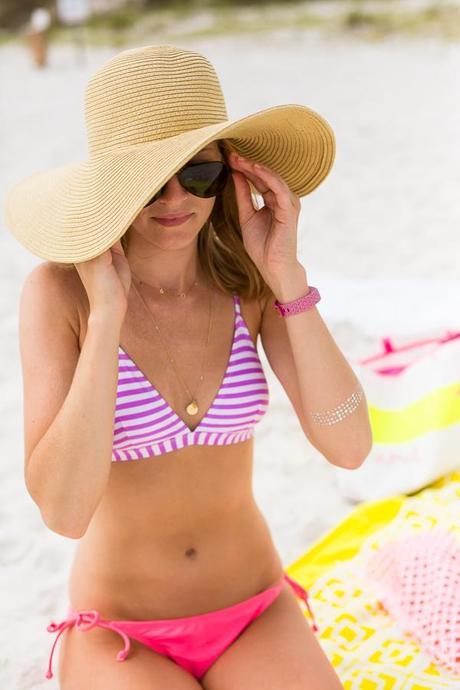 The ladies of the fashion blog A piece of toast sport adorable bikinis at the beach
 http://apieceoftoastblog.com/2014/07/22/beach-bunnies-2
Bonus post!
Refinery 29 – Miss Idaho Walks The Stage In A Bikini — With An Insulin Pump – 7/18/14
The Miss Idaho 2014 competition was held Saturday in Nampa, ID. 20-year-old contestant Sierra Sandison chose to walk the stage wearing a bedazzled, black halter bikini. This is nothing unusual.  But, attached to that bikini, in plain view, was Sandison's insulin pump: a first for the Miss Universe Organization. Since Saturday people and the media have been buzzing about Sierra's bold move. Sierra went on to win the title of Miss Idaho and will go on to compete in the Miss USA pageant. In wearing the insulin pump with her bikini became a role model for thousands of diabetics and other chronic-illness sufferers.
Miss Idaho sporting a black halter top bikini and insulin pump. She doesn't let her diabetes impact her fashion.
http://www.refinery29.com/2014/07/71409/miss-idaho-insulin-pump