There are a lot of fashion bloggers out there on the web. So many of them put up such amazing and unique posts about the women's swimwear they love to wear. It's hard to find all the best ones from across the web, so we've assembled a list of some of our best loved bikini and bathing suit blog posts from the past week by some of our favorite bloggers in the wonderful world of women's fashion.
To Vogue Or Bust - Beach to Street Style – 7/30/14
To kick off this week's top 5 best swimsuit post we've got Canadian fashion lover Alexandra Grant from the blog To Vogue Or Bust. For her day at the beach Alexandra moves away from her usual bikini and fantastically pulls off this black one piece swimsuit from Everyday Sunday Swimwear. This dark convertible bandeau one piece fits her like a glove. It reminds us of  La Blanca Swimwear's Island Goddess Sweetheart Cup One Piece. She shows just how easily a fabulous swimsuit can be transformed into a fabulous street style with an adorable swimwear cover up. Frankly we're glad Alexandra left her bikinis only swimwear comfort zone, because she looks amazing in this one piece bathing suit.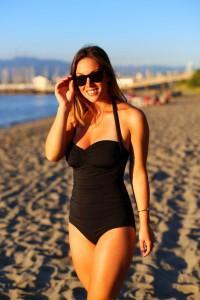 Alexandra Grant from the fashion blog To Vogue Or Bust in a chic black one piece swimsuit.
http://www.tovogueorbust.com/2014/07/beach-to-street-style.html
Today's Everyday Fashion: Swimwear – 7/29/14
Her ultimate outfit? Swimwear! This fashion blogger who's known on her blog J's Everyday Fashion, simply as J. snapped a great set of beach photos from Cabo  in some very cute Victoria Secret bikinis. Her bright colored bikinis reflect the fun exciting energy you get when you go to the beach. She skillfully mixes and matches the colorful Victoria Secret tops and bottoms. This glamorous fashion blogger models a variety of different bikini styles like fringes, bandeau, strings and prints. And we must say she looks super adorable in each bikini.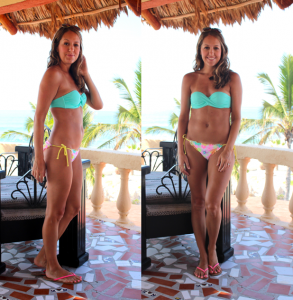 J. looking bright and fashionable in her Victoria Secret bikinis
http://jseverydayfashion.com/home/2014/7/29/todays-everyday-fashion-swimwear
My Beauty Bunny – Jen in a Bathing Suit?! – 7/30/14
We don't normally put beauty blogs in posts like these because there are so many fashion bloggers with such great blogs. But we just had to include Jen's swimsuit post on My Beauty Bunny because despite not being as confident in her body (which she really should be) she was brave enough to post herself in a bathing suit. And we're glad she did because she looks great in this red polka dot one piece swimsuit from Lime Ricki Swimwear. This retro swimsuit is one of the most adorable suits we've seen and it fits Jen brilliantly making it all the more adorable. Next time though Jen you shouldn't be so worried about just showing your top. Try a swimdress like this Garden State Peasant Swimdress by It Figures. It will help mask your less confident areas.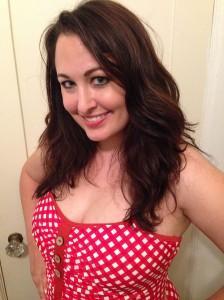 Jen from My Beauty Bunny sporting the retro polka dot look. And looking fantastic we must say.
http://www.mybeautybunny.com/jen-bathing-suit-lime-ricki-review/
The Brunette Salad – NY Noir – 7/28/14
Vanessa Cesario of the blog The Brunette Salad modeled this black neoprene bikini from Triangl Swimwear. Her bikini pictures in the pool go above the realm of fashion blogger and into super model status.  She really knows her women's swimwear fashion because it's a very similar bikini to Ria Michelle's from last week's Swimwear posts of the week. Neoprene seems to be one of the new swimwear fabric trends of 2015. It's no wonder when trendy women like Vanessa can look so incredibly seductive in hers. Her black halter top bikini looks so sexy on her.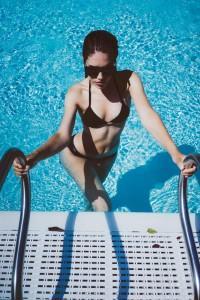 This sexy neoprene bikini is being shown off by Vanessa of The Brunette Salad
http://www.thebrunettesalad.com/ny-noir/
TOBRUCK AVE – East Coast Beach Life- 7/24/14
Super cute California fashion blogger Kiara Schwartz of the blog Tobruck Ave, looks super cute in this Volcom bandeau bikini. She took these at a beach in Connecticut at a spot that she describes as "where you can kind of totally forget that you are out east and not on a beach in the Bahamas." Her black beach hat and sunglasses complete this beach babe's look. The unsymmetrical geometric pattern on the bikini really gives it a very unique feel that reflects this young fashionista's individualistic style.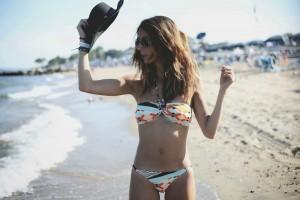 Kiara showing off her beach body in this super cute Volcom bandeau bikini
http://tobruckave.blogspot.com/2014/07/east-coast-beach-life.html
Food Fashion and Fun – Bottoms Up Mango Creamsicle – 7/29/14
This weeks bonus post comes to us from from Beth at the lifestyle blog Food Fashion and Fun. She shares with us this delicious looking summer cocktail. If you liked orange creamsicles as a kid, you'll love this creamy mango drink.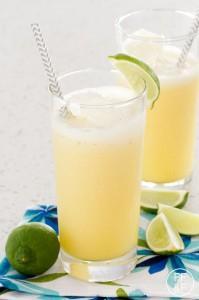 Be sure to try this yummy Mango Creamsicle from the lifestyle blog Food Fashion and Fun
http://foodfashionandfun.com/2014/07/29/bottoms-up-mango-creamsicle/