As a mother, I will always want my baby to get the best in everything. And I am sure any mother will want that. Baby wipes are very important for our little ones and as parents, we know how useful those can be for a lot of reasons. In India, a lot of brands are coming up with Baby wipes. However, with so many brands flooding the market, it becomes overwhelming for a parent to choose the best ones for their babies. Before jotting down the top 5 Best Baby Wipes for Sensitive skin in India, it is important to know why baby wipes are useful and why should they be kept.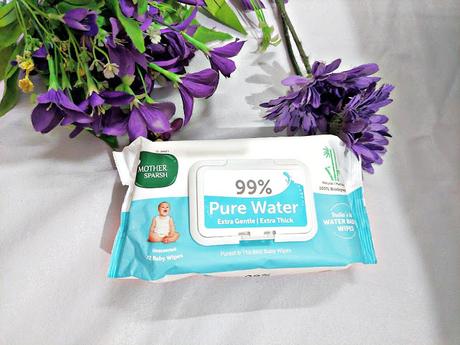 Reasons why Baby Wipes are Useful:
1. Diaper Changes: Each time we change a baby's diaper, there is a need for cleaning, and what's best than baby wipes!
2. Cleaning hands: Baby wipes are used for cleaning the baby's hands often. Even we as adults use it for cleaning hands, especially during traveling.
3. Blowing Noses: Baby wipes can be used for blowing runny noses of babies too. 
4. Cleaning soiled feet: Often babies and toddlers can tread along soiled places and for immediate clean-ups, moms rely on baby wipes
5. Face clean-up: While eating, it is necessary to keep either tissue or baby wipe handy for quick clean-up of food from around the mouth.
6. Makeup remover: Baby wipes are not only restricted to babies for use. Most mommies use baby wipes as a quick makeup remover too.
Sensitive Skin in Babies:
Mostly a baby's skin is very tender and, in many cases, quite sensitive. Their sensitive skin can face more problems due to the continuous use of diapers, rough clothing materials, cosmetic products, and even certain foods. As baby wipes important for them, we should be careful in choosing the best products that are available in the market.
Top 5 Best Baby Wipes for Sensitive Skin in India
With new technologies coming out daily, and with the advent of plant-based baby wipes, the Indian baby care market has been flooded with innumerable Baby Wipes to choose from. After some thorough research, I have picked up the Top 5 best baby wipes for sensitive skin in India:
1. Himalaya Soothing Baby Wipes:
The Himalaya Soothing Baby Wipes has been curated specially for those little ones with sensitive skin. It is made carefully with ingredients chosen to soothe the sensitivity of the skin. The main ingredients include lavender, aloe vera, and almond oil for soothing, calming, and moisturizing the baby's skin. Priced at Rs. 184 for a pack of 72, and Rs. 79 for a pack of 24, these wipes are truly wonderful for babies
2. Mother Sparsh Unscented 99% Pure Water Wipes:
Mother Sparsh as a brand has made a name as one of India's topmost and trusted baby and mother care brands. Their products have been uniquely made with plant-derived ingredients and hence are way safer to use than products of other normal brands.
The Mother Sparsh Unscented 99% Pure Water Wipes are formulated especially, keeping in mind the dry and sensitive skin of babies. Made with plant-based Medical Grade cloth and water, these wipes are unscented with super soft fabric and are generally 3 times thicker than other normal baby wipes. These wipes are biodegradable, clinically tested for rashes and infections, and are dermatologically approved. 
These wipes are so skin-friendly that they can be used from the baby's birth to clean hands, feet, and body too. These can also soothe skin rashes and any sort of irritation in the baby's skin. The packaging of Mother Sparsh Unscented 99% Pure Water Wipes is very safe with a moisture Lock lid.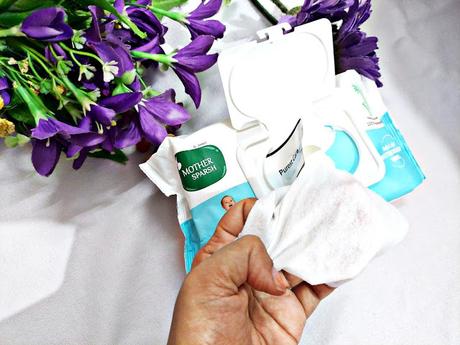 Made with 99% Pure water, these organic wipes also have the goodness of calendula extracts and citric acid that strengthen its anti-fungal, anti-inflammatory, and antifungal properties while mildly exfoliating the skin. The Mother Sparsh Unscented 99% Pure Water Wipes are a perfect choice for our little one's sensitive skin any day, over normal synthetic baby wipes.
Priced at Rs. 299 for a pack of 72, you can buy it from their website here
3. Johnson's Baby Skincare Wipes:
Johnson's Baby Skincare Wipes are made with ultra-fine fabric and its advanced fiber technology works as a cleansing sponge. It has the triple power of moisturizing lotion and is alcohol and soap-free. These wipes are suitable for newborn babies to keep their skin softer and nappy rash-free. These are priced at Rs. 238 for a pack of 80.
4. Pampers Baby Gentle Wet Wipes with Aloe Vera:
Pampers Baby Gentle Wet Wipes Wipes with Aloe Vera are dermatologically tested to suit the tender skin of babies and to prevent rashes and redness. These wipes are firm yet gentle due to their soft grip texture. These wipes have a very refreshing fragrance and are very easy to use. The presence of aloe vera and Vitamin E make them great for moisturizing skin. The protective cover helps lock the wetness for long. These are priced at Rs. 199 for a pack of 72.
5. Baby Dove Rich Moisture Baby Wipes:
Baby Dove Rich Moisture Baby Wipes are hypoallergenic, pediatrician and dermatologist tested. These wipes are alcohol-free and are made with soft and comfortable fabric. As the name suggests these wipes are rich in moisture and are highly absorbent too. These are priced at Rs.135 for a pack of 50.
So, these are the Top 5 Best Baby Wipes for Sensitive Skin in India. As earlier discussed too, there are a lot of options nowadays, to choose the best baby wipes for your baby. However, as a parent, you would always want to give them the best. And this list has been made, keeping in mind the sensitivity a baby's skin can face. Often the fragrance present in baby wipes can cause major issues to the baby's skin. The presence of too much alcohol can irritate the skin. So it is best to opt for baby wipes that have less percentage of alcohol. 
I hope this list of Top 5 Best Baby Wipes for Sensitive Skin is going to be helpful for new and future parents. If you are using any of these wipes, let me know which one it is, in the comment section, below.
 #unscentedhappiness#unscentedwipes#mothersparsh#babywipes
#unscentedbabywipes
#unscentedwaterbasedwipes
#purewaterbabywipes