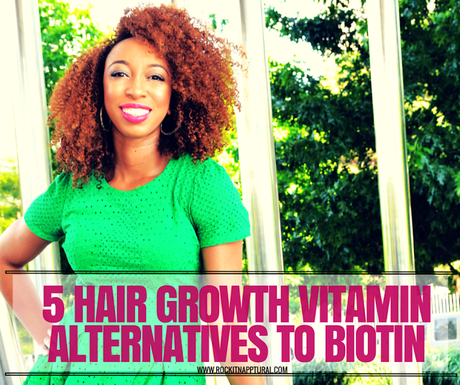 Biotin is one of the most commonly used vitamins for promoting hair growth. Biotin, also known as Vitamin B7 is found in various hair, skin and nail growth vitamins, formulas and supplements. I have a sensitivity to Biotin, like many others and some people may have adverse effects from using it. Some women have even reported an unwanted increase in hair growth in places where they weren't expecting hair growth such as the chin, upper lip, breast area, the back, and other undesirable places on the body. The good news is that there are
alternatives to taking Biotin
. It's not the only vitamin in the world that can or will produce stronger, healthier hair growth.
1. SILICA
Silica is a natural trace mineral that helps to improve blood circulation in the scalp and stimulate hair growth. Silica helps with the creation of collagen, which is found in the connective tissues of the skin and hair follicles. Silica also transports nutrients to the hair, skin and nails. Silica is also good for anyone dealing with hair breakage or thinning hair. It helps by thickening new growth, strengthening the hair follicle and promoting hair growth.
Recommended Dosage:
No more than 20 to 40 mg per day
Possible Side Effects:
Prolonged use of silica can lead to kidney failure, excessive urination, and kidney stones. Silica can also build up in the body. Only a small amount is needed to reap the benefits of using the mineral.
2. SAW PALMETTO
Saw Palmetto is one of the most popular herbal treatments for hair loss and slow growing hair. The Journal of Alternative Medicine published a study in 2002 showing that participants that took 400 mg of Saw Palmetto demonstrated more hair growth than those that did not. Saw Palmetto has anti-inflammatory properties and contains fatty acids that are great for the hair. Anyone suffering from male or female pattern baldness could benefit from taking Saw Palmetto. It contains a compound that helps block DHT, one of the main contributors to hair loss. 
Recommended Dosage: 320 mg per day
Possible Side Effects:
Very few allergic reactions have been reported with prolonged use of Saw Palmetto. The most common complaints from long-term use are stomach aches, nausea, bad breath, constipation and diarrhea, flatulence, and heartburn. Experts suggest taking the herb with food.
3. MSM (Methylsulfonylmethane)
MSM is a sulfur- based compound that is naturally occurring both in our bodies and in various foods. According to Dr. Phoenyx Austin, physician, author and creator of the Beauty & Body Protein for healthy hair and body, MSM is exceptional for improving hair growth because it provides one of the main building blocks needed for our hair- sulfur. Sulfur is needed to produce collagen and keratin, which are both essential to healthy hair growth. The sulfur in MSM has also shown to lengthen the anagen phase, or the active growing phase of the hair growth cycle. Overall, MSM has shown very promising benefits to natural hair growth for all hair textures.
Recommended Dosage:
There is no daily recommended dosage for MSM however, experts suggest no more than 1500 mg daily. Start at low doses of 500 mg per day and if you want, you can increase your intake after a few days depending on how your body reacts.
Possible Side Effects
: Taking extremely high dosages of MSM can cause diarrhea, bloating, headache, itching skin, and kidney damage. Be sure to check with your doctor and do your research before starting any new vitamins or supplements.
4. HORSETAIL
Horsetail is an old-age mineral rich herb that stimulates hair growth and helps to improve the texture of your hair . Horsetail contains minerals that help the scalp and body to process iodine, which is needed for proper hair growth regulation. Horsetail is a natural antioxidant that also has antimicrobial and anti-inflammatory benefits. Horsetail works exceptionally well because it contains silica which helps this herb to promote healthy, stronger hair growth.
Recommended Dosage:
300 mg taken 3 times a day
Possible Side Effects:
Horsetail is not recommend for persons with thiamine deficiency, who are pregnant or nursing, and those with diabetics. There have been some reports of stomach discomfort, diarrhea and increased urination and in some cases, reports of nerve damage with long-term use of the medicinal herb.
5. VITAMIN D
Vitamin D is an essential vitamin to maintaining healthy bones, skin, and hair growth. Vitamin D has not to long ago been discovered as a contributor to healthy hair growth. In 2012, Stem Cells Translational Medicine published a study that suggested Vitamin D could help create new hair follicles and awaken dormant hair follicles. Participants of the study found that after taking Vitamin D for a period of time, they experienced stronger, thicker hair growth and an extraordinary decrease in breakage and shedding. A person with a Vitamin D deficiency may suffer from hair loss, slow or stunted hair growth, and baldness for both men and women.
Recommended Dosage:
Adults over 18 take 600 IU or 15 mcg  of Vitamin D daily
Possible Side Effects:
Most people don't experience side effects from taking Vitamin D. However, prolonged use or taking too much Vitamin D may cause headaches, dry mouth, drowsiness, fatigue, a metallic taste in the mouth, constipation, and vomiting. As always, be sure to consult with your physician before starting new vitamins especially if you are pregnant, nursing or already taking medications.
Biotin isn't the only vitamin that can help promote stronger, longer, and healthier hair growth. Although biotin has proven itself to be effective, it is commonly used with other vitamins and minerals to help support its function.
At the end of the day, healthy natural hair care begins from the inside out. For optimal hair growth, be sure to drink plenty of water, exercise, and start by getting your necessary nutrients by eating the right foods. If you need a boost in the hair growth department, all-natural vitamin and minerals are a good way to encourage maximum hair growth.
Image Created via CreateHERstock