Escaping into a submarine world is a truly amazing experience. With so many different types of dive available around the world, there's plenty to get excited about. Here's the Frontier guide to a few of our favourites.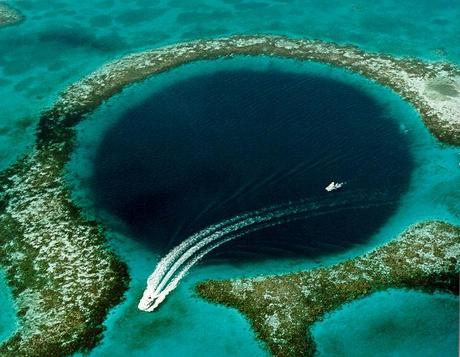 Scenic Diving
The Great Blue Hole, Belize
Opportunities - Located in the middle of the Lighthouse Reef ecosystem in the Caribbean sea, the Great Blue Hole is an underwater sinkhole measuring 300m across and plunges to a depth of around 130m. Imagine the shape to be a bit like an upside down bowler hat, divers go around 14m down to the edge of the hole (the rim of the hat) and then experience a drop straight down into a vast cavern filled with crystal clear waters, a maze of stalactites to maneuver around and various species of fish.
Marine Life - Home to a large variety of marine life native to the Caribbean sea, you can see numerous species of shark such as the Caribbean Reef Shark, the Blacktip Shark, Nurse sharks, giant groupers and, if you're lucky, the occasional turtle, hammerhead or bull shark swimming by. 
Previous Diving Experience - This spot is only advised for advanced divers who have some sort of training or understanding of very deep diving; the deepest parts being over 126m.
Best time to go - The climate in Belize is warm all year round, with the lowest water temperature reaching just 24°C. You can dive any time at the Great Blue Hole without necessarily having to deal with the cold, but the warmest times to dive are from March to October. Avoid the rainy season between June and August.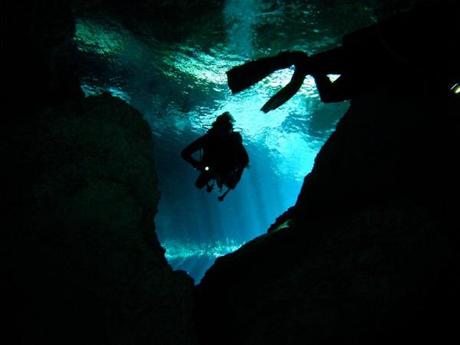 Photo courtesy of tslane888 
Cave Diving
Cenotes, Mexico

Opportunities - The Yucatan Peninsula houses a huge underground cave system filled with water from the Gulf of Mexico and the Caribbean Sea. Dotted along the peninsula are large windows, where the cave's ceilings have collapsed to expose the groundwater beneath- these are called 'cenotes'. The large Mexican cenotes have long been a marine Mecca, providing divers with the environment to explore beautifully decorated and, often, ancient systems, following their choice of route around large columns and stalactites, with plenty of bottom time, plenty of daylight and plenty of surprises. Traversing between the two eye holes of "Dos Ojos" is just one example out of the countless number of cave dives.
Marine Life - A variety of fish inhabit the water of the Yucatán Peninsula including sharks, manta rays, stingrays, barracuda, marlin, toadfish, killifish, Yucatán Mosquitofish, catfish and you may spy a sea turtle or two. When not traversing the caves, you can head out to La Isla Holbox, where the whale sharks play.
Previous Diving Experience - Most of the caverns are accessible for divers without previous experience in an overhead environment. There are also deeper and more challenging cenotes available to divers with more advanced training or experience.
Best time to go - Because the climate is hot and humid, the best time to visit is during the dryer months between November and March. Be sure to avoid the hurricane season, running from June to November.
Read our article on these amazing natural formations.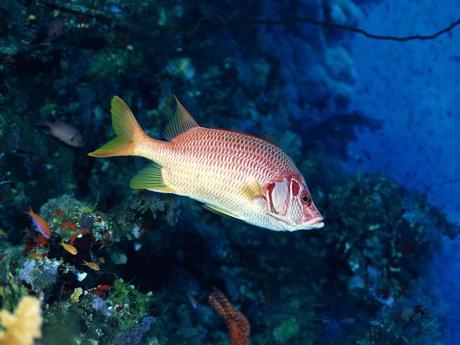 Photo courtesy of Anderson Smith2010
Wreck Diving
Truk Lagoon, Micronesia

Opportunities - This wreck offers adrenaline-junky scuba divers a cool yet creepy underwater adventure in Pacific waters where they can discover the mysterious Ghost Fleet of Truk Lagoon. More than 50 major shipwrecks from WWII litter the seabed, making it the biggest ship graveyard in the world. With most of the wrecks untouched for fear of setting off sunken bombs, many of the shipwrecks have full cargo loads full of ammunition, weapons, old radios, torpedoes, mines, whole fighter aircraft, motorcycles, tanks and more.
Marine Life - The coral encrusted wrecks attract a diverse array of marine life, including manta rays, turtles and sharks. With 3,000 people presumed to have been killed in the major shipwrecks, rumours have arisen that the wrecks in Truk Lagoon are haunted. You may get more marine life than you bargained for down in the shadowy depths.
Previous Diving Experience - Some wrecks are easily accessible for beginner divers, however, the deepest wrecks of the lagoon are reserved for experienced divers only. These include the "Fujisan Maru" and the world famous "San Francisco Maru", both of which rest more than 40m below the surface.
Best Time to go - Temperatures average 26°C to 27°C (80°F to 81°F) all year round, making diving conditions reasonably warm. The wettest months should be avoided if possible and theses are in late spring and summer.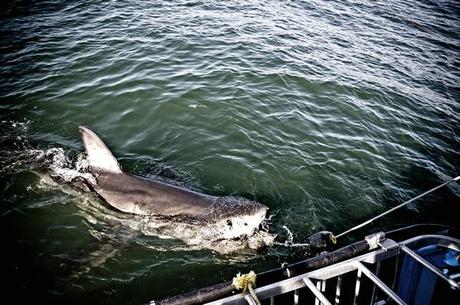 Photo courtesy of vic.bergmann
Cage Diving
'Shark Alley' (Between Gansbaai and Dyer Island), South Africa 
Opportunities - You will be able to meet a Great White Shark, face to face whilst remaining safe behind the bars of a cage, designed and built to withstand being rammed by these large and powerful predators. The cages provide a visual and tactile deterrent to sharks whilst allowing you to be as close as humanly possible without being in danger. If the adrenaline rush isn't enough, this experience will also allow you an intimate encounter with the world's most misunderstood animal.
Marine Life - The dives are designed for the viewing of the large and powerful predators of the marine world, most commonly for Great Whites or Bull Sharks. However, Shark Alley is also home to the shark's prey, many Cape fur seals, dolphins, cow sharks
Previous Dive Experience - Some diving operators require a basic level of diving proficiency while others don't. In most cases, all you need to qualify to do the cage dive is to feel comfortable in a cage in water.
Best Time to go - Winter is the best time to go from May to October. Although getting to see the sharks is not guaranteed, the success rate is very high, around 95 per cent.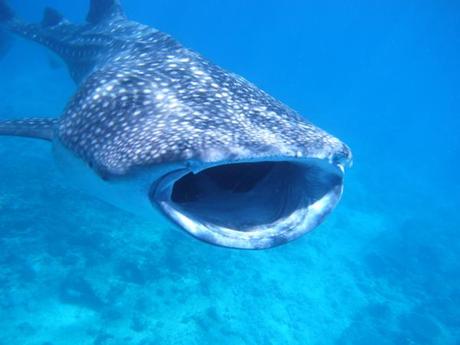 Photo courtesy of KAZ2.0
Wildlife Diving
Frontier Whale Sharks, Mozambique
Opportunities - The project will see you snorkelling alongside huge yet graceful whale sharks, animals described to be the 'ideal swimming companions', taking photographs and collecting data. You'll contribute work towards the conservation of the reef itself and towards the conservation of the threatened loggerhead turtles, patrolling their nesting sites, tagging and studying behavioural patterns.
Marine Life - Species spotted and photographed on our project include Spanish dancers, manta rays, loggerhead turtles, honeycomb morays, colourful harlekin, shrimp, dolphins, large crabs, the occasional humpback whale and of course lots of lovely whale sharks!
Previous Dive Experience - Beginners welcome! Throughout the project you will be provided with extensive dive training up to PADI Open Water by our experienced dive staff.
Best time to go - This project goes out on the first Monday of every month from January to November, giving you lots of flexibility and also meaning you miss the worst of the summer rainy season in December. The cooler, dry season takes place between May/June and November, this time is perfect for diving.
Check out all of the marine projects on offer with Frontier
By Greta Hedley-Miller