In a series of posts back in 2009, NEFolk was tracking a series of meetings presenting the future of UMass Boston's WUMB.  Its statement "
The station may even end up dumping its identification as "folk radio."", 
made 1/27/09, in association with Clea Simon's 1/24/09 Boston Globe article, proved to be prophetic.
WUMB proceeded to drink the federal kool-aid whose terms and consultants mandated it change format from locally-produced shows featuring quasi-folk music to adopting several NPR syndicated progreams played weeknights and weekends and during the weekdays AAA "music mix". To lead the transformation, then general manager Pat Monteith hired John Laurenti as its music director The word "folk" was purged from its lexcon, the scripts the "on air personalities" read, its logo, it monthly newsletter, and its annual summer festival. Ten months later, sister NPR station
WGBH also dumped "the peoples' music" (folk and blues)
. In the words of Jim Kweskin,
"I can only assume this has something to do with the almighty dollar. Isn't this supposed to be public radio and aren't we the public. Folk music has been a mainstay on WGBH for as long as I can remember. Acoustic artists are as popular as ever and in some ways even more popular then in days gone by. I don't get it. WGB

H should be ashamed of itself. Well, as Ma Joad said, "We're the people and you can't stop us and you can't lick us. We just keep coming, 'cause we're the people."



-Jim Kweskin, November 11, 2009.
The rest is history, including WGBH's termination of jazz hosts and cutting back total jazz broadcast hours, as one can read elsewhere in this blog.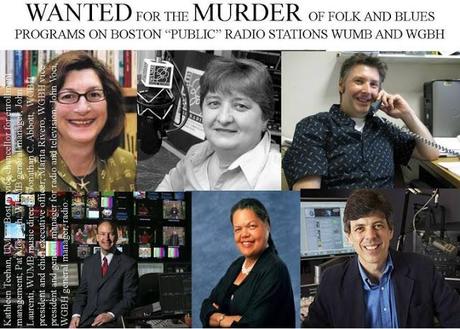 From the Facebook page 
Towards Independent College / Community Radio WUMB
The station may even end up dumping its identification as "folk radio."
Change is in the air at WUMB
By Clea Simon, Globe Correspondent  |  
January 24, 2008
Money changes everything, at least for WUMB-FM (91.9). Thanks in part to a recent grant that allowed it to evaluate its mission, the public station may well drop wide-ranging music programs "Mountain Stage" and "Afropop Worldwide" by March 1. The station may even end up dumping its identification as "folk radio."But in exchange, say those in charge, listeners will be getting a station that is more responsive to the community's needs.The impetus for these changes is a station-renewal grant from the Corporation for Public Broadcasting. One of five awarded in July to stations across the country, the grant of approximately $500,000 has allowed WUMB, which is based at the University of Massachusetts at Boston, to poll listeners and conduct focus groups about what the station should be as it finishes its first 25 years on air.Four meetings in December with various community members and six last week with "affinity groups," or people already connected with the station or the city's arts and media, have provided some unexpected results. Around the beginning of March, before the station's next fund-raiser, station management expects to implement at least some changes in response. (Listeners can still participate in the online poll at 
wumb.org
. Click on "Listener Survey.")"There is a definite call to replace some of the syndicated programs with live shows," says Pat Monteith, general manager of the station, which also broadcasts at 91.7 FM in Newburyport and 1170 AM in Orleans. "Some shows," she learned, "people want more of."Perhaps most startling, she said, was the reaction to the station's ID. "Several people [said], 'I hadn't listened before, because I really don't like "folk" music, but when I listen to your station I like it,' " Monteith explained. "Even our heaviest listeners find the word 'folk' very challenging."That kind of insight is what the station-renewal grants are for, said Deborah Carr of the CPB. Since June 2006, the station-renewal project has aimed to identify public-radio outlets that were not reaching enough of their listening audience, and yet had strong support from their license holders. Ten stations were assessed in the project's first phase, and five were selected for this second phase, which began last summer, said Carr, the project manager.Carr said that WUMB was chosen because of the feasibility of its plans and the commitment of the university. The other four stations receiving grants were KDHX of St. Louis, KRCL of Salt Lake City, WIPR of San Juan, and KVCR, of San Bernardino, Calif. The grants provide financial support for two years as the stations reassess their mission.In addition to the listener-driven programming changes, the grant has also helped WUMB create positions for a director of business and administration and a full-time underwriting manager, which "will take pressure off of listeners" during fund drives, said Monteith.Programming changes may come soon.Until now, WUMB paid to be an affiliate of the distributor Public Radio International, and had the right to broadcast PRI shows, including "Mountain Stage" and "Afropop Worldwide." Over the past few years, several other PRI shows carried by WUMB, including "American Routes" and "World Cafe," have switched distributors.According to Monteith, the fees for being a PRI affiliate have not reflected these changes. The cost to air the remaining two programs is "literally four times what it was per program," she said, which may lead the station to replace those shows with local programming.It's not a change she takes lightly, as "Mountain Stage" is one of WUMB's top three shows, said Monteith. "We talked to the producers. We love those folks. They do a phenomenal job with the program, but their contract won't allow them to negotiate with us independently and PRI won't give us a price that's affordable," she said.
Julia Mears, PRI's vice president for brand management and marketing strategy, said the organization was working with the station "to come to a rate that works for everyone." But Monteith said she was not optimistic about the possibility of a compromise. 

http://www.boston.com/ae/tv/articles/2008/01/24/change_is_in_the_air_at_wumb/