Well, the Tiguan is certainly clocking up a bit of a mileage of late. We did another whirlwind trip en famille, back to the UK for a really enjoyable, family get-together, to celebrate my in-laws' 50th wedding anniversary (way to go Carole and Dave!). They live on the south coast, in Eastbourne, and so we decided to take 'Le Shuttle', or 'The Chunnel' as we Brits tend to refer to it rather than fly. We booked through this site.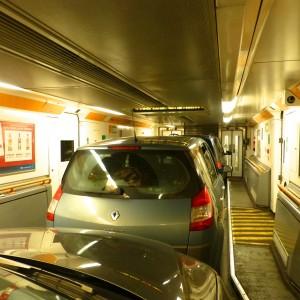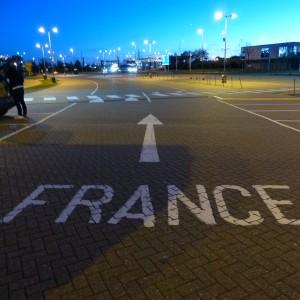 If you're still unclear, or are so posh you only ever fly, well it's a train that goes under the sea, crossing the channel between France and England, between Calais and Folkestone. It's a roughly 3-hour drive to Calais, followed by a mere 30 minute train journey, and then a 1 1/2 hour drive along the coast. It might sound a bit arduous, but let me tell you this, it was a revelation. I love flying (unlike hubby who needs to be tranquillised prior to getting on a plane) but doing it with the kids is less fun these days. Actually, the airplane bit is fine, it's the waiting-around-in airport-with-increasingly-feral-offspring bit which appeals less.
When you factor in the time it takes faffing around getting to and from an airport, not to mention all the customs, check-in etc, if we'd flown via Gatwick, we'd have arrived in pretty much the same time frame, and so to be able to pack up all your kit and caboodle into the trunk of the car, strap your kids in to their car seats outside your house glued to an iPad, and then have them pretty much REMAIN STRAPPED IN THE SAME POSITION until you reach your destination, was something of a paradigm shift for my way of thinking. I mean, sure, we've driven to France for holidays before, but to cross a body of water in just THIRTY MINUTES without having to unload and board a plane, was quite, quite marvelous. It was just all so easy. Even a ferry is a lot more faff in my book.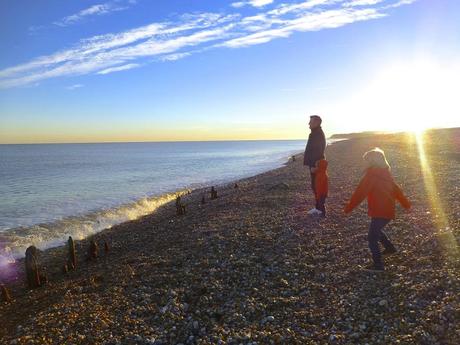 We stayed at a really great hotel in Eastbourne called The Sheldon and I have to say, it was one of the nicest hotel breakfasts I've had in years; a genuine 'Full English' without being overloaded, and no grease. The test of a good hotel breakfast is in the sausage. Pink, squishy and undercooked tends to be the norm and anything smoked is just so wrong I can't even entertain the notion. But the Sheldon has fine, locally produced bangers with its brekkie, the most comfortable hotel bed EVER and a couple of trikes and things for the kids to play on in the lounge area (yes, really), and so that was quite enough in my book to warrant a repeat visit. We stayed in a large family room with a sofa bed for the kids. The place is spotless and the staff friendly and professional without being fussy, which always hits the spot for me. It's five minutes from the sea and about ten minutes walk into the town center.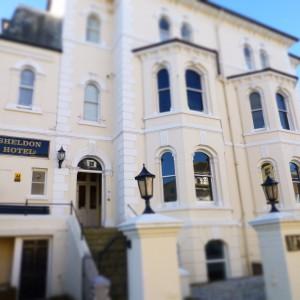 I forgot just how much I love shopping on the British high street too. I even managed to buy my very favorite sweets: Floral Gums (yes – the sweets that taste like soap). Actually I bought the whole darn container. I couldn't do that if we were flying, now could I?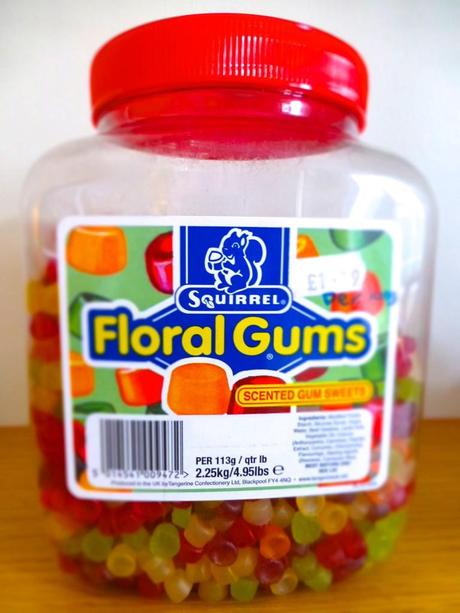 Floral Gums: Soapy but so good…
The Worst trip EVER in the history of the entire world (slight exaggeration, but it felt like it at the time)
This was all so different from our trip to the UK in the winter of 2010. I consider it my 'winter of discontent' trip; the one that still goes down in my own personal history as my 'worst trip ever'. Here is the story in its painful entirety (so skip if you worry about aging prematurely), and I promise I am not making any of this up:
We were flying home from Hong Kong to Heathrow for Christmas, but things hadn't started well and Henry was running a slight fever. We were aware the weather in Europe was bad,  with the UK gripped in a deep freeze of snow and arctic conditions, but were trapped in an expat mindset of Havaianas and year-round tans, and didn't really take the threat of airport closure overly seriously.
Half way into the flight the Captain chirpily announced there was a "problem". The bad news: conditions were so bad Heathrow was closed. The good news: most other flights from Asia to London were not only being cancelled, but were having to turn back mid-flight, or were being redirected to places like Munich. Our chap had managed to wangle us a landing spot in the UK, but it was at Edinburgh, which is quite a long way from Eastbourne I can tell you. Still I remained upbeat. Oh how I wish we'd gone to bloody Munich.
Upon landing we were informed that Edinburgh airport had officially closed and, in fact,we were the last plane to land. Edinburgh is not a long haul airport and so they were totally unaccustomed to jumbo jets the size of the one we were traveling in and, as such, we had landed 'some way' from the terminal. This would mean a wait on the tarmac while they assembled a crew to unload us. The only problem was that there weren't any crew of any description doing much of anything, either that or the 'more than my job's worth' mentality had taken over and they simply refused to do it. So we waited, and we waited, and then we waited some more. Nearly six hours in total we waited, with almost no information given by the Virgin Captain or crew. Oscar was just five months old and not yet weaned onto solid food. We ran out of formula for him after about 3 hours and, as any parent with a baby knows, this is not a happy situation.
Even with hindsight and the benefit of time, the cabin crew handled the entire situation appallingly. They scuttled to the front of the airplane and essentially downed tools because, in their eyes, their shift had ended and they were done. The senior hag even made a passenger announcement at one point that will be forever etched into my brain, and essentially told everyone to stop asking them for drinks because they were now no longer on duty and, anyway, there was nothing left apart from a small amount of orange juice, which was situated at the back of the airplane and if we wanted any, we were to help ourselves. Righty ho. She then ended the announcement by reprimanding us for not being sympathetic to the cabin crew's plight at being over their official end of shift. I kid ye not. This was to a plane load of passengers, many of whom who had already flown from Sydney, onto Hong Kong and now sat waiting patiently, exhausted and devoid of any salient information, in Edinburgh. I had a hungry and thirsty baby in my arms who couldn't -and simply wouldn't – take more than a few sips of orange juice (little tummies of that age can't handle orange juice) and there was no other means to satisfy him. My fellow passengers were now, not only really worried for him, but ready to lynch and throttle the air hostess with her own support tights. People were amazing, however, and handled the situation so well – we all did – we were calm and noone got angry or demanded anything. The situation was totally beyond everyone's control, but the 'shop floor' mentality of the crew came as something of a shock, given this was, for all intents and purposes, an emergency they were clearly not prepared for. For all their guff about being well trained to handle these situations, their actual handling of it, and particularly of the passengers themselves was enough to make me very happy we'd not crash landed in the desert. If we did, I now know I would have no problem with cannibalism if it meant chomping my way through Virgin cabin crew.
I would like to make one very interesting distinction. There were two distinct 'groups' of crew on that flight. The native Hong Kong crew and the British crew, who were clearly labouring under the misapprehension that they were far superior. The Hongkies, however, just got on with it and were utterly professional and courteous to the bitter end. I would like to thank them publicly for that. It was noted by many of the passengers.
Anyway, after five hours on the tarmac we made it into the terminal and were told that Virgin could transport us down to London on a train, but we'd need to go to Glasgow for that. Thankfully, they did arrange coaches to get us there. Except the baggage handlers wouldn't handle our baggage and every member of airport staff, quite literally, disappeared as we were left trapped in the baggage reclaim hall. When I did find a human in a uniform, I begged and pleaded with them to get the cases because Oscar was now so hungry and distressed he was starting to run a fever too and I would have busted out of the airport were it not for the security doors. What a surly lot they were, not one of them wanted to know and I hated every miserable, vegetable deprived, one of 'em as much as I did the Virgin crew, who were now less cocky because they were also trapped in the same waiting area with the 200 or so passengers they had refused to engage previously. We waited another five miserable hours in that room. FIVE HOURS. We made it on to local TV news apparently: "jumbo stranded at airport" type thing.
Finally packed onto coaches, it then took another hour to drive to Glasgow, but we finally made it on to a Virgin train to London (first class I should add) and from then on, things improved dramatically. That 8-hour train journey (yup really) was bearable solely because of the guy who was in charge of the train, or perhaps it was just the first class carriage, I wasn't entirely sure, he was the world's best employee of any company EVER and remains so in my eyes. He was camper than Christmas, very funny and essentially treated us like royalty the entire journey, with charm and good humour, despite it being very likely way past the end of his own shift by the time we arrived in London. He single-handedly fielded the disgruntled first class passengers who boarded at Liverpool or wherever it was, whose seats we had all taken, and made them all sit in the corridors instead. I loved that man because he made all the difference on such an epic and hellish journey with a baby literally in my arms almost the entire time, and it shows that it's possible to go above and beyond your job description even when you're tired and stressed and having a sh*t day yourself. To the British crew of awful Virgin Atlantic flight on 18th Dec 2010, however: you sucked royally.
Ah, but that's not all. The car we were supposed to hire was situated at Heathrow and we were told if we weren't able to collect it within 24 hours we'd have to pay the full amount and lose the car (gotta love British service). There was no way we were getting to Heathrow following a 12 hour flight, 8 hours of delays in Edinburgh airport, an hour on a coach followed up with 8 hours on a train, all the while holding a groggy baby. We needed the car because there were no cars to be hired anywhere else (we tried) but we needed horizontal sleep more. That meant finding a hotel in London, pronto, so we could get a few hours sleep then pick up the car first thing. Except there were no hotel rooms anywhere in London either. Then I remembered I have a good friend who is a big cheese for a hotel group and I begged him to help out. Handy huh? He managed to wangle us a room for which I am eternally grateful to this day, to the astonishment of just about everyone we encountered. As you can imagine, getting into that bed was what you might call, something of a relief.
So the next day, we got the car and started on the final leg of our, now epic, journey down to the south coast. As we passed through Kent, my dear husband thought it would be a really good idea to stop at a local cider producer to get some grog. The cider producer's shop was situated down a long farm track. Note the 'down' part of that last sentence, i.e down a hill. In heavy snow. With a car that didn't have 4-wheel drive. Naturally, we got stuck and the lone female shop assistant wasn't exactly the kind of muscle we needed to help get us out. That little delay involved another couple of hours as we searched for the farmer to get a shovel to help dig us out while we pushed the damn car back up the hill. By this point, my sense of humor had powered firmly into 'Fail' mode.
Finally having reached our destination, we settled into a very pleasant, if slightly delirious first few days battling jet lag and trying to de-stress, but it was clear the fever Henry had been running on the flight was a sign of something more contagious: Chicken Pox. Gareth and Henry were due to fly back to Hong Kong a little earlier than Oscar and I, due to work and school commitments, but the highly visible spots put a stop to that, and so not only did we have to reschedule their flights, he was now feeling pretty under par and itchy as heck.
Then, on Christmas Eve, just as we were getting into a family meal, the phone rang. It turned out a close relative on hubby's side had died. Naturally, this made for a somewhat tense environment from that point on, and so we decided to make an impromptu move into a holiday cottage to give everyone some space. Luckily, we bagged a nice cottage in the country, but it was situated in the middle of nowhere and, as I wasn't driving at the time, meant we were reliant on Gareth to do so. I probably don't need to tell you that he was next on god's hit list and came down with what we assumed at the time was a pretty violent dose of food poisoning, which lasted a good 48 hours and had me stranded with a pox-infested child, a baby and only two demented farm pigs and a garden center for distraction.
We scratched, vomited and pooed our way to the end of the holiday having seen none of the friends and family we'd made plans to see, and decided the only thing that could happen to top it all, would be for one of us to start throwing up on the airplane. Actually, we didn't need to wait that long because Oscar obliged by projectile vomiting, quite spectacularly, in a packed out Chez Gerard in the terminal at Heathrow, confirming my suspicions that what we were dealing with was, in fact, a stomach bug, and not food poisoning…and so we ended pretty much as we began.
So when I say a six hour door-to-door drive via Le Shuttle is a breeze, I think you catch the proverbial drift….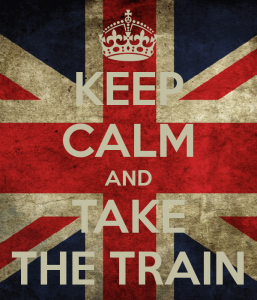 Poster by www.keepcalm-o-matic.co.uk