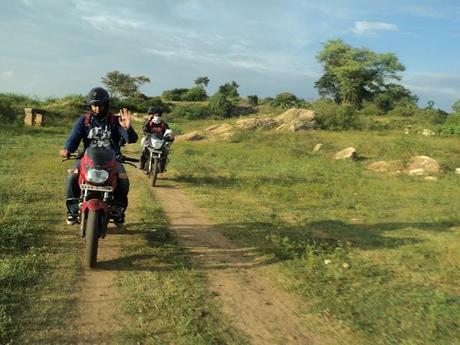 Place:
Kanva Reservoir.
Distance:
60 x 2 =120kms.
Directions:
Bengaluru– Bidadi – Ramnagar – Kanva Reservoir.
Particiapants:
Vineeth(Redmonster) > Madhu(Barca) > Ashok(Classic K350) > Arvind(White knight)> Arun(Turr/Slowpoke) > Karthik(Sp).
Bikes:
Pulsar200 >Unicorn > CB Unicorn > Pulsar150.
Previous visit:
Hogenekkal– Blood filled memories.
INLESS THAN 50 WORDS:
This was a run to mark the 2ndanniversary of our club. Took us back to the Maddur visit we had pulled off exactly 2years back. But yeah this time it was Kanva Reservoir.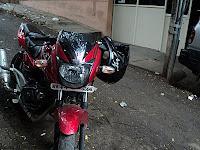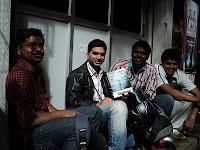 INTRO& PLAN:

This trip was like most of the other tripswe've done; it was unplanned and decided all of a sudden. Morning I was up at06:00hrs, I could see all the events that had taken place two years back clearas crystal water. The uncertainty involved in the first trip is something whichhas remained buried deep within the club forever. 

So.., I wore my regular attire & headedtowards our bakery to meet others and ask them about the day's plan.

TIME: 10:00 hrs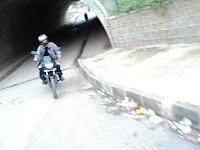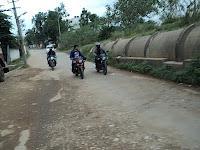 ASSEMBLE:
As I reached the bakery, others were waitingthere but yeah they had mixed opinions on the riding out of town. Ashok, Arvi,Madhu were ready… Arun was unsure… Vineeth who said no initially, finallyagreed to join us. Finally after 3 hours it was a complete GO GO ( Ha-ha yeahtime flies when at bakery). So we had lunch near college and departedBengaluru.
TIME: 14:00 hrs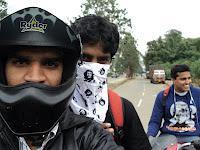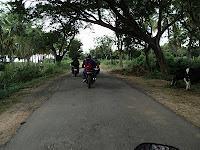 RIDEI: (Bengaluru – Kanva Bakery – Kanva)
First things first, we rode to the petrolbunk and filled up and hit SH-17. It was pretty hot, but SH-17 being 4-laneoffered little resistance to riders. Memories of our first trips kept flashingbefore our eyes throughout as we passed "HOTEL VISION" near Bidadi. We hadstopped at this place 2 years back shivering in cold and hands totally numb andpain of riding 30kms. After a few minutes we reached the outskirts of Ramnagarto reach our signature pre-Kanva bakery stop.
We had few drinks and brought some snacksand headed off towards Kanva. We took a right deviation on Mysore road and continued 8kms more to reachthis wonderful reservoir.
TIME: 15:30 hrs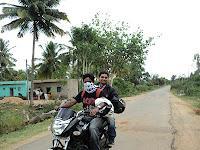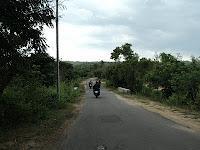 KANVA:(Welcome home again)
Well out of the previous 8 trips, we havebeen here 6 times… ha-ha that goes to show how much we enjoy being at thisplace. But yeah things were different this time, the entire place was greenfilled with plants and the water level had risen considerably.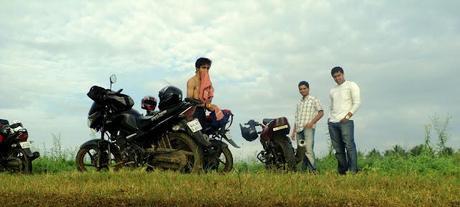 We decided to go to our regular spot on theother side of the reservoir near the boulder. To our amazement this ride keptgetting interesting and fun. The tracks which used to lead us seemed completelygreen. So we somehow managed to get a little far on the right track only tofound a water bodies blocking our path. And oh yeah there was slush mud presentall around it.
So we stopped wondering what to do next…,as we pondered we started the good old skipping stones game. After a fewminutes we decided to go to the original spot itself. Arvi & Ashok led theway and we followed them through the slushy mud one-after the other cautiouslyto make it to the boulder and we had another surprise instored.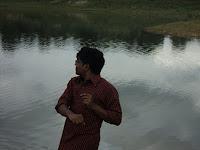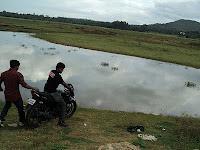 The place seemed to have a plants boosteverywhere. Last visit this stretch was totally desert like with sand and drymud. This time it was total slush and plants. We rode a little further andcalled it a stop.


TIME: 15:30 hrs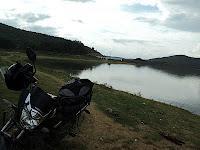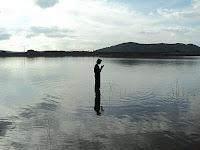 SWIMMINGDOWN MEMORY LANE:
We had a few snacks, then checked the waterfor snakes, broken bottles and other dangers and finally it was a green signal.
Only Arvi, Ashok and me were ready to takea dip. So… we decided to have the bottle competition again. The memories ofAshok's birthday and my birthday were freshened. We spent about an hour in thewater and finally decided to get out and dry up.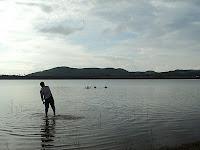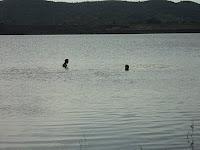 Once we got out, Ashok took over show withhis Caveman tricks… to keep us well entertained.
Ps: Entertainedtrust me  is an under statement, wewere crying out in laughter as our stomach was in deep shit pain, tears kept rolling down aswe couldn't handle the laughter marathon created by Classic K350 i.e, Ashok.
Finally pulling ourselves back together weleft the wonderful reservoir Kanva.
TIME: 17:15 hrs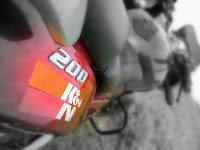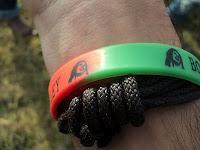 RIDE2: (Kanva – Bengaluru ; Perfect Sync Ride)
Even though this ride was just formality,this trip's ride is something I'll remember forever. As Vineeth's Pulsar200 hada new bore in the engine, the speed had to be kept below 60kmphr. The other 3bikes dropped back allowing him to lead the way and we kept the formationintact for the next hour or so to reach back our bakery. This was exactly the same way we had rode on 28/11/2009.
TIME: 18:45 hrs
We had some tea and spent about 30mins& left to reach back our respective houses.
TIME: 19:30 hrs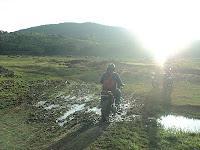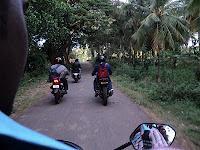 EXTRA'S:
Well… this trip no doubt was a short one,but yeah the amount of time traveling we had done in our minds wasincomparable. We had looked back at the 2 years of traveling we had done alongside each other and how these two years of traveling had changed each one ofus as persons.
We had completed 25 trips in the firstyear, 25th being the idle Melukote trip. At end of two years the 46thtrip as completed. Yeah we wanted to bring upto 50, but for us numbers do notmatter, what attire we wear on trips do not matter, what bikes we ride do notmatter, what food we eat do not matter, as long as we keep riding with the freespirit. And yeah one thing and the only thing that has been maintained in these2 years and hopefully will be maintained in the coming years is the ridingdiscipline on the roads. 
"It'snot about how YOU ride; it's about how you ride as a part of a group" – writtenby us only haha:P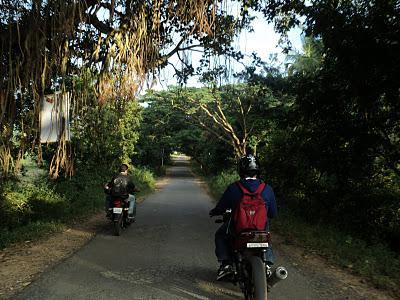 Alright here's a list of some of ourmajor/epic/crazy/mental trips (Or what we think are the best trips)

Hope you enjoy reading them ta-da Cia\m/

[1] Maddur – Ride into Uncertainty.

[2]Mekedatu – Destination Danger.

[4]Nandi Hills – Quick Return Mechanism.

[17]Skandagiri night trek – Misty death trek.

[18]Kanva Resevoir – Mechanix ride.

[21] 

Pearl Valley

 –In search of 

mighty

 ones.

[22]Talakadu – Colossal trip .

[26]BR hills – Coldest ride since 117 years.

[27]Chamundi Hills & Balmuri falls – Classic Flawless ride.

[28]Kabbaladurga Trek – Peek into the afterlife.

[29]Himvadgopalswamy Betta – Hot oven 500kms ride.

[37]Chitradurga fort & Vani Vilas Dam – Time travel into ancient heaven.

[38]MM hills, BR hills, Gaganchukki, Barachukki – Twin hills and twin falls ride;600kms one day.

[40]Markonahalli dam, Melukote, Tonnur Kere – Old School fun ride.

[44]Mahadevpura Bird Sanctuary – Ride into the unexplored.

[45]Hognekkal waterfalls – Hit & Run the blood filled memories on road.

PICASA ALBUM:
MAP:

View Larger Map