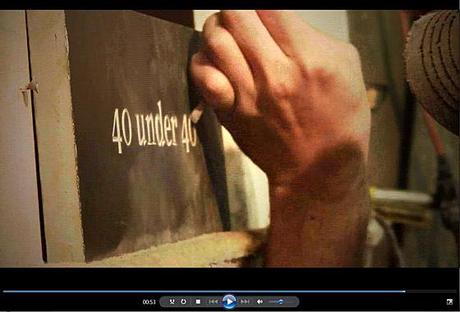 Sebastian Martorana's chisel work, 2012, still from video by Tobin Herringshaw, Courtesy of the artist
In just over a month, the Smithsonian American Art Museum's Renwick Gallery opens 40 under 40: Craft Futures, an exhibition celebrating the Renwick's fortieth birthday as our branch for contemporary craft and decorative art.
Of course, no ordinary party would do for a museum happening such as this, so our curator, Nicholas Bell, invited forty artists whose work investigates evolving trends in the craft world to convene and share the fruits of their labor with you. These artists are blurring the disciplinary lines within traditional media such as ceramics and metalwork, and in fields as varied as fashion design, sustainable manufacturing, and mathematics. As if that weren't nifty enough, they have gone one step further and filmed short videos of themselves so you can meet them before the exhibition opens. Some are quirky, others intriguing, but all are crafty! Starting this Sunday, June 10, you can follow us on Facebook and Twitter for daily postings of the artists' video submissions, leading up to the exhibition opening July 20. We think all forty are swell, and we hope you'll agree! Let us know what you think by commenting online, or post your thoughts on Twitter using the hashtag #Renwick40.
If you are in Washington, D.C. on July 20 and you would like to meet the artists in person, please stop by our Artist Open House at the Renwick from noon to 2:30 p.m.