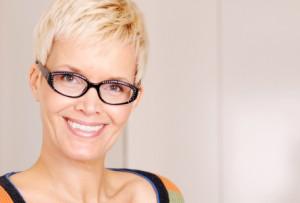 While glasses were once an embarrassing accessory to wear, there is such a large variation in frames available now that they have become very stylish. Whether you're wearing glasses without a prescription as a fashion accessory or you really need a new pair of glasses to see properly, you should look over the variety of styles available and make a decision based on the options that you find.
Finding a quality pair of glasses depends on more than just your budget and personal taste since choosing frames that compliment your face is the most flattering.
Choosing the Right Shape
There is so much variation in the shape of glasses on the market that it can be downright overwhelming to make an investment. While some people are drawn to rather thick rectangle frames, they are often unflattering for delicate face shapes. The selection of glasses has a lot to do with the shape of a person's face. For example, somebody with a round face will look best when paired with rectangle frames, while those with oval or heart shape faces will be complemented best with a pair of oval glasses.
Considering Materials Available
One of the biggest price changing factors for glasses is the material that is used. While some might choose a particular pair of glasses based on their affordability, you should keep in mind the differences in look and durability between materials. A lot of people choose plastic frames since they are very durable and can make a huge statement when worn. Other people are interested in metal frames since they look delicate and aren't as big of a focal point.
Checking out Different Styles
When looking over glasses, one of the most important factors you are likely to consider is the style. This can vary from year to year so you really need to think about whether you want to choose a trendy pair or something more classic. For example, huge frames may be fashionable to certain age groups, but can look offbeat and unprofessional when worn by somebody older.
Selecting the Most Appealing Color
Many people consider the color of glasses to be a major factor when looking over a pair to purchase. While some people might think that their favorite color will look great on their glasses, it is often best to choose a more neutral shade. You should also keep in mind the color of your skin tone and hair when looking at the different glasses that are available. Generally speaking, those with dark hair may be better suited with red, gray, black, or blue shades. Likewise, people with light skin tone and hair should select a more delicate color.
Buying a pair of glasses takes a lot of forethought with all of the variety that is now available. Rather than get discouraged by the need to get new glasses, you should look over the different styles, colors, and materials, while also taking into consideration what would be the most flattering for your face shape.
Sara Roberts writes for Just Eyewear, a discount eyeglasses and prescription sunglasses online retailer.