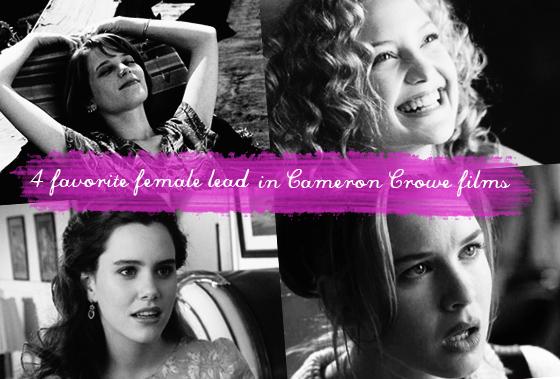 There aren't many films that Cameron Crowe directed, but maybe that's enough. I love his films, and I posted why, and I noted that I love his male leads. Well, what about the female lead? I love them too! Envied them, most of all, because the male leads have such lovable characteristics and hunky looks. The recent news showed that Crowe casts Emma Stone and Rachel McAdams in his new film, which is so coincidence because I love both of them too. Before his new film comes, let's take a look at my favorite female leads on his films :
  Penny Lane in Almost Famous (2000)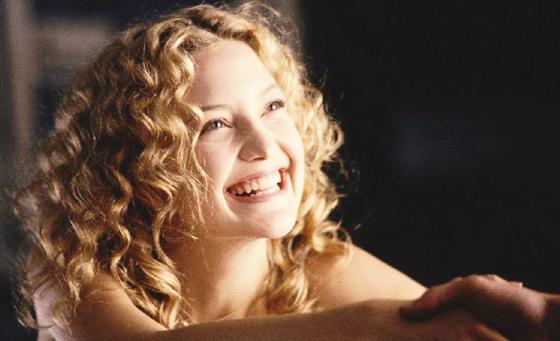 actress
: Kate Hudson
favorite quote
: "
I always tell the girls, never take it seriously, if ya never take it seriously, ya never get hurt, ya never get hurt, ya always have fun, and if you ever get lonely, just go to the record store and visit your friends."
 If we take a look at all of female leads on Crowe films, Penny Lane is the most standout female character. She's wild but still have charisma in it, she's fun but did not make William, the sweet new boy, bad-influenced, even the way she speaks combined mysterious and sexy, but not necessary cheap. And though her real 'profession' is a groupie, she made it look classy, to refresh what usually long tour offer: tiredness. She knows the importance of music, and she worships it. From all of Kate Hudson roles, Penny Lane is also my favorite, perhaps the best she can be. This maybe one character that only Hudson can make it radiant on screen. If you think of Almost Famous, almost definitely you can think of Penny Lane as the icon.
  Janet Livermore in Singles (1992)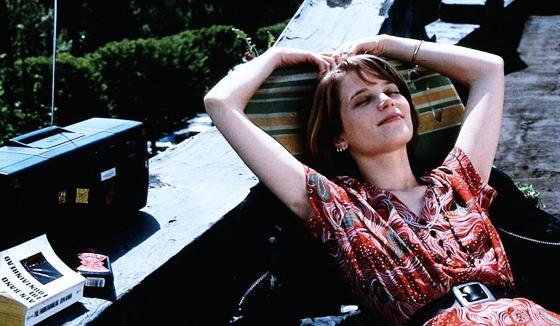 actress :
Bridget Fonda |
favorite quote
:
I've always been able to do this, break up with someone and never look back. Being alone: there's a certain dignity to it.
Honestly I didn't really like Janet when I first saw her in Singles. She's a waitress in a coffee shop where she met her so-called boyfriend, Cliff, who treats her badly. Yet she still follows him around, because she really likes the image of having a frontman-of-a-band boyfriend. Cliff's band, Dick's genre is grunge, as they are in Seattle in the '90s where the grunge music lives. She really wants the relationship to work, until she went for a breast enlargement surgery. That's when her character have a turning point. She realize that her man should accept her for her. Cliff's no longer her obsession, and Janet enjoys her time of being single. Janet's turning point somehow sticks in my mind, because we all know that phase when we're all over someone, but there's a point where we know that one person is worth the risk or not. Janet's really my hero for being a single for a choice. Janet represents what girls should do facing a man like Cliff.
  Diane Court in Say Anything… (1989)  



actress :
Ione Skye |
favorite quote
:
I have this theory of convergence, that good things always happen with bad things. I know you have to deal with them at the same time, but I just don't know why they have to happen at the same time.
Diane isn't really like other female leads in Crowe films, she's flawless. She's a sweetheart, a dad's lovely daughter, smartest in her class and become Lloyd's first (and I assume one and only) love. The girl is perfect, one girl you'll love (or hate because she's perfect). I don't know if it's because she's in high school and never go to social events, so she's still so pure. But if she keeps on being her until she's old, she's that woman that have a gold heart. She gave every reason for a guy like Lloyd to fall in love with her.
  Dorothy Boyd in Jerry Maguire (2006)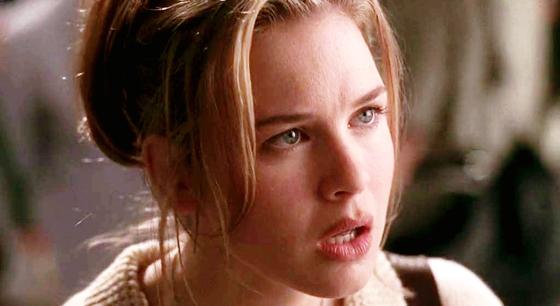 actress :
Renee Zellweger |
favorite quote
:
I love him! I love him for the man he wants to be. And I love him for the man he almost is.
Jerry Maguire identically linked to Tom Cruise as Jerry, this confident sports agent who tries to make it on his own. But surprisingly, Jerry have a fan, one that loves him so much that she's willing to quit on her permanent job to work with Jerry. Dorothy Boyd is a single 27-year-old mother, who is there for Jerry and which Jerry knows and proposed her just to make her stay. What I love about Dorothy is she's like any other woman in general, sensitive and willing to do anything for the man she loves, even though she couldn't afford to be. Sure, it's normal for a girl like her to fall on hunky sport agent like Jerry, but she can have her limit too. Just when you thought that she'll always be around, she come to her senses and shocked Jerry. We ladies must stand up for ourselves, like she did.
 Other female leads on Crowe films :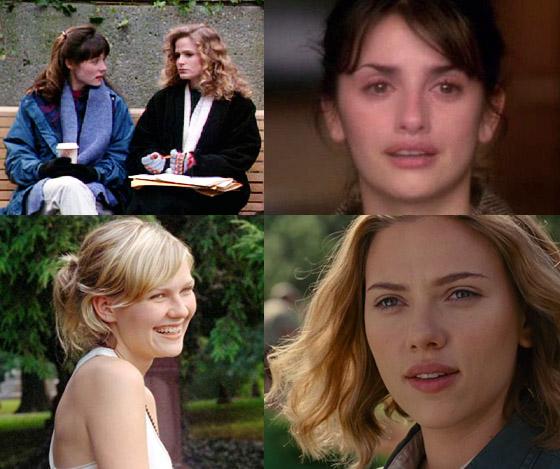 Clockwise :
Penelope Cruze (
Vanilla Sky
) – Scarlett Johannson (
We Bought A Zoo
) – Kirsten Dunst (
Elizabethtown
) – Kyra Sedgwick (
Singles
)
 ************
Readers, any thoughts?