The Australian Fitness and Health Expo last year is where my life changed for the better and where a new me came to light.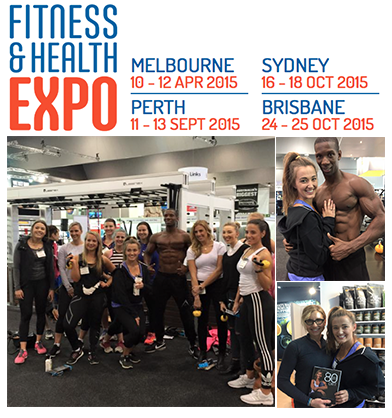 I knew for quite a while the body I was living in wasn't exactly ideal and not what I was used to pre-Mummy. I was a size 6 before children and quickly jumped to a size 12 after kids and used them as my excuse for my weight. When I stepped foot in the door to the Australian Fitness and Health Expo for the first time last year and saw all the healthy and fit people walking around me I knew it was time to change and time to change NOW.
Fast forward a whole year and it did change me, I am down a size in clothing and 10kg down with another 10 more to go, but I am happy with my body and can live knowing I made a change thanks to the Australian Fitness and Health Expo last year.
When I was invited along to a blogger preview of the event I knew it was something I would certainly clear my schedule for. I wanted to step foot into the expo before the general public without having to fight for my spot in front of a marquee, but more then that get to see all the new products and equipment this year had to offer.
With the preview it was an early start, as we had to be there by 8:30 and rearing to go as a high intensity workout was waiting for us.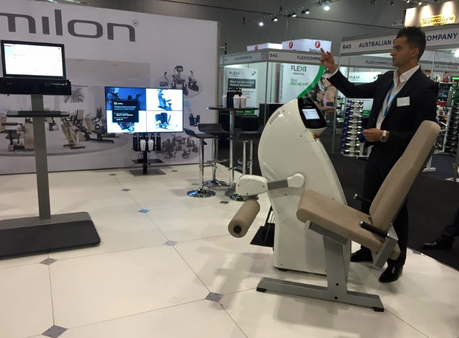 But before our workout we were taken around to a few stalls to explore and see what was new this year. The first stop was to the Milon Australian Stand where we were shown some of the state of the art technology that will be rolling out to select, probably quite exclusive gyms throughout Australia.
Basically when you start your workout you register by letting the computer scan your body. You then take your card with you to each workout station and it will adjust the machines to your body and all you have to do is adjust the intensity, which I think is very handy.
Then we were off to see another great piece of equipment called the SurfSet, which I need in my life ASAP. The SurfSet is a surfboard looking piece of equipment, that also looks like it is balancing on a few balancing balls. It is designed to get you a dynamic workout using your entire body to keep balanced on the board. I loved it and it looked like way too much fun to be included in a the workout bucket.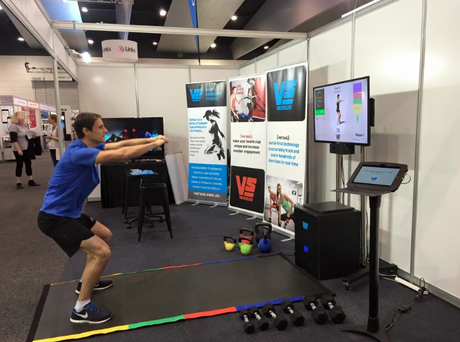 Versus Fitness
was the last stop before we had to go to our special workout session. I liked this stand and technology, especially because I have children who will no doubt ask to play video games when they are older. So to be able to see a video game that properly introduces fitness into your life is great. It has even been designed to help you workout properly and will not give you points if you start doing the techniques wrong.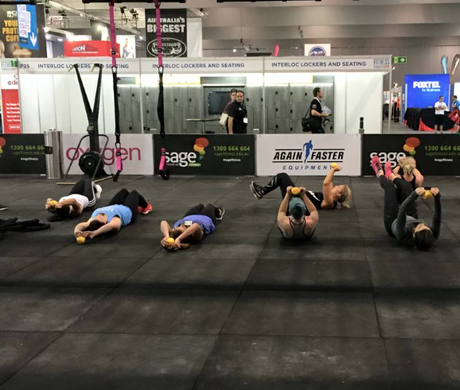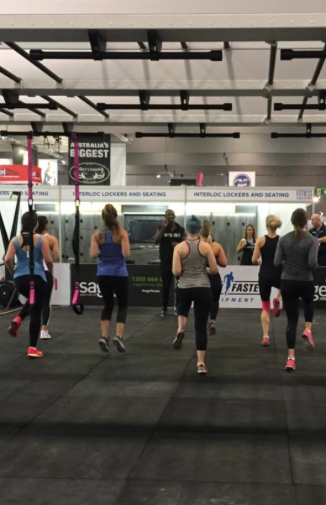 Now for the best part- Our workout with Max Philisaire as he gave our group a little taste of his
express high intensity fat burning training sesh. I don't think anybody has given me such a great workout that I could feel working immediately (and the day after, and the day after that) as Max did that morning. I loved being pushed to my limits and need that motivation, so having Max in front of you encouraging you to push on was the biggest motivation I have ever received!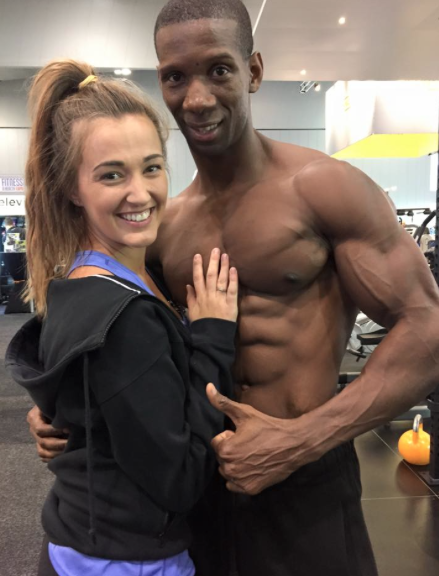 I wasn't going to workout, but then I thought to myself when will I ever get such a fitness celeb like this working my booty off (quite literally).
Short of breath and craving a carb load, it didn't end there.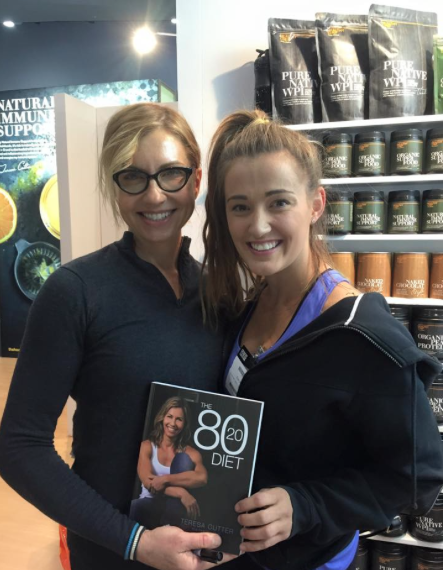 After I sipped on my H2Coco water the group headed on over to Teresa Cutter's own stand, which was showcasing her The Healthy Chef line of products.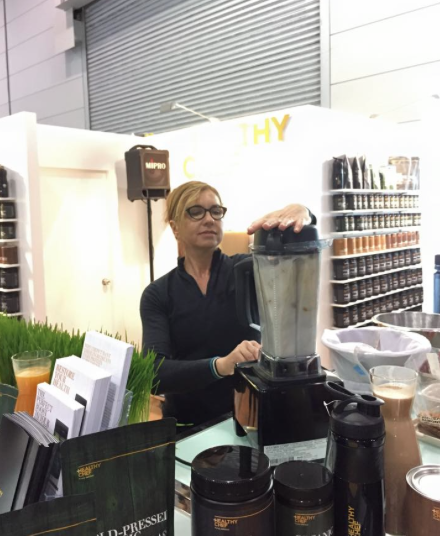 Here we had Teresa make some almond milk and were even treated to her smoothies, which I went home and made that night for dinner as recommended. I really look forward to working with The Healthy Chef this year and seeing what creations I can come up with using their products.
This is where we were then left to explore the expo on our own accord, and where I ran around like a child in a candy store (except this one had pre workouts, supplements, equipment, ripped bodies and so much more).
I was lucky to be in the right place at the right time for a lot of my photo opportunities and came across some fitness celebrities, which made my experience even better.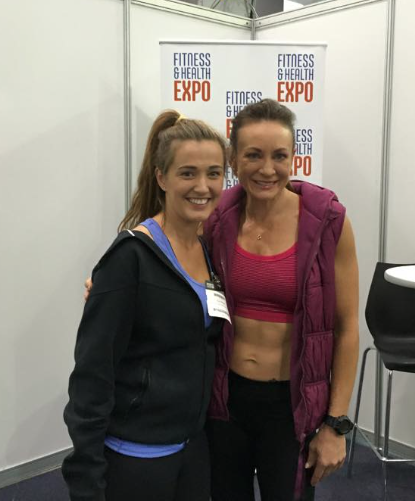 Michelle Bridges and a tired me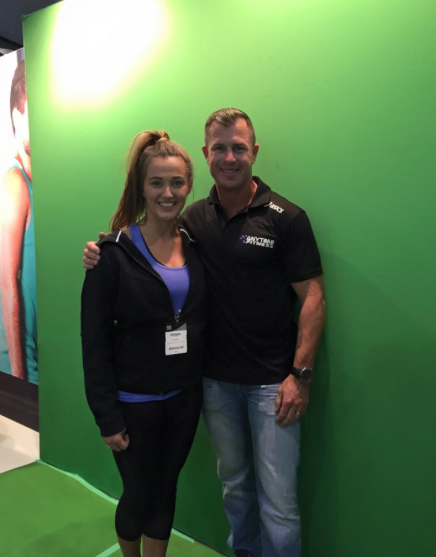 Shannan from the Biggest Loser
I would have to say this time around though the expo did feel smaller then it was last year and there were not as many celebrities (that I had heard of anyway) and even samples. This is not to say that it was not worth going to, because it was. I love these kind of things, with health and fitness becoming a massive part of my life now.


The Fitness and Health Expo in Melbourne was the first of the national stops, and if you are in any of Aussie Towns other states you can expect the expo to drop on in some time this year.





To find dates and locations just head on over to http://www.fitnessexpo.com.au