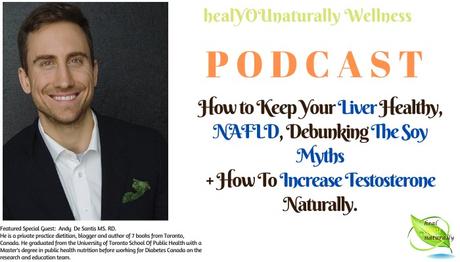 Tune into today's #HYNwellnesspodcast #31 learn how to keep your liver and other organs running smoothly. NAFLD (Non-Alcoholic Liver Disease) the latest and how to reverse it. Andy debunks the myths surrounding Soy consumption, plus ways to increase testosterone naturally - Enjoy the show!
Podcasts Quotables Hacking your body
~ Studies show that IF helps in reducing A1C and gene expression. However, we don't have enough evidence to recommend IF for everyone. For some people the idea

~ Women with PCOS that consume Soy have a reduction in androgens...

Andy Di Santi RD
Show Notes
Resources/ Links Mentioned
You can find Andi's books below:
The Low-Cholesterol Cookbook for Two: https://amzn.to/30asFIc​
30-Minute DASH Diet Cookbook : https://amzn.to/3uRZSpY​ Easy 5-Ingredient Acid Reflux Cookbook: https://amzn.to/3bgPi43 ​.
Also mentioned in this episode:
- Organifi Red and Green Juice : https://bit.ly/Organifi-Supp
​ ~Biotrust Grassfed Whey Protein: https://bit.ly/Biotrust-GrassfedWP​
My ebook here: https://www.healyounaturally.com/downloads/download-lymphatic-health-foods-ebook/
Foods, Supplements and Herbs for Optimal Liver Function
Foods Rich in Vitamin E
Omega 3s (chia, hemp seeds ) Salmon
Omega Krill ( Try it here)
Coffee organic preferably
Leafy greens such as Kale, mixed greens or spinach
You can also use my favorite supplement Metabogreens
Grass-fed Whey Protein ( Get 20% off with coupon code HEALYOU20)
Don't forget to visit, interact and tell Andy that you learned about her via my podcast:
Website: andytherd.com
Follow Andy on Instagram https://www.instagram.com/andytherd/
Follow Andy on Twitter twitter.com/andythard
Liked the show? Help me out!🙏
( Just click on your favorite podcast channel on the top right)