This 30-Minute Lemon Roasted Vegetables and Orzo Pasta Traybake, full of fresh ingredients and vibrant flavours, is just the thing for a mid-week dinner.
In collaboration with M&S.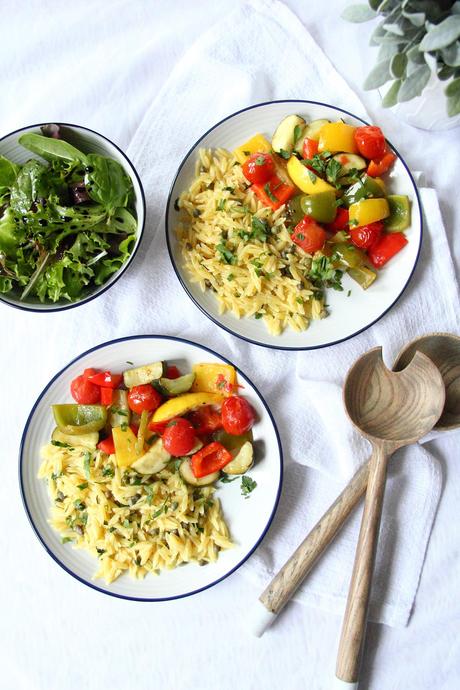 Now when I say thirty minutes, I am talking right from the start when you get chopping the vegetables until the finished meal touches your plate.
The key to cooking a real 30-minute meal is planning. Read the recipe thoroughly so you know what step is going to be next and when you need to what. Get your ingredients and your equipment out in advance so everything is there when you need it.
Throughout the recipe, I've added in some pointers to help you cook efficiently so no time is lost, but also so you don't find yourself flustered midway!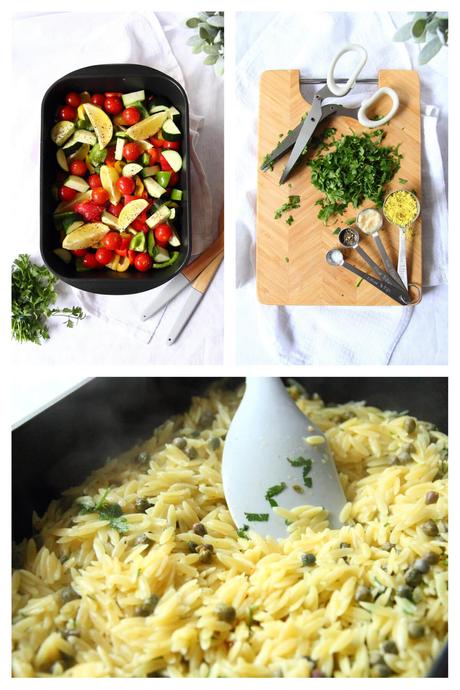 To create this 30-minute vegan dinner, I tested out some of the M&S utensils and cookware range. Having the right kitchen utensils to prepare a meal makes life much easier, as does good quality cookware; the last thing you want is to spend ages using a fancy tool that creates loads of extra washing up or for your dinner to stick to the bottom of a not-so-non-stick pan.
Cupboard space in my kitchen is fairly limited so I try to keep my kitchen drawers limited to only items I love and use; if they're going to take up space, they had better do a job and do it well. Nothing slows you down more when cooking in a hurry than blunt knives and overly faffy contraptions!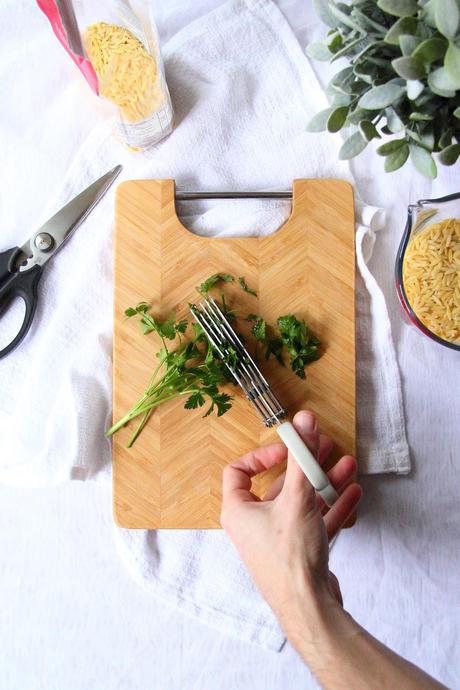 Since this Lemon Roasted Vegetables and Orzo Pasta Traybake calls for plenty of fresh herbs, I used M&S's herb scissors to quickly chop the parsley. Herb scissors are scissors with multiple parallel blades that chop your herbs with limited effort and time. You don't even need a chopping board and can simply chop them up right into the pan and over the dish before serving. This is perfect if, like me, you prefer to wash up as you go along as you can get the chopping board out of the way early on. Herb scissors are one of those things I didn't know I needed until I got them, now I'm not sure if I could live without them!
Other essential utensils in my kitchen are measuring spoons, decent wooden spoons and good quality scissors, like these Oxo Good Grips scissors from M&S.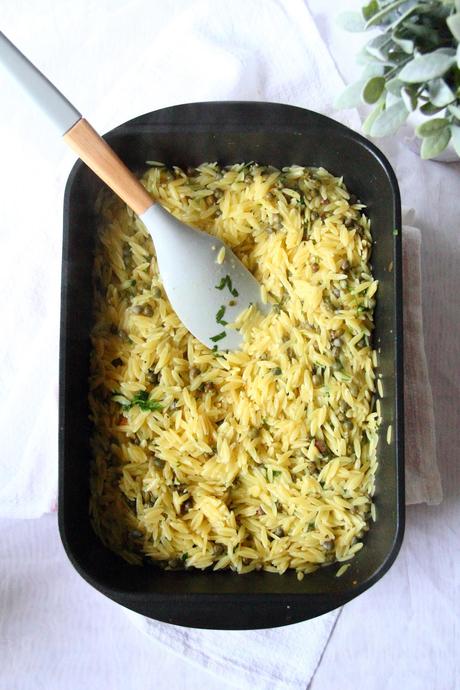 For this vegan pasta traybake, I used the Chef Cast Aluminium 34cm Roaster from M&S, a roasting tin that's designed to be used on both the hob and in the oven. It allows you to take advantage of all the wonderful flavours in the pan from having roasted the lemons, with the added bonus of cutting down on washing up.
Back to the recipe, this 30-Minute Lemon Roasted Vegetables and Orzo Pasta Traybake makes 4 generous portions and reheats easily if you have leftovers. I served mine with a simple side salad – an optional extra that I've included the ingredients for below.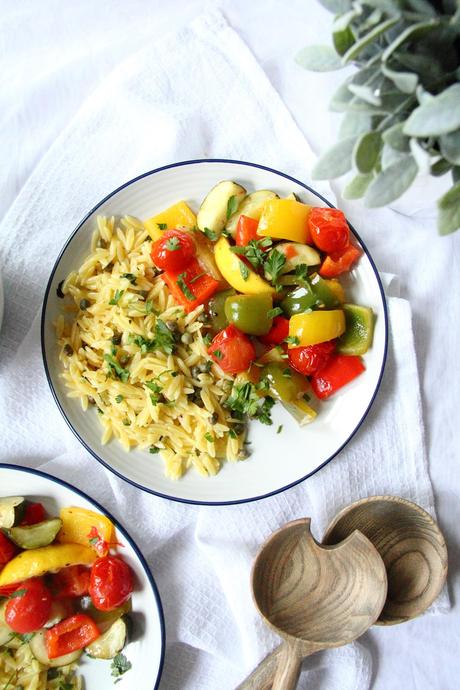 30-Minute Lemon Roasted Vegetables and Orzo Pasta Traybake | Vegan Recipe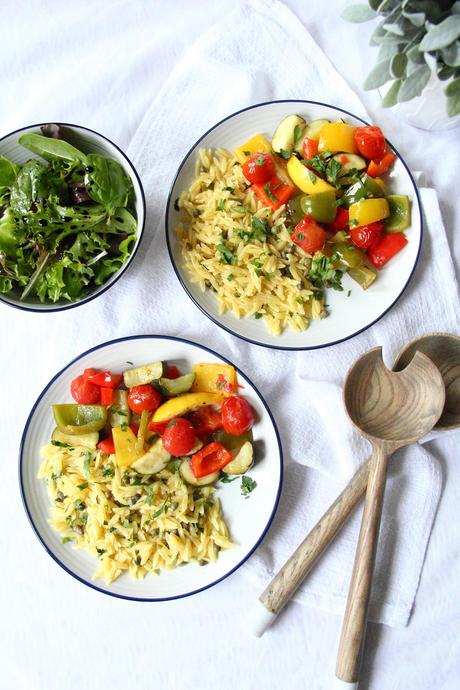 Save
Print
Prep time 5 mins Cook time 25 mins Total time 30 mins   This 30-Minute Lemon Roasted Vegetables and Orzo Pasta Traybake, full of fresh ingredients and vibrant flavours, is just the thing for a mid-week dinner. Author:
The Tofu Diaries
Recipe type:
Main
Cuisine:
Italian
Serves:
4
Ingredients
*For the vegetables:
3 bell peppers
250g vine tomatoes
1 small courgette
2 lemons
2 tbsp olive oil
¼ tsp sea salt
¼ tsp black pepper
*For the pasta:
320g dried orzo pasta
100ml white wine
50ml vegetable stock
85g capers
Handful fresh parsley
¼ tsp sea salt
¼ tsp black pepper
*For the salad (optional)
100g mixed leaves
1 tbsp olive oil
1 tbsp balsamic vinegar
Method
Preheat oven to 210C/425F/gas mark 7.
To prep the vegetables, chop and deseed the peppers, halve the courgettes lengthways and slice, remove the vines from the tomatoes, cut the lemons in sixths. Place all of the vegetables into a roasting tin, add the oil, salt and pepper, stir to coat evenly then roast in the oven for 20 minutes, mixing occasionally.
Once the vegetables are in the oven, fill and boil the kettle*.
Fill a saucepan with the hot water, bring to the boil and add the orzo pasta. Cook for 5 minutes (or a minute or two less than the packet says) until slightly firmer than al dente.
While the pasta cooks, prepare the salad. Add the leaves to a bowl, pour over the olive oil and balsamic vinegar and toss to coat.
Drain the pasta and set aside in the sieve. Make sure all water is out of the pan and keep to one side.
Once the vegetables are ready, remove the roasting tin from the oven. Scoop out the vegetables into the pan you used for the pasta, leaving any liquid in the roasting tin.
Place the roasting tin over a medium heat on the hob. Add the pasta, wine, stock, capers, herbs* and seasoning. Simmer for 4 minutes, stirring regularly.
Plate up the pasta and vegetables and serve with the side salad.
Notes 1. While the kettle is boiling, you can use this time to measure out the other ingredients.
2. Save time by chopping the fresh parsley directly into the pan, with either herb scissors or scissors. 3.5.3251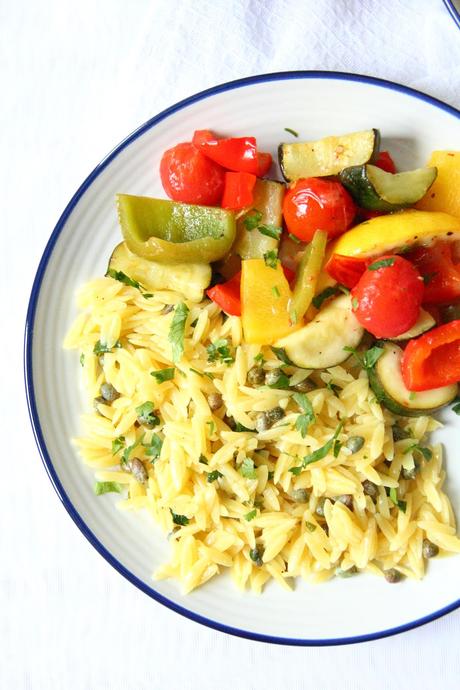 All kitchenware used in this post is from Marks and Spencer and can be found on the M&S website.
Pin this recipe for later:

Thank you so much to M&S for sponsoring this post and helping to keep The Tofu Diaries up and running! All thoughts, recipes and photos my own. Please see my disclaimer for more details.