After a rainy and disappointing month of May, the sun finally came out on June 1, and it looks it might actually be summer, at least for the next ten days.
So, whether you're just on vacation or finally finishing up your exams and getting outside to play, here's our list of the 30 best free activities going on in Paris in June 2013:
6/1 Paris Jazz Festival at St-Germain-des-Près

BANDE-ANNONCE 2013 Festival Jazz à Saint… par ESPRITJAZZ
See jazz musicians from all over the world perform in several venues throughout Paris through June 3. Today, you can see a series of amateur vocal jazz groups starting at 3 PM at the Bibliothèque André Malraux, 78 bd Raspail, Paris 6th, Metro Raspail, lines 4 & 6.
For other groups playing in the festival and dates and times: www.festivaljazzsaintgermainparis.com/
6/2 Free Entry to Dozens of Paris Museums
Today is the first Sunday of the month, and that means that dozens of museums in Paris open their doors for free. Check out the Orangerie, with Monet's paintings in the Jardin des Tuileries, the Rodin Museum with its garden full of sculptures, or a new wing at the Louvre. Various places and hours.
Complete list of free museums.
6/3 6ème Salon Franco-Egyptien des Arts Plastiques
Learn about the arts in Egypt and seek works by contemporary Franco-Egyptian artists. June 3 – 14, 2013. Monday – Thursday, 1 – 7 PM, Friday, 3 – 7 PM. Centre Culturel d'Egypte, 111 boulevard Saint-Michel, Paris 5th. Metro Luxembourg, RER B.
www.culture-egypte.com
6/4 Crise Mondiale: Vers un nouvel ordre économique with François Baroin
Attend a debate by François Baroin, the former Minister of Finance under Nicolas Sarkozy, on the current economic crisis and the future economy of France. Free, but you must reserve a spot in advance. 6:45 PM. Amphithéâtre MBA ESG, 35 avenue Philippe Auguste, Paris 11th, Metro Nation, lines 1, 2, 6, and 9.
http://www.mba-esg.com/inscription-conference.html
6/5 A l'Improviste
Free improve theater performance, every Wednesday at 8:30 PM. Le Caverne, 21 rue Dauphine, Paris 6th, Metro Odéon, lines 4 and 10.
6/6 Get Help with Your Housing Situation at the Mairie du 12ème
If you're between 18 and 30 and you're having trouble finding housing or resolving problems with your landlord, go to the Mairie du 12ème for a free seminar on housing in Paris and get your questions answered. Mairie du 12ème, 130 avenue Daumesnil, Paris 12th, Metro Dugommier, line 6.
6/7 Nuit Sartre at the ENS
Celebrate one of Paris's most famous intellectuals and the 50th anniversary of Jean-Paul Sartre's autobiography, Les Mots by attending an all-day, all-night party. Ecole Normale Supérieure, 45 rue Ulm, Paris 5th, Metro Luxembourg, RER B.
Need something to read this summer for pleasure? Circul'livre organizes a monthly free book exchange for anyone and everyone. Come from 10:30 – 12:30 with a book or two to exchange for something new to read. At the corner of rue Bachaumont and rue Montorgeuil, Paris 2ème, Metro Sentier, line 3.
6/9 Marché de la Poésie – Irlande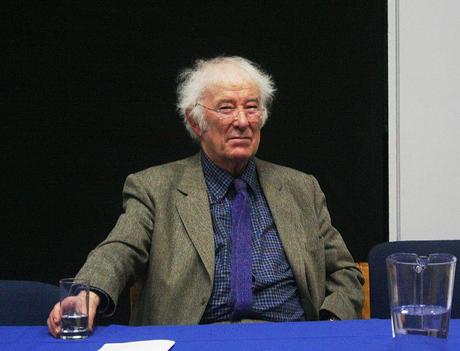 Seamus Heaney, Nobel Prize in Literature, Source: Wikipedia
This weekend, celebrate Irish poetry at the Marché de la Poésie, celebrating with Irish music, meetings with contemporary poets, and of course, drinking. June 6 – 9. See program for exact times.
Place Saint-Sulpice, Paris 6th. Metro Rennes, line 12, or Saint-Sulpice, line 4.
http://www.poesie.evous.fr/31e-Marche-de-la-Poesie,6837.html
6/10 Au Salon, Contemporary Theater Performance
A play by Nicolas Turicchia that chronicles his dancing career in Paris. Monday the 10th and Wednesday the 12th at 8:30 PM. Fondation Suisse, 7 boulevard Jourdan, Paris 14th, Metro Cité Universitaire, RER B.
6/11 Portrait of a Weird Society
Masquerade party on the Batofar, the dance / club boat on the Seine. Batofar, 11 Quai François Mauriac, Paris 13th, Metro Quai de la Gare, line 6.
6/12 6ème Festival du Film Humainitaire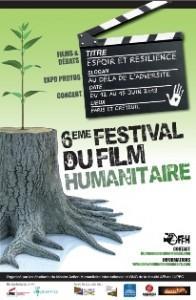 Source: Festival du Film Humainitaire
The International Humanitarian Film Festival is organized every year by students in the International Humanitarian Action Master's program at Paris Est – Créteil. This year's festival is June 12 – 15. Opening festivities at 4 PM, including conference, awarding of prize, and the projection of the film Quelques hommes courageux, a Turkish film about the Black Sea by Rüya Arzu Köksal.
Université Paris Est Créteil, Amphithéâtre rouge, 61 Avenue du Général de Gaulle, 94010 Créteil. Métro Créteil-Université, line 8.
Full program here: http://www.festivaldufilmhumanitaire.com/
6/13 Science Careers Recruitment Day
Studying in a scientific field or interested in a career in the sciences? Meet with recruiters and learn about job opportunities in the sciences, 9:30 AM – 6 PM. Université de Paris 6 – Pierre et Marie Curie, Atrium, 4 place Jussieu, Paris 5th, metro Jussieu, lines 7 and 10.
Get your free invitation here: http://www.letudiant.fr/etudes/salons/forum-de-recrutement-des-scientifiques.html
6/14 Festival Coulée Douce of "Arts de la Rue"
Thursday, June 13 – Sunday June 16 is a festival of 19 free street art performances by the company Progéniture and 7 other groups. The weekend's performances are in the Jardin du Reuilly, Paris 12th, Metro Daumesnil, lines 6 and 8.
Check website for exact times: http://progeniture.free.fr/
6/15 Documentary on the Life of Marie Curie
The third Saturday of every month, you can watch a documentary on the life of Marie Curie free at the Musée Curie at 3 PM. Musée Curie, 1 rue Pierre et Marie Curie, Paris 5th, Metro Luxembourg, RER B.
6/16 Journées Portes Ouvertes de l'Association Les Gouttes d'Or
The Artists' Association at the Quartier de la Goutte d'Or (Paris 18th) is having an outdoor "open house" to show off and sell their creations. 79 artists are represented. Free entry, Friday June 14 from 6 – 9 PM, Saturday and Sunday 11 AM – 9 PM. Quartier de la Goutte d'Or, Paris 18th. Metro Barbès-Rochechouart, lines 2 and 4, or Marcadet Poissonnières, lines 4 and 12.
http://www.portesdor.fr/2013-2/
6/17 Marseille, Regards Croisés
CNRS anthropologist Michel Peraldi discusses his vision of Marseille, as a center of French poverty whose importance has been declining for decades. 7-8:30 PM, June 6, 17, and 28. Cité de l'architecture et du patrimoine, 1, Place du Trocadéro, Paris 16th, Metro Trocadéro, line 6.
6/18 Futur en Seine
Futur en Seine is Ile-de-France's annual festival on new technology and innovation. All day, June 13 – 23. Check program online for daily hours, expos, and conferences. Le 104, 5 rue Curial, Paris 19th, Metro Riquet, line 7.
6/19 Exposition: Les Musiques Caribbéennes
The Musical Mediathèque of Paris presents an exposition of books and CDs of Caribbean music. Tuesday-Saturday, 12 – 7 PM, through June 22. Médiathèque Musicale de Paris, 8 Porte Saint Eustache, Paris 1st. Metro Châtelet-Les Halles, lines 1, 4, 7, 11 or RER A, B, and D.
6/20 Country Line Dancing Class
Test your dancing skills out with country line dancing with a free trial class. Subsequent classes are paid, but you get one free trial if you email to register at [email protected] . Les Amis du Far West, 101 Avenue de la République, Paris 11th, Metro République, lines 5, 8, and 11.
6/21 Fête de la Musique
All over Paris, attend free concerts by various musical groups. The music starts in the afternoon, and goes all night, and the metro stays open too.
Check out the program online: http://fetedelamusique.culture.fr/ or pick one up in the streets in the days leading up to the 21st.
6/22 Brocantes & Vide-Greniers
June is the season for yard sales and antique sales, so wake up early and see if you can scout out a deal. Officially, they start at 8 AM, but you may want to get there earlier if you're looking for something in particular. There are at least 9 going on this weekend, including the 8th, 13th, 14th, 2 in the 15th, 18th, 2 in the 19th, and 20th arrondissements. More could be added later.
Complete list of weekly sales, along with addresses: http://vide-greniers.org/
6/23 Hip-Hop Workshops at the Hip-Hop Festival
The Paris Hip-Hop Festival takes place this year from June 22 – July 7, with both free and paid events. Free events include some concerts, as well as workshops in writing and performing rap.
Atelier One-Two-Three Rap! for ages 12-25 with Sadek, from 1-3 PM. Reserve a spot by emailing [email protected].
Atelier Writing Rap Masterclass, ages 14 and up, with Ekoue from the group La Rumeur, from 1:30 – 4. Reserve a spot by emailing [email protected]
La Maison des Métallos, 94 Rue Jean-Pierre Timbaud, Paris 11th. Metro Couronnes, line 2, or Parmentier, line 3.
For complete program of the Hip Hop Festival, and to purchase tickets to paid events: http://paris-hiphop.com/billetterie
6/24 Record Your Song at La Défense
Throughout the month of June, go to La Défense to record a song in a real recording studio for free, and leave with your very own CD. Monday – Saturday, 10 AM – 8 PM, Sundays 11 AM – 7 PM, through December 31, 2013. La Défense, Les 4 Temps, 92800 Puteaux, Metro La Défense, line 1 or RER A.
6/25 L'Economie: Krach, Boom, Mue?
Free exhibition on how the economy works, at least according to the French. Daily from 10 AM – 6 PM. Cité des Sciences et de l'Industrie, Parc de la Villette, Paris 19th, Metro Porte de la Villette, line 7.
6/26 Espace Glisse Parisien 18
Two Paris skate parks will be open on June 15 and 26 for professional demonstrations, and then spectators will get a chance to try out skating or skateboarding (materials are provided), make street art, and participate in a photography workshop. 2-6 PM. Square Louise Michel, Paris 18th. Metro Jules Joffrin, line 12, or Simplon, line 4.
Workshop on June 15 is in the Square Zac Paiol at La Chapelle.
6/27 Mid-week Picnic in the Buttes Chaumont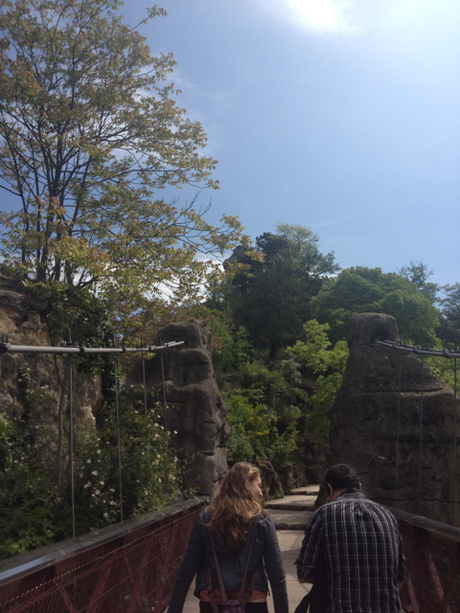 Buttes Chaumont in June, photo Allison Lounes
Hopefully the weather will hold up throughout the month of June, so take advantage of a weekday afternoon before the end of the school year (read: before they're overrun with children on summer vacation!) to take a walk in one of Paris's 16 public parks, 137 gardens, or 274 squares, and have a picnic.
Public parks and gardens in Paris: http://fr.wikipedia.org/wiki/Liste_des_espaces_verts_de_Paris
6/28 Musée Bombana de Kokologo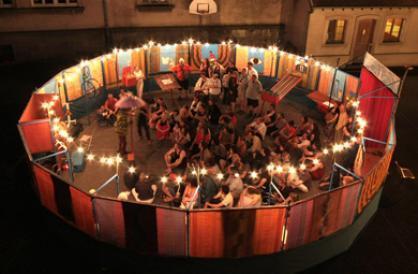 Source: 2R2C, Musée Bombana, quefaire.paris.fr
See a performance of music, dancing, and theater straight from Burkina Faso at the Musée Bombana. 7 PM on Friday, June 28. Free performances on June 29-30 also, but check on the site for locations and times. Arènes de Lutèce, 47-59 rue Monge, Paris 5th, Metro Place Monge, line 7.
http://quefaire.paris.fr/
6/29 Tour de France Photo Exhibition
The Tour de France turns 100 and kicks off on June 29, so to celebrate, check out the large photo exhibition outside the Jardin du Luxembourg, through July 27. Along the Sénat and Jardin du Luxembourg, Paris 6th, Metro Luxembourg, RER B.
6/30 Lionel Langlais Concert in the Square Trousseau
Throughout the month, attend free concerts in Paris's parks and gardens. Today, Lionel Langlais is playing from 4 – 5:30 PM in the Square Trousseau, 2 rue Antoine Vollon, Paris 12th, Metro Ledru-Rollin, line 8.
Check here for other concert dates, times, and locations: http://quefaire.paris.fr/Kiosquesenmusique. Concerts are usually added 2-3 weeks in advance.
Now:
You've seen our list of what's going on. Did we miss anything awesome going on in Paris this month?
What are you most looking forward to doing this month in Paris?
Tell us in the comments!

Vote for my article on WorldTravelist.com, sharing the best travel content on the web.