I really had a hard time narrowing this down.  I just had to imagine what I felt the most naked without.  I already told you that my foundation is very important to me, but I've run to the store without makeup on, so then what could it be.  Then I glanced over at my vanity table and realised it's not really a makeup item, but it's perfume.  
I don't talk about perfume much on my blog, which is odd as they are the one thing that I never go without.  I just feel that smelling good is just as important as looking good.  Imagine someone who is very attractive, but when you get close to them they stink like a$$ lol.  That is NOT a good look lol.  
My perfume stash is very small right now.  I ended up giving all my perfumes to my mother before leaving America.  I just kept one (J'adore L'eau).  There are so many perfumes that I want, but all in due time. So this is my perfume collection as of right now.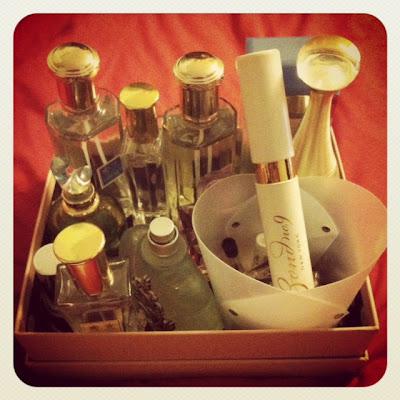 My top favourites from my collection are:Dior J'adore L'eauD&G Light BlueTrue ReligionI also am in love with my Bond No 9 Madison Square Garden sample. 
My number one wishlist item in the perfume category is Lavin's Eclat D'arpege.  It is not very popular (which is a good thing), and smells very close to D&G's light blue.  I just love fresh and floral scents, and I can't wait to get this perfume.
What's your favorite perfume?