I could have easily shown you all my comfy t-shirt that I sleep in most nights, which DH always teases me about because it's an old faded Public Enemy t-shirt that says "Fight the Power" on it :),  but that wouldn't have been exciting in terms of a beauty challenge right? So.... I have something so much better - 100 times better really.  This is my favorite item of clothing due to it's snug and comfy fit, amazing craftsmanship, and the hint of couture.
Introducing my Alexander Mcqueen black jersey dress.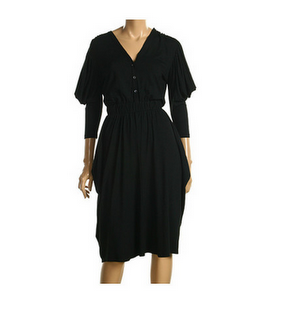 Stock photo from zappos.com
It's hard to photograph, because the material is actually jersey, and therefore loses it's shape when it's not worn, but it's amazing how that changes once you put it on.  This is what I mean by excellent craftsmanship. Despite being made of a jersey material, the dress is very soft, and takes on the shape as you see in the stock photo.  I love how it gives me an instant waistline, and how the sleeves are slightly puffy.  This is my LBD, and I will wear it for many years to come.
Please come and share with me your favorite item of clothing :)