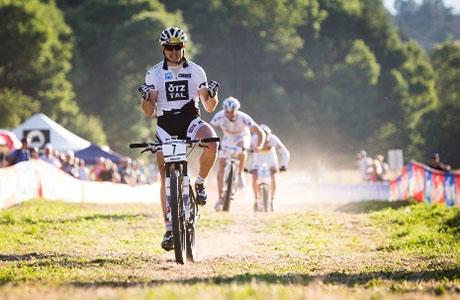 In XCE Eliminator win the two World Cup leader namely Daniel Federspiel and Alexandra Engen.
(google translate)Today scene of the XCE with a path as usual spectacular cone of technical barriers affordable but they did not create much difficulty. Among males to win was the Austrian Daniel Federspiel (Otzler Scott Team), who dominated the final with a fantastic progression uphill. Behind him Halzer Miha (ENERGIJATEAM), once again close to victory. Third place went to German champion Simon Gegenheimer (Rose) while closing in 4th place Fabrice Mels.
"That uphill was really tough," agreed Federspiel.  "So I ran a little bit of tactic the whole heats, trying to save my power for the upcoming [final] heats, and then on the Final I attacked on the uphill and it was great."
In the women's race victory for Alexandra Engen (Ghost Factory) that until the last had to fight with Kathrin Stirnemann (Hai Bike Team). In third place Linda Indergand while in 4th place Jolanda Neff.
"It was really, really tough," commented Engen.  "The uphill is really something. I wanted to be at the front on the top because I know then I can hold my lines. I really fought like a maniac so they wouldn't pass me But it was terribly hard."
REPLAY XCE RACE: LINK
Results, MEN:
1. FEDERSPIEL Daniel
2. HALZER Miha
3. GEGENHEIMER Simon
4. MELS Fabrice*
5. BUYS Philip
6. WILDHABER Marcel
7. SOTO Catriel Andres
8. CANAL Fabien
9. PERRIN GANIER Titouan*
10. van ECK Jeroen*
Results, WOMEN:
1. ENGEN Alexandra
2. STIRNEMANN Kathrin
3. INDERGAND Linda*
4. NEFF Jolanda*
5. JACOBSEN Ingrid Sofie*
6. NASH Katerina
7. PICHETTE Andréanne
8. OBERPARLEITER Anna
9. TERPSTRA Anne*
10. SCHNEITTER Nathalie
PROGRAMS:
FRIDAY 14 JUNE:
9.00 - U23 Women
9.02 - JUNIOR Women
11.30 - ELITE Women
14.00 - ELITE Men
16.30 - U23 Men
SATURDAY 15 JUNE:
9.30 - JUNIOR Men
COMPLETE PROGRAMS