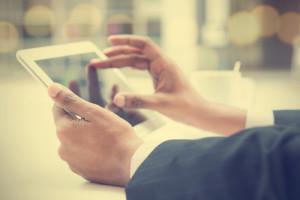 Although Twitter introduced animated GIFs to their website earlier this year, most social media sites are not compatible with GIFs. Twitter has become GIF-friendly with the creation of GIFV, a looping video with a smaller file size and consequently a faster loading time, states Imgur. This change has made it possible for these movie-image hybrid files to be used in marketing on a variety of platforms.
Twitter
As noted above, one of the best ways to take advantage of GIFs is on Twitter. If your company has a Twitter account (and it really should), tell the world about your services or products with a GIF. Not only is it more eye-catching than a string of images but it also takes less time to watch than a video. In the Information Age, time is of the essence, which means you can no longer expect your viewers to watch a product video that's over five minutes long. Use a site like GIFMaker to upload your images and create a short animated GIF. For example, Gap did a brilliant job with a GIF that both promotes their famous 1969 jeans and this year's tagline, "Dress Normal."
Emails
Using GIFs in marketing emails is a great way to make your brand stand out. However, there are some points to keep in mind.
There should always be a purpose behind an email GIF. Don't just add a looping video because it's cool or pretty. Use it because it adds substance and action to your email. You also need to ensure that the GIF makes sense without the animation. For instance, Jack Spade (Kate Spade brand's line for men) included a GIF in an email to illustrate how to layer clothing for any type of weather. This both makes sense as a GIF and as a standing image. Additionally, MailChimp mentions the power of showing versus telling. A GIF instantly expresses your key message to your viewers, without the need for wordy descriptions. Make sure to keep your emails classy and download-friendly by not going GIF-crazy.
Mobile
New smartphones like the iPhone 6 are now capable of playing GIFs, which is great news for company's with mobile marketing campaigns. With GIFs you're no longer restricted to sending plain text messages to your group of consumers. In fact, PopKey, the first animated GIF keyboard for iOS8, makes it easier than ever to send a GIF via text message. If you're looking for a great example of a GIF mobile campaign, Starbucks' most recent cross-channel advertisement of their Frappuccino Happy Hour promotion included a text message subscription complete with fun GIFs, according to Salesforce.
If you choose to include GIFs in your text message mobile marketing campaign, don't forget to let your subscribers know when they sign up to receive text messages, says Mogreet, a provider of video text message marketing and mobile technology solutions. It's important because messaging rates may be higher for images and videos sent via text.
Overall, GIFs currently are on of the most popular trends in marketing. So, be creative and use your GIFs wisely.