Today I bring to you 3 effective home remedies using dry ginger and thippili for cold and cough in toddlers.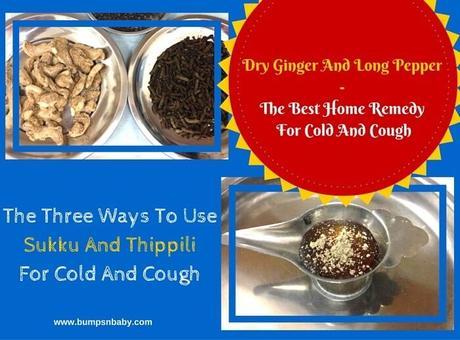 Winter's here! Christmas and New Year is just around the corner!! Along with these our not-so-good uninvited guests - cold and flu virus is here!
We took a recent very short visit to India for attending two marriage functions and as a compliment my LO carried a new strain of flu virus back. Yes, flu season is at its peak. Most of the kids I know were down with cold and dry cough.
When our writer Anu Prabin asked about some home remedies for cough and cold for her little one, I thought of sharing this effective home remedy to all the worried mommies out there.
Precaution is better than cure:
My paati (grandma) strongly trusts on homemade herbal remedies for most of the illness. Since my childhood whenever my paati visit us or when we visit my dad's ancestral home, she used to prepare two things without fail to make sure we won't get illness. One is neem kashayam and the other is sukku kashayam (Sukku kaapi or chukku kaappi). She used to bribe us with our favorite sweet snacks for making us drink it.
This paati vaidyam (granny therapy) is very effective and it has helped to boost my immunity a lot by keeping cold and cough at bay to a certain extend.
Once I settled out of India after marriage, I used to take a spoon of 'chyawanaprash' every single day. I rarely get infected with cold and cough but for babies and toddlers we can't give chyawanaprash.
So here I am presenting you my paati vaidyam to get rid of cough naturally. Two main ingredients are used to prepare this mixture.
Dry ginger is also known as sukku, chukku or sonth. Dry ginger has a long tradition of numerous health benefits and is the main ingredient for Indian home remedy for cough and cold. Here I am just mentioning of its immune boosting action which is very effective during cold and flu.
Do you know how this humble rhizome fight against cold and flu virus?
Dry ginger warms our body and help in secreting a germ fighting protein called Dermicidin into the sweat by our body sweat glands. Once secreted this protein travels to the skin surface thus giving protection to us by fighting against microbes.
Thippili also known as arisi thippili, pippali, pipal or long pepper is best for treating common cold, phlegm and sore throat by loosening and expelling the mucous out of our body.
How to prepare sukku thippili powder for cold and cough in toddlers?
I think you will get powdered dry ginger and long pepper in stores. But I prefer to make my own at home. Here is the way how I prepare my homemade mixture.
Instructions:
Dry roast dry ginger and long pepper (your desired amount) in a pan. Cool it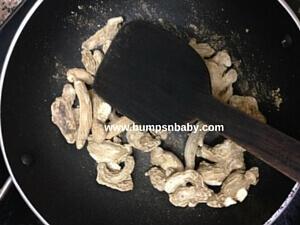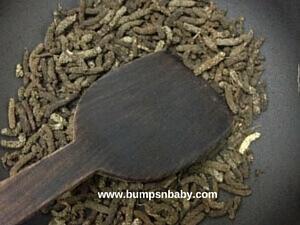 Grind and powder it separately in a mixie. Cool it completely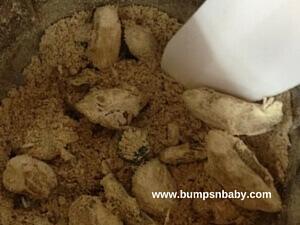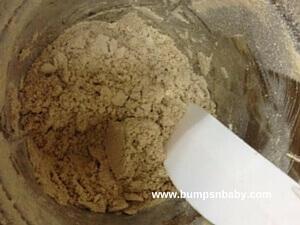 Take equal amount of both powder and mix it well. Store it in air tight container.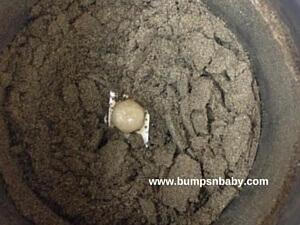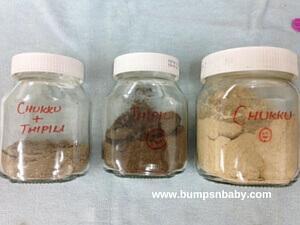 Must read:
3 Effective ways for using dry ginger and thippili for cold and cough in toddlers:
I started giving this herbal medicine when my little one reached two years. I will tell you three ways to use this Sukku -Thippili combo as remedies for cold and cough.
The first two ways will be very best for kids. Adults can also take this by increasing the quantity.
#1. Sukku Thippili Powder with Honey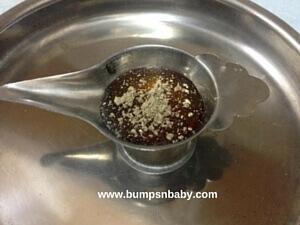 Honey - 1 teaspoon
Sukku thippili mixture - ¼ teaspoon (4 small pinches)
Make it a paste and consume.
You can give this to kids regularly or alternative days during winter months to keep the cold at bay.
Note: For adults, you can increase the quantity (1/2 teaspoon - 1 teaspoon with 1 teaspoon honey) and make sure you slowly take it down to the throat.
#2. Sukku and Thippili with Milk
Warm milk - 1 cup
Sukku Thippili Mixture - 1/2 to 1 teaspoon
Honey - 1 teaspoon (optional)
Mix it and consume warm.
Note: For adults you can add two pinch pepper powder and a pinch turmeric powder also. A combination of dry ginger,thippili and pepper powder( milagu in Tamil) is the most effective way to cure cold and cough and this combination is called Sukku-milagu-thippili kashayam or thirikadugam in Tamil.
#3. My grandma's Sukku kaapi or Chukku kaappi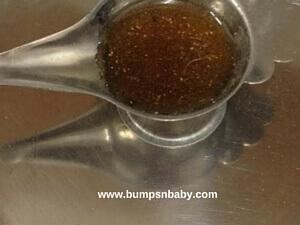 This is one of the traditional oldest way to cure cold and cough. My paati used to take every single day as her morning coffee. Secret behind her immunity and good health (she is 90 plus now).
Ingredients:
Powdered dry ginger - 1 teaspoon
Powdered thippili - ¼ teaspoon
Powdered black pepper - 1/2 teaspoon
Powdered coriander seeds - 1 teaspoon
Powdered palm jaggery or karuppati - 3 tablespoons or according to your taste
Water - 1.5 cup
Mix all the ingredients with water and bring it to a boil. Once it boils, close it and allow to simmer for 5 to 10 minutes. Switch off, filter it and consume.
You can also try the kaachiya velichenna recipe and tomato rasam recipe for cold and cough in babies.
Notes
This powder can be given to young children from the age of 2 to 3 years onwards.
If giving to kids younger than 2 years, make sure you take one or two pinch, that will be more than enough.
This powder can be made and stored in air tight container in the refrigerator for up to 1 year
You can also refer to the 12 home remedies for chest congestion in babies and kids.
Hope this article on effective ways to use dry ginger and thippili for cold and cough in toddlers is informative. Do share your special daadi maa k nuske for cold and cough.
Happy Winters!