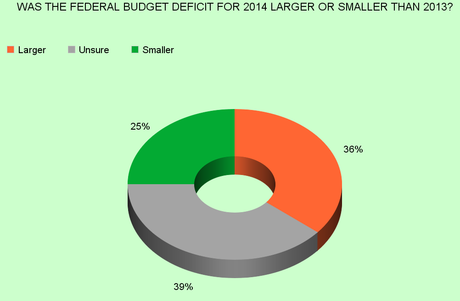 The Republicans have been spreading the lie that the Obama administration's spending is out of control, and has been increasing the federal budget deficit. And that lie seems to have taken root in the American public. Currently about 36% of all Americans believe the budget deficit for 2014 was larger than it was in 2013, and another 39% don't know whether it is larger or smaller.
That means that 3 out of 4 people (75%) don't know that the deficit was actually smaller -- and has been going down for several years. This is depressing, because it shows that most people simply haven't been paying attention (or have been watching Fox News). If they had been keeping up with the real news, they would know the deficit for 2014 was significantly smaller than it was in 2013. It has been going down since 2009 (when President Obama inherited to huge Bush deficit). Here are the actual figures:
2009 -- $1413 billion deficit
2010 -- $1294 billion deficit
2011 -- $1299 billion deficit
2012 -- $1100 billion deficit
2013 -- $680 billion deficit
2014 -- $492 billion deficit
I know the Republicans (who claim the deficit is getting larger) would probably like to claim credit for this shrinking deficit, and their austerity measures did probably have something to do with it. But the biggest reason for the shrinking deficit is the abolishment of the Bush tax cuts (which were a major reason for the ballooning deficit).
And raising taxes on the richest Americans by a small amount, plus making corporations pay their fair share of taxes, could eliminate that deficit even faster. And it would do it without shrinking the economy and hurting job growth (as more austerity cuts recommended by Republicans would do).
Remember, Bill Clinton left office with a federal budget surplus. It was the Republicans, under the failed leadership of President Bush, that destroyed that surplus and created a huge budget deficit (by cutting taxes for the rich & corporations, and waging two unnecessary wars without paying for them). That alone should be enough to make us stop listening to the Republicans on spending and revenues.
The chart above was made from figures in a new YouGov Poll -- done between February 2nd and 4th of a random national sample of 1,000 adults, with a margin of error of about 4 points.