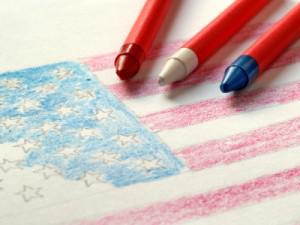 With Independence Day being right around the corner, it's time for you to start thinking about how you're going to decorate your home for the upcoming celebrations.
If you like to spend time with your kids creating a variety of different crafts but you don't have the time or the money to spend on elaborate craft kits, there are numerous household items your kids can easily transform into patriotic crafts.
Whether you're hoping to entertain your kids with a craft project for the 4th of July holiday celebrations, or if you're looking to decorate your home with patriotic decorations, here are three quick and cheap craft ideas for Independence Day:
1. Patriotic Plant Pot
If you happen to have some extra flowerpots lying around the house, then why not paint them red, white and blue to put outside your yard before the 4th of July holiday?
All you need to do it paint the rim of the flowerpot with white paint, and then paint the lower section blue. Next, paint white stars over the blue section, red stripes over the white section, and then place them outside in your yard to help make your home look more festive.
2. Star necklaces
Take some cardboard or used cereal boxes and cut out three different sizes of stars; (one large, one medium and one small). Next, paint the biggest star red, the second biggest star white, and the smallest star blue, and then glue the white star onto the biggest star, and then the smallest star onto the white star.
Then punch a hole in the top of middle of the star and loop a string or yarn through the hole so your kids can wear it as a necklace.
3. Patriotic bracelets
The next time you head out of the house to do some grocery shopping, purchase some extra boxes of Kraft Dinner so your kids can use them to create a 4th of July noodle bracelet or necklace.
The most effective way to color the noodles is to place a handful of them into a plastic bowl or container, and then add one tablespoon of vinegar along with four to five drops of food coloring. (If you want your kids to help you with the coloring process then make sure they wear gloves so the food coloring doesn't stain their hands).
Once the noodles are colored then place them on a sheet of paper towel or used newspaper until they are complete dry, and then string them together using a string or a piece of yarn.
Born and raised in North Carolina, Heather Green has worked as a fashion and beauty consultant as well as freelancing for various wedding, fashion, and health publications. She currently acts as the resident blogger for Online Nursing Degrees where she's been researching IV therapy nursing programs as well as legal nursing programs.