When you start a blog, the one thing that keeps worrying you is how to increase the readership of your amazing blog posts.
Since not all of your subscribers will engage with your blog as frequently as you wish due to busy lifestyles or loss of interest, finding the best way to keep them engaged with your posts will help you increase your blog traffic and engagement.
One of the best ways to keep your subscribers satisfied and prevent disengagement is through email marketing and marketing automation.
In this article, we'll be looking at the best email marketing and marketing automation strategies that bloggers should use in 2019.
What is Email Marketing and Marketing Automation?
When people come across the terms email marketing and marketing automation they usually think that they are the same thing.
Email marketing uses email to reach potential customers and create bonds that will boost a website's traffic and user engagement.
Here's an example of a thank-you email: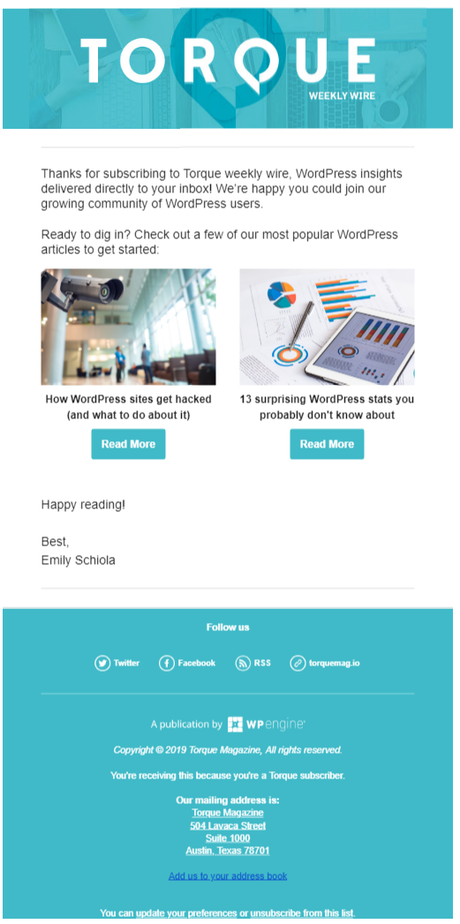 So, is marketing automation the same thing as email marketing?
The answer is no!
Automation isn't a channel but the technology that you can use to send time or action triggered emails to your subscribers when they click on specific links and CTA's.
Here's the workflow that's behind a thank-you email: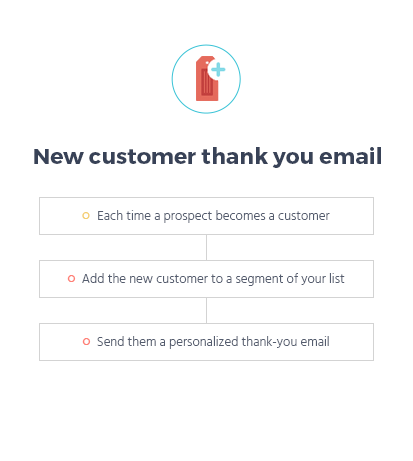 Source
So, when combined, email automation can simplify the time-consuming process of sending individual emails to your subscribers and help your website get more with less effort.
Why Should Bloggers Use Email Marketing and Marketing Automation Strategies?
While creating and sharing awesome content is the way to build one of the best blogs out there, keeping your content only on your website can limit your engagement since subscribers might forget about your blog or might have little time to visit.
To solve the problem you need to build relationships with your subscribers. After all, the success of your blog depends on their engagement and shares through different media.
Using email marketing automation strategies can help you communicate with your subscribers on a personal level and show them that you value them and want them back to your blog.
Whether you have an educational, cooking or sales blog, driving more traffic to your post through emails is the best cost-effective strategy that bloggers have used along with other popular techniques.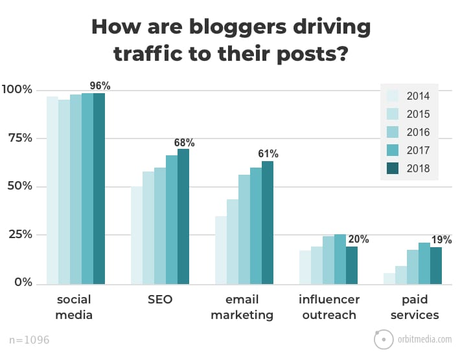 So, to utilize the power of emails and automation, bloggers should spend time developing their email marketing automation strategies that will bring their readership and engagement rate through the roof.
Now, Let's See 3 Email Automation Strategies You Need for Your Blog
1. Find a Platform that Suits Your Needs
The first thing bloggers should consider when they decide to implement email marketing automation is which email marketing platform will help them achieve their goals.
Choosing an email marketing platform doesn't mean that you have to spend a lot of money to get your messages out there.
Right now, a lot of email marketing platforms like MailChimp or SendInBlue offer a variety of email marketing automation features.
However, you shouldn't stick with the first email marketing service you'll come across but search the market for more services until you find the one that suits your needs best.
Moosend and AWeber, for example, are some good Mailchimp alternatives that can help you build your email marketing and automation campaigns.
What blogger should look for in an email marketing service is the balance between price and features that will help you get the most out of your chosen platform.
So, when you choose the right service you should always check whether your platform and your blog can co-operate efficiently or not.
For example, if you use affiliate marketing on your blog, you should look for a service that allows you to use affiliate ads, otherwise, you will find yourself spending time and money on a platform that didn't suit you.
2. Segment Your Mailing List
To understand what list segmentation is let me give you an example.
Let's say that you have a marketing blog that explores numerous types of content like social media marketing, email marketing, and customer experience.
Some of your subscribers want to learn more about how to create the perfect newsletter, others want to read about successful drip campaigns, whereas others might read your blog for your Instagram marketing tips.
So, how can you send these subscribers content that interests them the most?
To encourage engagement you should group subscribers that are interested in specific topics into manageable segments.
This segmentation of your subscribers will help you create newsletters with content that will be tailored to your subscribers' needs, increasing at the same time their interest and trust on your blog.
While there are a lot of ways to segment your email list, the best way is to collect your new visitors' topics of interest when they subscribe to your blog.
Adding a preference section before or after subscribing will allow them to choose their interests and give you a clear idea of your subscribers' needs.
The Convince & Convert Blog, for example, allows their new subscribers to choose the topics they like after signing up to their weekly newsletter.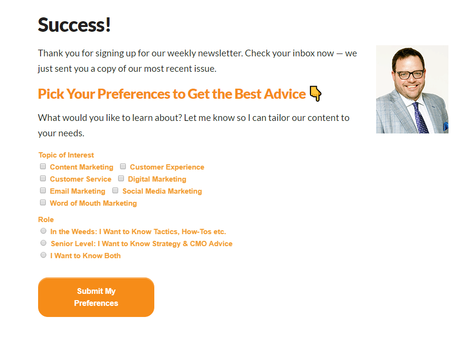 3. Organize Powerful Drip Campaigns
A drip campaign is an automated strategy that sends, or "drips", certain pre-built messages to your subscribers after they engage with certain elements of your blog.
To take advantage of this email marketing automation strategy you need to use powerful campaign templates that will help you build a connection with your new subscribers and help them remember your blog.
Automating this simple exchange between you and your subscribers will give you the chance to introduce yourself and give your audience updates and rewards with less effort.
Here are some drip campaign emails that your blog should start sending as soon as possible:
Welcome Emails
Welcome emails are the first thing your subscribers look forward to when they sign up to receive blog updates from you.
Coming up with an excellent introduction will help your audience see that you are a blogger that values them and hopes to get to know them better.
To see how important welcome emails are, imagine meeting a person for the first time.
Chances are that if they give you a nice friendly greeting you'll like them more compared to staring at you without saying a single word.
Now, let's see what a great welcome email looks like: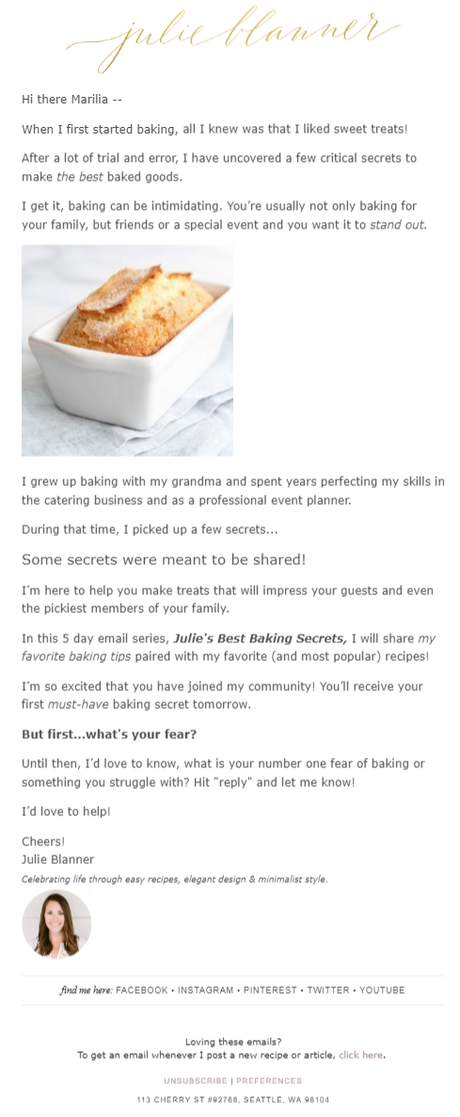 To be honest, I loved Julia Blanner's email because it promises me that her cooking secrets will help me impress even the pickiest members of my family.
Apart from her well-written copy, Julia asks her subscribers to share their number one fear of baking or something they struggle with.
Her interest in learning more about her subscribers automatically makes her audience think that she is not only a blogger but someone who cares about them.
Re-engagement Emails
Running re-engagement email campaigns is the best way to remind your subscribers that they haven't clicked on your blog or emails in a long time.
Using this email can help your blog earn back valuable subscribers by reminding them of what they are missing.
Here's a good re-engagement email from Hubspot's Sales Blog: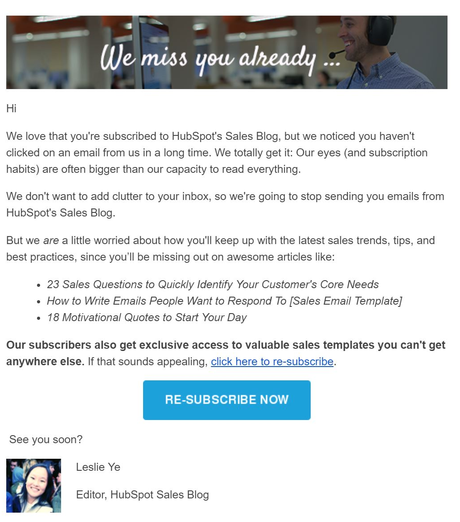 Hubspot's Sales Blog email expresses their worry of missing out important content which works as a powerful emotional trigger that will incentivize disengaged subscribers to come back to their blog.
Final Thoughts
To sum up, using email marketing automation strategies can be a powerful ally when it comes to promoting your content, engaging new subscribers and increasing your readership.
However, to make the most of it, bloggers should find the right platforms and tools that will make the distribution of their content both easy and cost-effective.
Now, it's your turn.
Which email marketing automation strategy do you like most?
Let me know in the comments below.