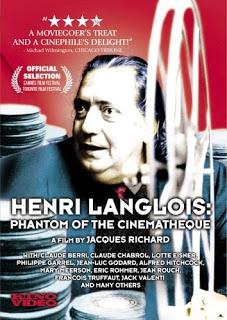 Directed By:
Jacques Richard
Starring:
Henri Alekan, Catherine Allégret, Jo Amorin
Line from this film:
"One must save everything and buy everything. Never assume you know what's of value"
Trivia:
Was nominated for Best Documentary at the 2004 Chicago International Film Festival
When I started my 2,500 movie journey back in August of 2010, one of the things that excited me most about it was the possibility of uncovering some cinematic gems, films I might otherwise have never seen that could be among the greatest ever made. And because I enjoy such a wide variety of genres (and had no idea from which direction a hidden treasure would hit me), I felt the best way to approach this challenge was to keep the selection process as random as possible. 
I spent many a day over the past seven plus years staring at my DVD collection, waiting for one particular title to grab my attention. On rare occasions, I'd put together a schedule, or select a movie that fit into a current holiday season, especially in October (for Halloween) and December (for Christmas), but more often than not I woke up in the morning with no idea what film I'd be writing about in the afternoon. 
From the very beginning, though, I knew which movie would be the last - aka #2,500: Henri Langlois: The Phantom of the Cinémathèque. 
The reason is simple: it's the film that inspired me to undertake this challenge in the first place! 
Directed by Jacques Richard, The Phantom of the Cinémathèque is a 2004 documentary on the life and times of Henri Langlois, arguably the greatest cinephile who ever lived. For decades Langlois ran the Paris Cinémathèque, and his love of movies inspired the members of the French New Wave (Francois Truffaut, Jean-Lug Godard, etc), all of whom would huddle together in the dark, drinking in the films that Langlois showed on a daily basis. 
In addition, Henri Langlois was one of the world's foremost film archivists; by some estimates, he amassed a collection of 50,000 movies, and is credited with saving such highly-regarded classics as The Cabinet of Dr. Caligari, The Blue Angel, and a slew of others, which, without his penchant for preserving the cinema's rich history, might have been lost forever. 
Unfortunately, because his inventory was so massive, there were those (including the government-run film commission, which funded the Cinémathèque) who felt Langlois lacked organization, and let things get too far out of his control (his refusal to copy highly flammable nitrate prints onto newer film stock didn't endear him to the officials, either). So, in 1968, Langlois was removed from his position with the Francais Cinémathèque, an organization he himself co-founded (along with Georges Franju and Jean Mitry) in 1936. 
His ouster sent shock waves throughout the cinematic community, and sparked a revolution. Led by Truffaut, Godard, and a handful of others, daily protests (attended by hundreds of students and young film fans) were staged in front of the Cinémathèque, a few of which turned violent (police tried on several occasions to disperse the crowd, and at one point a policeman even clubbed Jean-Luc Godard). Support poured in from all over the world, with prominent filmmakers threatening to pull their movies from the Cinémathèque's library if Langlois wasn't immediately reinstated. 
With the pressure mounting, Langlois was allowed to return to his position with the Cinémathèque, but all government funding was cut off. 
Still, even without the subsidies, Langlois continued "rescuing" as many films as he could, the cost of which forced him to spend the final years of his life in abject poverty. He died of a heart attack in January of 1977 – aged 62 - but not before receiving an Honorary Oscar from the Academy in 1974, for "his devotion to the art of film, his massive contributions in preserving its past and his unswerving faith in its future". 
Henri Langlois: The Phantom of the Cinémathèque paints as complete a picture as possible of its main subject, starting from the early days of the Cinémathèque (Langlois personally hid hundreds of movies during the Nazi Occupation) through to his tumultuous final years. Utilizing stills, archive footage (of Langlois himself, at work or just chatting about movies) and interviews with those who knew the man, director Richard gives us a sense of why some believe Henri Langlois was the ultimate cinephile. 
It is an engrossing documentary about an extraordinary man, but there was one specific element of Henri Langlous: The Phantom of the Cinémathèque that inspired my 2,500 Challenge: his approach to the movies he amassed over the years. Henri Langlois felt that every film, whether a classic or an obscure title, deserved to be seen. And during his run as head of the Cinémathèque, he played as many of them as he could, regardless of where the print was from or what condition it was in. "We saw tons of Italian films with no subtitles", said Max Tessier, a filmmaker and historian who frequented the Cinémathèque during its heyday. "There were Japanese films subtitled in Russian, and Buster Keaton with title cards in Czech". 
I'm sure this proved frustrating at times (patrons were often forced to decipher the story based on the images alone), but Langlois truly believed each and every motion picture he showcased sharpened his audience's movie-watching skills. And because he rarely showed a movie more than once, people crowded into the Cinémathèque on a regular basis out of fear they might miss something special. 
Langlois's philosophy struck a chord with me when I first saw this documentary in July of 2010. Like him, I had a DVD collection that was out of control, and featured many I had never seen (hell, I hadn't even removed the shrink wrap from dozens of them). "Why not go on a cinematic journey of discovery", I thought, "and in the process sharpen my own movie-watching skills?" And thus, DVD Infatuation was born. 
So, what now? What will I do without this challenge hanging over my head? It's a question I've been asked many times the past few months. 
For starters, the reviews will continue. Starting in June of 2018, I will post five a month, with two exceptions: 
1. Every October, I'll continue the 31 Days of Horror I started in 2015, and post a new horror review every single day 
2. Every December, I'll take a mini-vacation, and post nothing at all. 
And what have I learned over the past 7+ years? Well, one of the key revelations was that a number as seemingly large as 2,500 doesn't scratch the surface of what's out there for the taking. Even a 5,000 Challenge - or 10,000 – wouldn't have exposed me to all the cinema has to offer. There are so many films, so many subgenres, and so many countries turning out pictures on a yearly basis that it's more than any cinephile can digest in a lifetime. For example, India has flooded the market with thousands of Bollywood movies over the decades. During this challenge, I reviewed exactly one: 2007's Saawariya. 
This, of course, raises an interesting question: How many Bollywood films would've been enough? Say I watched 250 of Bollywood's finest movies. That would have constituted a large percentage of my challenge's overall total (10%, to be exact), but been a drop in the bucket as to what that particular industry, the largest in the world, had to offer. In a 2014 article for Forbes magazine, Niall McCarthy wrote that in 2012 alone, Bollywood released 1,602 pictures. Sure, 250 might have given me a taste of what's out there, but I still wouldn't have dared call myself an expert on Indian cinema. 
Bollywood wasn't my only oversight. In fact, some of my omissions hit me like a punch to the gut. I skipped Dario Argento's classic Giallo flicks; turned my back on the entirety of Stallone's Rocky series; and completely ignored the Dirty Harry franchise. And I love all (or at least most) of those damn movies! Bottom line: 2,500 simply isn't enough. 
That said, I wouldn't have changed a thing. While a daily movie binge stretched out over almost 8 years may seem like a tremendous undertaking to some, I recommend the experience wholeheartedly. If I can watch and review 2,500 films in 8 years, anyone can, and the various cinematic nooks and crannies that I've explored since that first day in August of 2010 have paid off in a big way. 
Finally, on a personal note, let me say that I greatly appreciate the support and encouragement I've received from so many of you over the years (far too many to list here). Along with being a cinematic discovery, this endeavor has introduced me to so many wonderful people, helping me forge friendships that I hope will last the rest of my life. 
Thank you so much for joining me on this little journey, and to quote the late Roger Ebert, I'll see you at the movies!