Hello moms, looking for healthy recipes for kids?
Are you out of classroom snack ideas for kids?
Need toddler meal ideas that are perfect for home and school?
Then these 21 healthy recipes for kids will help you!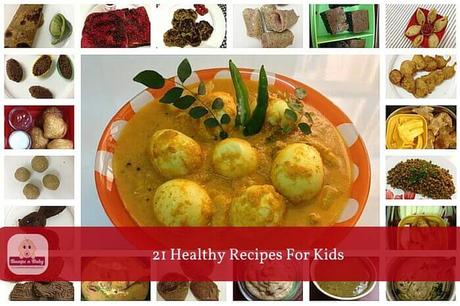 Fast food vs healthy dishes:
Eating habits of kids change as they grow. The toddler period is one of the toughest age to handle as they start asking foods seen in commercials or some colorful food items from food courts or foods what others eat. The war between fast food against healthy dishes is often won by the former.
When my son started playschool four months back, I started exploring my kitchen more. I tried out many recipes to suit his taste buds. As usual, many recipes were utter flop and few become hits.
After going through all my food recipes, don't judge me as an organic mom 🙂
I do bribe my three year old son with chocolates, chips and ice creams, but I make sure that I feed him a lot of homemade food, veggies and fruits. I am trying my best to raise him as a healthy eater.
But it is a tough thing to do. I am sure many of you moms agree with me.
Today, I would like to help out moms who are trying to get their kids to eat healthy.
21 Easy and healthy recipes for kids:
Here are the mega hit food recipes loved by my little man, Rithvik. The good news is that, most of the foods listed here are easy to cook and can go into your kid's school snack box. Not just that, they make healthy party snacks for kids too!
BONUS: GET the downloadable PDF of all these 21 healthy recipes for your kids. Prepare at home for healthy meals or pack in his lunch box for school - either way health and taste guaranteed!
#1. AVOCADO ROTI
What?? Avooocaaadooo rotiii??
Yes, mommies, you heard it right.
To be frank, this is one of the fruits that I tasted for the first time, once I moved abroad post-marriage. Though avocado tastes bland, it has abundant health benefits. So somehow I wanted to include this in Rithvik's diet. I had heard of mashes, but he was too old for that. I tried smoothies but he doesn't like it much.
Recently, I tried this recipe and it turned out to be super yummy dish. This is a perfect healthy food for your family.
What you require
Method
Peel the outer skin of ripe avocado and take the pulp. You can do this without peeling the skin too. For that start by cutting the avocado in half and scoop out the pulp using spoon or ice cream scoop.
Smash the pulp nicely using a fork.
Add the lemon juice and red chilli powder to the avocado pulp and mix it well.
In another bowl take wheat flour, curd, oil and add the smashed avocado to it.
Take enough water to knead and dissolve required salt to it.
Start kneading to a smooth dough.
After kneading, drizzle few drops of oil and coat the dough.
Let it sit covered for 15 min.
Make lemon sized balls out of the dough, dust it and flatten using rolling pin.
Heat up a tawa and cook the rotis.
Serve warm with your kid's favorite curry or curd.
#2. BROCCOLI PATTIES
Broccoli is one of the healthiest vegetables there is, which is very rich in dietary fibre, iron, omega 3 fatty acids and so many other nutrients.
But unfortunately, this is not a favorite of my son.
Few days back, I saw a video on how to prepare broccoli patties. I gave it a try with slight modification. Here it goes.
What you require
Broccoli - 1 small size
Potato - 1 or 2
Egg - 1
Bread crumbs - to coat the patties
Grated ginger - ½ teaspoon
Turmeric powder - ½ teaspoon
Red chilli powder - 1 teaspoon
Roasted cumin powder - ½ teaspoon
Lemon juice - from 1 lemon
Chopped coriander leaves - few
Salt - to taste
Oil or ghee - to toast the patties
Method
Wash the potatoes, cut into half and pressure cook for 3 or 4 whistles. Once pressure released, peel and mash the potatoes.
Steam broccoli florets with a little turmeric powder and salt until tender.
After that grind the steamed broccoli, ginger and coriander leaves in mixer
In a bowl take the ground broccoli, mashed potato, red chilli powder, turmeric powder, cumin powder, salt, lemon juice and mix well to combine.
Divide the dough into equal portions and press between both hands, flatten to form round shape. You can also use cookie cutter to cut in different shapes.
If you want a firm dough, keep the dough balls covered in fridge for half an hour
Beat one egg
Dip each balls into egg mixture first then roll them in bread crumbs
Heat a pan or tawa add 1 tbsp oil/ghee, place 3 or 4 pieces' and cook on medium flame until it becomes light brown, turn to other side and cook until done.
Serve warm with any chutney of your choice or tomato ketchup.
You can also use these patties as a filler in sandwiches.
Also read:
#3. BEETROOT RAVA SANDWICH
This is one of the delicious food items I tasted recently and for this I have to really thank our dear Chitra as she passed me this recipe. As usual I tweaked the recipe a bit to suit my kiddo's taste buds.
What you require
Method
PS: Don't throw away the water you cook beetroot. You can use it to knead chapathi dough or to mix henna for the hair. You can also store it in the fridge by adding a little coconut oil which serves as a good lip balm.
#4. STRAWBERRY-PEANUT BUTTER CHEESE ROLLS
My son loves to eat strawberries but sometimes he just won't eat it! Kids!
If you want to incorporate strawberry in your kid's diet, either make smoothies with strawberry and banana or you can go for this recipe.
What you require
Method
#5. BANANA FRY
This is a yummy snack from god's own country and a healthy and easy recipe.
Banana fry is usually done by cutting banana into long thin strips. But my kid doesn't like if I give him anything bigger in size. So I started preparing small round shaped banana fries.
What you require
Method
Peel the skin and cut the banana into small round pieces.
Prepare the batter using wheat flour, rice flour, turmeric powder, salt and sugar (the batter should not be too thick or too watery).
Dip the bananas in the batter and deep fry it.
You can also read the 13 kerala banana recipes for babies and kids.
#6. BLUEBERRY CAKE
These tiny fruits are loaded with vitamin C, anti-oxidants, manganese and dietary fibre.
Blueberry can't be eaten as such by most but if added to muffins, cakes or pancakes then no other flavors can beat these tiny ones.
I have already written the recipe blueberry pancakes using whole wheat flour.
Though I become expert in making spongy blueberry cakes, I haven't stopped my weekly visit to cake gallery to have their signature fresh hot blueberry muffins 😉
What you require
Method
#7. EGG AVIYAL
This is yet another healthy, tasty and yet easy peasy dish from kerala. This goes well with rice.
My little one started hating eggs once he reached the toddler stage. He runs at the sight of eggs anywhere. The only way I can incorporate egg to his diet is by mashing cooked egg yolk with white rice and rasam.
Again this dish was passed to me by one of my dearest and next-door friend/neighbour whom I call lovingly as Ani.
What you require
Method
Cook the eggs.
Peel the skin of the potato, cut it into long strips and cook in little water. If adding drumstick, cut and put along with potato.
In the meantime, grind the garlic pod, cumin seed, chilli powder, turmeric powder and grated coconut.
Add the ground mixture to the cooking potato. Add required salt and water if needed.
Peel the hard-boiled egg, cut into half and drop it in the curry.
Boil the gravy for 5 more minutes on medium flame.
#8. IDLI FRY
Idli which is known as the healthiest Indian breakfast, but our family hates it. But when I tried this recipe, all of us liked it.
As I was searching for more foods to pack into Rithvik's mid-morning snack box, this idli fry was suggested by my brother-in-law's wife.
What you require
Method
Must read:
#9. UZHUNNU BONDA/VADA
Who doesn't like uzhunnu vada?
This is one of my kid's favorite recipes. I haven't yet mastered the trick of making uzhunnu vada (with hole in middle). I always end up making it without holes, so the name uzhunnu bonda 😉
I prefer to grind the urad dal in the grinder rather than the mixie to get that right vada batter texture.
What you require
Method
#10. MINI HEART/STAR/MOON SHAPED POORI
With this mini heart shaped poori, you can definitely win your child's heart and tummy.
If you want colorful and more nutritious poori like green (add mashed spinach) or red (add mashed beetroot) check my palak puri recipe.
What you require
Method
BONUS: GET the downloadable PDF of all these 21 healthy recipes for your kids. Prepare at home for healthy meals or pack in his lunch box for school - either way health and taste guaranteed!
#11. STEAMED OATS BANANA MUFFINS
This is a great instant recipe. For these muffins, you don't need an oven to bake. All you need are a few silicone baking cups.
This is something very healthy that your kid will love.
What you require
Method
Mash a banana nicely with a spoon or fork.
To this add peanut butter, honey, a pinch salt and sugar if using.
To this add oats, cocoa powder and baking soda.
Mix everything well.
Scoop them in silicone cups.
Steam it for 7 to 10 minutes.
#12. PEANUT OATS LADDOO
This is another healthy and quick bite you can prepare for your little one.
What you require
Method
#13. GREEN GRAM STIR FRY (CHERUPAYAR THORAN)
Green gram is rich in protein and has high fibre content. This is one of the pulses that you should include in your kid's diet.
Again this recipe is from my sweet friend Ani.
What you require
Method
#14. OATS CHOCOLATE COOKIES
What you require
Method
#15. RAJMA MASALA
The ingredients used to prepare rajma masala seems long. But believe me it's one of the quickest dishes you can prepare. This will go well both with rice or chapati.
What you require
Rajma - ½ cup
Big onion - 2
Tomato -1
Garlic - 1 clove
Ginger - ¼ inch
Red chilli - 1
Fennel seeds - ¼ teaspoon
Toor dal - 1 teaspoon
Turmeric powder - ¼ teaspoon
Bay leaf - 1
Cardamom - 1
Cinnamon stick - a small piece
Cloves - 2
Dry methi leaves - a few
Milk - 2 tablespoon
Oil - 1 teaspoon
Ghee - 1 tablespoon
Method
#16. BUCKWHEAT FLOUR CHOCOLATE CAKE
Buckwheat is not a cereal grain, it's a seed which is gluten free, rich in fibre content, protein, copper and magnesium.
Usually buckwheat flour is used to prepare pancakes and muffins.
I tried out chocolate cake with this flour using rabbit shaped silicone mould.
I don't like adding eggs to my cakes or muffins. I always substitute it with my homemade curd.
What you require
Method
I love aviyal. I prepare it twice every week. Nowadays Rithvik doesn't eat aviyal and spits out most of the veggies saying "seed". But he loves to eat raw carrots and cucumber.
#17. AVIYAL CURRY
I decided to somehow include avial in his diet. Thus this "aviyal curry" recipe originated. Have to say, with this aviyal curry he eats rice with a happy face.
Aviyal - as required
Buttermilk - as required
Salt - to taste
What you require
Method
Unniyappam is something I usually pack in his snack box as its healthy, delicious, easy to eat and easy to cook 🙂
#18. WHEAT FLOUR BANANA UNNIAPPAM (PANIYAARAM)
What you require
Method
This is one of the family favorites. It smells so good while cooking and its yummy too.
#19. WHEAT FLOUR APPLE DATES DOSA
What you require
Method
The only way to add leafy vegetables in a kid's diet are by mixing them with some curries. The best way is to cook with dal.
#20. MOONG-GREEN GRAM METHI DAL CURRY
What you require
For seasoning:
Method
Also read:
This summer squash is an easy to cook dish. The easy way to cook summer squash is to peel them, chop them and saute them with ghee, salt and paper for 3 or 4 minutes.
#21. ZUCCHINI CHUTNEY
But if your kid doesn't like this veggie, make chutney with this and serve them with idli, dosa or even plain white rice.
What you require
For seasoning
Healthy eating is very important for kids as it helps them to grow up to be healthy adults. It is upto us, parents, to ensure that we always give a healthy diet for kids.
Method
Dear mommies do try these 21 healthy recipes for kids and let me know how it turned for you.
You can also BUY our ebook on '53 lunch box recipes for your kids' from our online store.
Do comment below about your special recipe that is a super hit with your kiddo. That will be very helpful to all the moms out here.