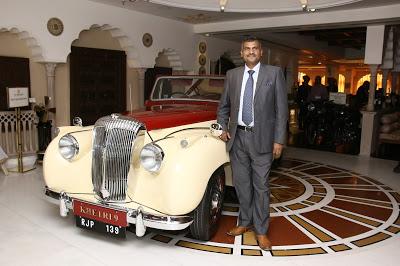 Mr. Madan Mohan, Founder, 21 Gun Salute with newly restored vintage Car- 1952 Daimler DB18 Drophead Coupe
The first motorcar was witnessed on Indian roads was as early as 1898. Till 1949, there was no car manufacturing in India. Every car lover had to import it into India. The love was at its peak and thousands of cars were getting imported into India. Most of these imported cars were manufactured in a customized manner as per the occasion for which it was being purchased and other requirements of the car owner. Mostly it was the Maharaja's and similar high-rank people who used to buy these imported cars. Around 1300
Rolly Royce
alone were imported into India in 1930. The first assembly units in India were incorporated in Mumbai, Chennai and Kolkata.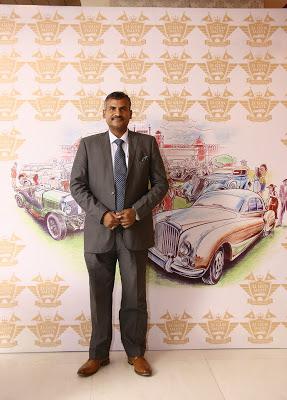 Mr. Madan Mohan, Founder, 21 Gun Salute.
The
21 Gun Salute Rally
aims to bring to you the much awaited royal heritage of vintage cars. The early era (between 1946 to 1970) in context of of vintage cars and India is worth mentioning. In
1946
PAL
in association with
Chrysler
started assembly of
The Dodge DeSoto
and
Plymouth
.
HM
in
1949
started manufacturing
Morris 10
 (
Hindustan 10
) in collaboration with
Nuffield
of U.K. In the same year
Mahindra & Mahindra
started manufacturing
Willys Jeeps
. And
Ashok Motors
started
Austin A40
.
1950
witnessed the arrival of
Fiat 500
into India.
Austin A70
also was started and so was
Morris 14
(
Hindustan 14
). In
1954
HM
launched  
Lansmaster
and
Fiat
launched
Millicento
.
Standard 8
arrived in
1955
.
Ambassador MK I
was launched in
1957
.
Standard 10
and
Standard Pendant
were launched in
1959
.
Standard Herald
was launched in
1960
. In
1963,
Ambassador MK II
got launched.
Fiat 11000
was launched in
1964
. And finally
Standard Gazel
arrived in
1970
.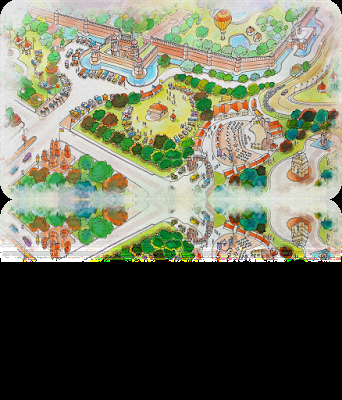 So far, five Annual Vintage Rallies have been held in a row starting 2011. 2016 will witness the 6th Rally and Concours. Royal guests, grand (national and international) sponsors, gala events, cultural shows, music and dance are the key highlights. There were 50 vintage cars and 20 bikes in the first vintage rally that was held in 2011. In 2012 (the second rally) the count of vintage cars increased to 95 having their origin between 1910 to 1965. The count increased to 100 for vintage cars in the third rally in 2013 and that of bikes to 75. In the fourth rally in 2014, the count of vintage cars was 125 and that of bikes was 40. The 5th edition of the rally held this year witnessed not only 200 cars and 50 bike connoisseurs from India but 10 vintage car enthusiasts from overseas.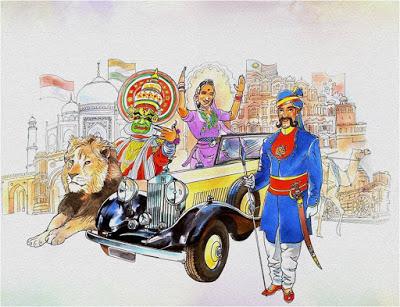 21 Gun Salute International Vintage Car Rally & Concours Show 2016 (6th edition) will be held on 6th and 7th of February. This will be a great showcase of India's Royal Vitage Motoring Culture. There will be 125 royal cars and 50 bikes in this edition. This will be a great amalgamation of centuries-old Heritage of India and a new kind of cultural tourism evolving in India courtesy the 21 Gun Salute International Vintage Car Rally & Concours Show 2016. On 6th Feb the gala event will begin with a marathon 5-hour long cultural, dance and music fiesta in Red Fort. On 7th the rally will happen at the Buddh International Cicuit, F1 Track.