The most significant concern for any thriving marketing agency is to ensure that it provides quality services to its clients. We live in an age and time where the competition amongst both B2B and B2C companies is way too high.
The focus on "content" for any business is staple and majority of brands have a social media presence. But is this enough? What most people forget is that without a proper strategy in place, it is not possible to get desired results.
It may be easy to start a business (and on some levels, it is) but making it thrive and how is a wholly different battle, which is how digital marketing agency enter the picture. No matter how big or small a business is - receiving digital support is essential.
Since digital marketing agency are experts in "marketing on the digital medium," it allows the businesses to focus on what they need to focus the most - fast and sustainable growth. But like everyone else, even agencies have their own set of struggles.
Digital marketing agencies manage a variety of domains such as content, social media, SEO, graphic design, project management and client servicing. They deal with many team members, multiple clients, and other external parties.
If you work with an agency or in fact own one, you will agree that things can get pretty chaotic on a daily basis. Can the use of tools make your job easier? Of course, they can!
In this article, I have shared with you a range of tools from different domains that are apt for agencies. I have tried to be as exhaustive as I can be so that if you are currently searching for incorporate a few, you should be able to make an informed decision.
Read on:
Email marketing
a) EasySendy Pro
Used by brands such as Damas Jewellery, Magnum, CITRIX and Comcast, EasySendy Pro is an excellent tool for digital marketing agencies. Why? The tool enables them to automatically segment email subscribers as per business requirements and send personalized emails to each subscriber group.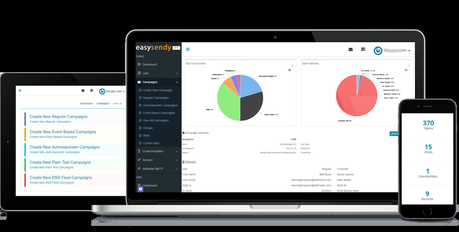 1. Detailed dashboard
The dashboard gives a detailed overview of the campaigns, email lists and templates and recent activities of the subscribers.
2. Advanced subscriber list segmentation
EasySendy Pro helps segment and target audience from their interaction with the email campaign. The agency can update custom field values of the email list and move one email ID from one directory to another as per subscriber interaction.
3. Drag and drop editor
What's an email marketing tool if it doesn't have this fun feature? The agency can create its templates, upload pre-built templates as .zip files and write plain text email campaigns via CKEditor. Moreover, the EasySendy Pro email templates are responsive to all digital platforms.
4. Regular and advance email campaigns
The agency can create plain text and RSS feed email campaigns, autoresponder sequences and date-based emails.
5. Email delivery through SMTP delivery servers
The agency can add a convenient email delivery center (such as Amazon SES, SendGrid, SendinBlue) from its end to deliver campaigns accordingly. The tool allows the optimization of email delivery via different IP addresses.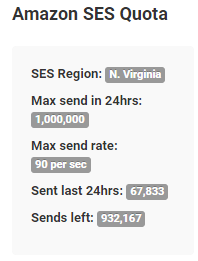 Integrations
EasySendy Pro integrates with a variety of business systems such as Google Analytics, Salesforce, Zapier, WooCommerce, Shopify, Joomla, WordPress and more.
Pricing
As compared to its competitors like Campaign Monitor and MailChimp, EasySendy Pro is affordable. Its payment option starts with $19/month, catering to 10,000 subscribers, from 2 delivery servers.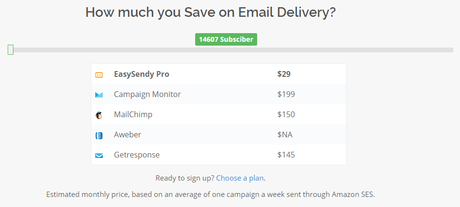 b) SendinBlue
Noted under 10 Free Email Marketing Software Solutions for Small Business Marketers by Capterra, SendinBlue is an ideal tool for digital marketing agencies that are seeking an all-in-one email marketing tool.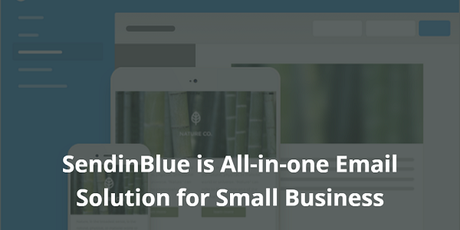 1. Email designer
The agency can select and customize email templates using the drag-and-drop editor without any design knowledge. The templates are responsive to all digital platforms.
2. Advanced search and segmentation
On SendinBlue, it is easy to filter and segment contacts for different email campaigns. The agency can group contacts into folders and update the lists as per various criteria. This feature comes in handy when multiple teams are overlooking different clients.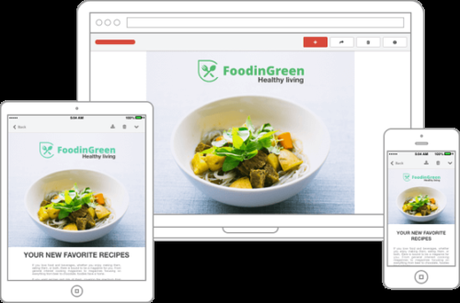 3. Access live data
The agency can watch live results of email campaigns in the dashboard and access in-depth reports in PDF or CSV formats.
4. Actionable and detailed insights
SendinBlue lets the agency know the geographical areas where the campaigns are doing best, which buttons and images are driving maximum traction and identifying the most used platforms for campaign optimization.
Integration
The agency can integrate SendinBlue with many applications such as WordPress, Wix, Salesforce, Drupal, Google Analytics, Facebook and more.
Pricing
SendinBlue's payment options keep all kinds of users in mind. Its most famous plan is "Premium" which allows the agency to send 1,20,000 emails/month for just INR 3,960. It is perfect for marketing professionals.
SERP and SEO
c) SerpStat
This tool is an all-in-one SEO platform that automates SEP processes such as backlink analysis, keyword research, and rank tracking. This tool helps digital marketing agencies improve their content and SEO and PPC activities.
Features
1. Keyword research
The tool identifies profitable keywords used by competitors and influencers. The keywords are analyzed based on search volume, competition level, cost per click, etc.
2. Market intelligence
SerpStat enables the agency to study regional and global data, track actions of influencers in search or paid advertising and research and get information on niche audience easily. There is so much data out there that it is difficult to streamline content and farm what is important. With this tool, this is easily manageable.
3. Content marketing
Through SerpStat, the user can find out the questions that his target audience has in mind and create relevant content around that to attract interested consumers to the website. It also helps the user to analyze potential traffic on each webpage.
4. Advertising analysis
SerpStat helps identify relevant competitors, keywords used by them, their advertising budgets and activities. This tool is helpful to digital marketing agencies for making SEO centric strategies for their brands.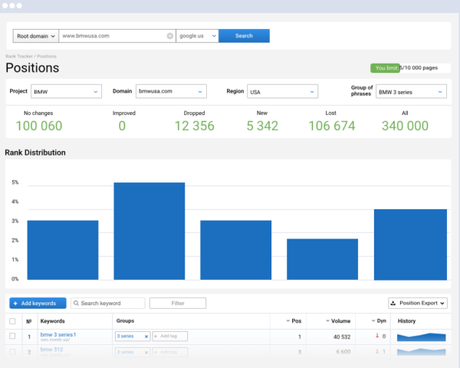 SerpStat is a powerful tool for digital marketing agencies that are working with clients who have just set up their websites and have a weak SEO performance.
5. Rank tracking
SerpStat's algorithm analyzes SERPs and saves data about top-100 domains for every keyword, which means the brand will know exactly its ranking on both regional and global platform.
Integration
SerpStat has no notable integrations with Google Analytics or Google Search Console for now, which can be a downer but if the agency is working with newbies in the industry, then it is worth the try.
Pricing
SerpStat has four kinds of payment offers under Business, starting at $499/month. For more details, please click here.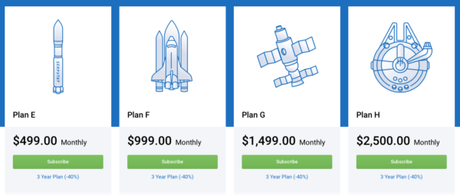 d) HitTail
Agencies who want to strengthen their brand's SEO strategies using long-tail keywords and boost traffic across search engines should use HitTail.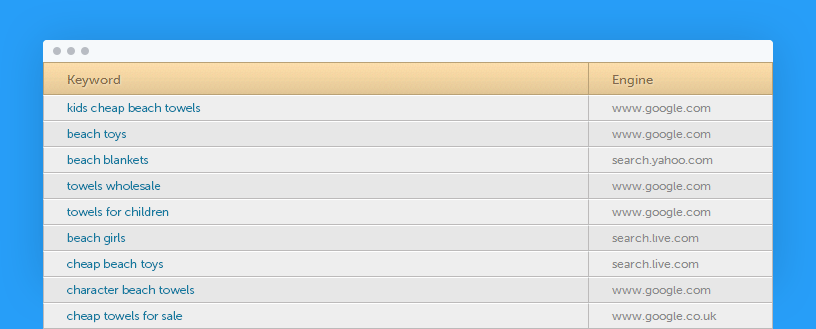 Features
1. Keyword ideas
The agency can look for keyword ideas based on the term or phrase entered into it. The tool will come up with relevant search queries along with estimated search volume. Clients can also be involved in this process for faster and better results.
2. Relevant long-tail keywords
The agency can access a list of critical long-tail keywords after the website's existing organic search traffic is analyzed by HitTail.
3. SEO checker
HitTail optimizes web pages for target keywords and highlights pages that need immediate SEO assistance.
Integration
HitTail has no notable integration as of now.
Pricing
There are three options offered by HitTail. The "Business" plan is most popular and starts at $39.95/month.
Full-stack marketing automation
e) Aritic PinPoint
Aritic is an all-in-one marketing automation that has been designed specifically for digital marketing agencies and small and mid-sized businesses. Its rich features allow the agency to streamline their marketing campaigns via automation and transform leads profitably.
Features
1. Marketing automation
Aritic PinPoint improves lead quality, speeds up the conversion process and enables both marketing and sales teams to work together. The tool specializes in an email, mobile, and social media automation. Perfect for digital marketing agencies, isn't it?
2. Email drip marketing
Email is such a powerful tool, and Aritic PinPoint thoroughly understands that which is why it helps the digital marketing agency in creating relevant and engaging emails that "actually" convert. This functionality also allows tracking campaign performance in real-time.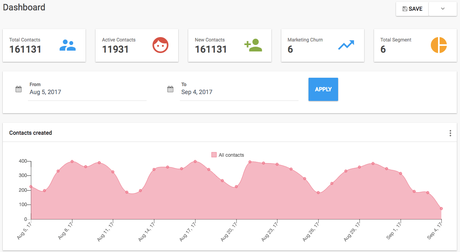 3. Landing page
Aritic PinPoint helps the user create landing pages with the right CTA buttons. Since it is a comprehensive tool, it allows tracks customer behavior right from the time they land on the page till they bounce.
4. Account-based marketing
The tool helps users create a better relationship with leads across multiple digital touchpoints through the ABM functionality. It identifies complementary resources to keep the revenue cycle going for existing customers.
5. Mobile marketing
Mobile is a robust platform for engaging with customers. With Aritic PinPoint, it is possible to create engaging drip campaigns specifically for mobile and trigger more engagement and a higher ROI on the device.
6. Marketing analytics
With Aritic, the user can create dynamic and detailed reports comprising all the essential parameters (location, customer behavior, etc.) so that better marketing strategies are formed by the agency in the future.
Integrations
The agency can integrate Aritic PinPoint with multitude applications like SugarCRM, Salesforce, Facebook, Twitter, LinkedIn, Aritic CRM, Outlook, and more.
Pricing
Aritic PinPoint offers four SMN and enterprise pricing plans.The agency can choose a method depending upon the scope of work, the number of clients and variety of projects being managed by them. Here is a snapshot of the pricing plans. For more info, please visit here.

Graphic design
f) Snappa
Those agencies which don't have a design support and have to create high-resolution graphics should use the online tool Snappa. From social media posts and website banners to blog images and display ads, the agencies can create an array of images in a jiffy.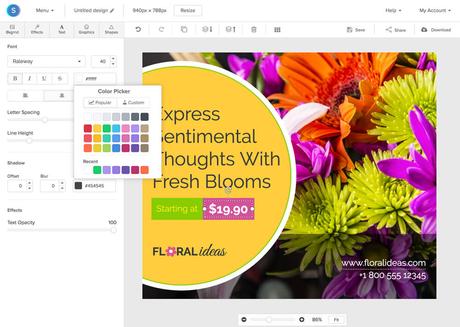 Features
1. Snappa has an easy-to-use drag-and-drop feature that allows anyone to create engaging images in seconds.
2. The tool has a bank of different templates designed by Snappa's in-house designers. These templates serve many kinds of industry backgrounds - which is ideal for agencies.
3. The agency can access more than 20,000 photos, 35,000 graphics, and 200 fonts - all of which are royalty-free - on Snappa.
4. The agency can create folders to organize their creations for each business they are managing.
5. Snappa is known for its reliable customer support. The tool also has a comprehensive list of FAQs and video tutorials.
6. The agency can resize the graphics and upload original images to design customized creatives for each business.
Integration
Snappa is currently ONLY integrated with Buffer.
Pricing
There are two packages to choose from - Free and PRO. In the FREE package, the user can download five images from the photo bank on a monthly basis and connect just two social media accounts. In the PRO version, the user is billed $10 per month and has access to unlimited media downloads and buffer integration.
g) Stencil
GetStencil or Stencil is is a tool that is a step ahead of Canva. With its installation speed, all-inclusive payment options, Buffer integrations, and direct sharing on social media platforms, it is a tool that makes an excellent asset for a digital marketing agency.

Don't believe me? check out its features and be amazed:
Features
1. The tool has a photo bank comprising 95,000 royalty-free CCO background photos, 2,000 web fonts from Google, 200,000 icons and 290 templates.
2. Stencil allows the user to not only create images but also brand-proof them. This feature is fantastic for agencies as they manage multiple brands.
3. Posting quotes on social media are massive right now, and Stencil has a bank of more than 1 lac templates for the user to choose.
4. Before sharing them on social media, Stencil allows the user to see a live preview of the image.
5. Stencil pre-uploads the optimal sizes of images used on multiple platforms such as social media, blog posts and display ads.
Affiliation
One of the major highlights of the design tool is its Affiliate Program. What is it, you ask? Well, under this program, the agency is entitled to receive a 30% recurring commission on every sale each month. The commission is paid through PayPal on a direct basis. What the agency has to do is sign up for its affiliate account. once the tool approves of the agency's application, it receives a custom affiliate link, along an auto-generated password.

Even if the agency is on a monthly subscription, it is entitled to receive a commission from affiliate initiatives.
Integration
Stencil is currently ONLY integrated with Buffer.
Pricing
The tool is low-priced and costs just $9/month. The agency can create up to 50 images and even access premium support. But since this is too low, it should ideally opt for a package that offers more. Check the following options:

Project management
h) Teamwork Projects
Agencies manage multiple clients simultaneously which is why it is essential to use a tool that can track every assignment from start to finish which is where Teamwork Projects comes in handy.
Features
1. Project organization
Every project on the tool has milestones, task lists, file uploads and notes for all team members to access.
2. Time tracking
The agency can log in the time spent in doing tasks. Logged work can be marked "billable" - which makes invoicing easy for clients.
3. File sharing
The tool allows the agency to upload and share files within the projects. Storage space depends on the pricing package chosen.
4. Task lists
The agency can make such lists and tie them to milestones. Individual teams have the flexibility to comment on the tasks for more transparent communication.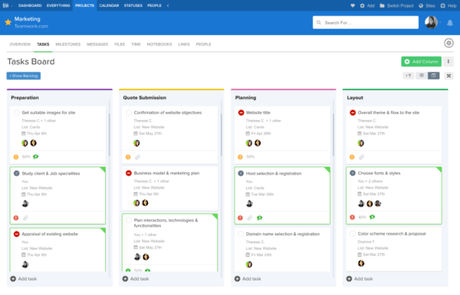 5. Notes and messages
Notes are wiki-like documents that can be edited by any team member. Each project has a message board for teams and clients to talk to each other. Messages and their replies automatically convert into emails and vice versa.
Integration
Teamwork Projects integrates with apps such as HubSpot, Xero, FreshBooks, ZenDesk, Taco, Google Drive and more.
Pricing
There are three pricing options offered Teamwork Projects. For an agency, the Enterprise plan is the best because of the many features it provides. To know the price, please contact them.
Helpdesk
i) Teamwork Desk
This tool is a straightforward help desk software that combines customer self-service with ticket management into a single comprehensive platform. This is a perfect tool for digital marketing agency, as it allows them to manage their clients seamlessly.
Features
1. Ticket management
Agents can look after assigned tickets, hold a private conversation with other agents, log phone calls support multiple brands from the same dashboard, and attach files to share. They can also access customer profiles and history.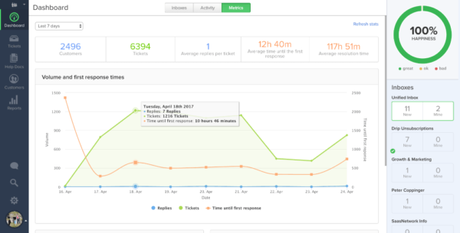 2. Detailed reports
The agents can measure multiple metrics such as the response time against increasing ticket volume, team productivity level and first response time. The tool can also identify the channels (phone, email, social media) on which the customers are most active.
3. Mobile access
Teamwork Desk is available on both iOS and Android which allows the agency to respond to tickets, add notes, assign a ticket to free agents and move ticket to a different inbox - mainly do everything that a person while available at the desk.
Integration
Microsoft Dynamics, Slack, Asana, Evernote, Airtable, Trello, and Typeform are some of the apps that can be integrated with Teamwork Desk.
Pricing
Teamwork Desk tool is ideal for both growing and well-established agencies because it bills per agent. It has two pricing options up on offer. The user can opt for a 30-day trial without sharing credit card details.

B2B lead generation
Elucify is a free and crowdsourced database of business contacts which means agencies can search for email contact addresses and convert them into leads to grow their business.

Features
1. Salesforce record
This feature allows the agency to update information on all contacts with just a single button click. The best part is Salesforce checks email addresses, phone numbers and current decision makers before updating data on the system.
2. Safe and secure
The tool locks the account as soon as the user logs out so that no third party can track his activities
3. Access to system services and third parties
Elucify enables the user to access data the tool and from other third parties. This feature is ideal for those who want to share information not present in their Elucify account.
4. License grant
There is a limited access policy which provides a non-transferable license on the use of the services offered by Elucify.
Pricing
Elucify is a relatively new tool, but digital marketing agency can try it for free to see if it works for them.
Social media marketing
k) Sendible
This tool is a social media management tool for digital marketing agency. It allows the team to smoothly manage social media for multiple clients on a single dashboard.
Features
1. Priority inbox for each brand
Sendible collates all messages from multiple social media accounts of a client in single inbox. This feature keeps all teams focused on their respective brands.
2. Scheduling and publishing
Sendible enables easy scheduling of social media posts, images and videos both individually and in bulk. The tool also suggests an optimal time to publish a post.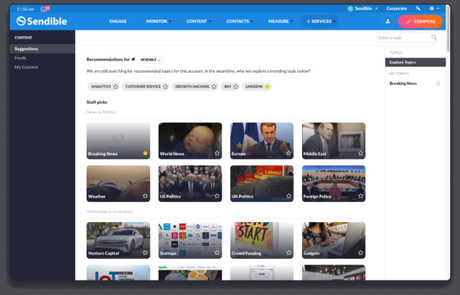 3. Social collaboration
Sendible helps the team leader to supervise his team's social media posting activity and enables the creation of seamless workflows.
4. Detailed progress reports
The tool delivers dynamic reports featuring social media analytics data in a simple yet detailed format. Sendible tracks metrics like content popularity, website visits, landing page views and more.
5. Social prospecting
Sendible's CRM allows the agency to target and collect prospects through social media based on their specific interests and level of influence. It acts as a lead nurturing tool for digital marketing agency.
Integrations
Sendible integrates many apps like Facebook, Twitter, Tumblr, Canva, Instagram, Google Analytics, WordPress and more.
Pricing
Depending upon the size of the team, the agency can go for a 30-day trial besides buying either of the three packages.
l) AgoraPulse
This tool is a social community and moderation tool that helps agencies manage social media platforms from a centralized hub. It is quite a popular tool - used intensively by individual marketers, small to mid-size businesses and agencies. Have a look at its features to decide if it is really apt for your marketing agency.
Features
1. Engagement
AgoraPulse collects content from across the social landscape and puts it in one place to allow the agency to assign, review, tag, and reply precisely on the platform. Since there are multiple client accounts, management becomes chaotic. But with AgoraPulse, each team can be better at it.
2. Multi-platform publishing
AgoraPulse's dashboard is transparent and allows the agency to publish on multiple social accounts from one place at a time scheduled by it.
3. Social media monitoring
Once the tool is connected to social media platforms, the agency can monitor different activities such as comments, tweets, messages, hashtags, etc. which works since there is so much to keep track of.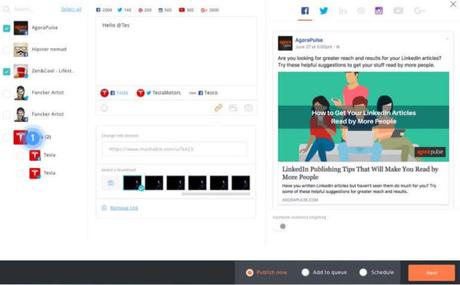 4. Analytics and reporting
AgoraPulse measures the ROI with instant report generation on social engagement, audience behavior and brand awareness.
5. Client involvement
AgoraPulse allows the agency to invite clients to get approval on pre-drafted social media posts and to give feedback. Usually, it is tedious to share information with clients in a neat fashion, but AgoraPulse makes it happen.
Integration
AgoraPulse integrates platforms like Facebook, Twitter, Instagram, Google Apps, Google+, and LinkedIn. It also offers three additional tools - Facebook page barometer, Twitter report card and Facebook page contests. AgoraPulse takes pride in being an inventive tool, and to further improve the marketing initiatives of the agencies it offers these tools.
Pricing
There are four kinds of payment options offered by AgoraPulse and all the subscriptions are on a monthly basis. Here's a screenshot: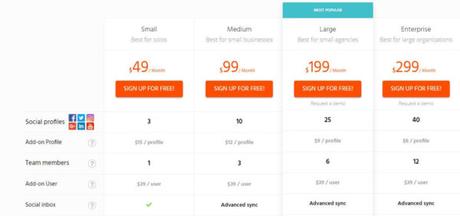 m) Missinglettr
The social media tool enables the user to create targeted and automated social media campaigns for one year, using blog posts. Missinglettr maximizes the engagement potential of every blog post published.

Features
1. Hashtag functionality
Missinglettr can identify the popularity of hashtags on Twitter. This feature helps the agency to choose the correct hashtags for better audience engagement.
2. External approval
With Missinglettr's "external approval" feature, the agency can send campaign link to the client to get his approval or feedback. Getting the client involved in the process is essential - and this tools thoroughly understands that.
3. Cross social media promotion
Through Missinglettr, it is possible to promote published blogs across all social media channels around the year.
Integration
Missinglettr currently only integrates with Facebook, Twitter, LinkedIn, Google+.
Missinglettr caters to both individual marketers and teams. In the pricing packages for the latter, the agency can link countless websites, and also involve clients via "external support."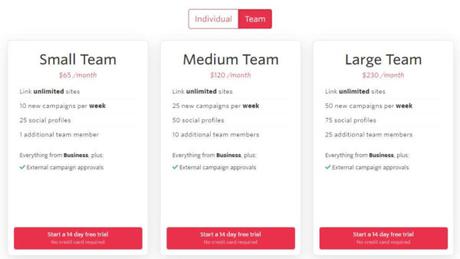 n) ManageFlitter
This social media tool is specifically for Twitter and is a boon for agencies. It helps sort out followers, influencers to follow, tracks down un-followers and enables easy management of client Twitter accounts. The social media channel has a lot of potential and MissingFlitter, and it is possible to tap into it.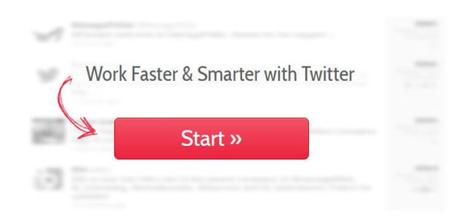 Features
1. PowerPost
PowerPost has a simple interface that allows the agency to identify the best time to post Tweets based profile history and follower behavior.
2. Analytics
The feature boosts user engagement on the campaigns by identifying long-term trends so that the content goes viral. Which client doesn't want his material to go viral? Everyone wants that.
3. Unfollow
This functionality highlights inactive, profile picture-less and protected profiles that are being followed by the brand. It also highlights those accounts that the brand has followed on Twitter but don't follow back the brand.
4. Follow
This functionality allows the agency to filter and copy another profile's followers or follow those accounts already following the brand.
5. Search
This tool helps new brands establish a powerful follower base by identifying profiles most relevant to the brand based on their followers, location, and keywords. Agencies that have startups for clients must definitely give this tool a try.
Integration
The social media management tool can currently only integrate with Twitter.
Pricing
ManageFlitter offers three kinds of pricing plans - Freebie, Pro and Business. The last option is apt for agencies managing multiple client Twitter profiles.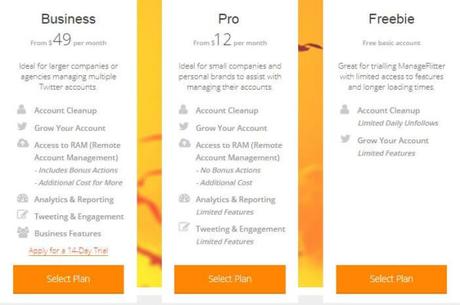 Other free tools for digital marketing agencies
0) Varvy
Varvy is a website optimization tool and helps websites to check if the Google webmaster guidelines have been met. It allows the user to perform some website tests such SEO, speed, and mobile performance.
Agencies should use this tool to get an overview of the websites they are managing. It's a relatively simple tool to use. All the user has to do is type in the website URL to check the performance. The tool then comes up with a detailed analysis in less than 15 seconds.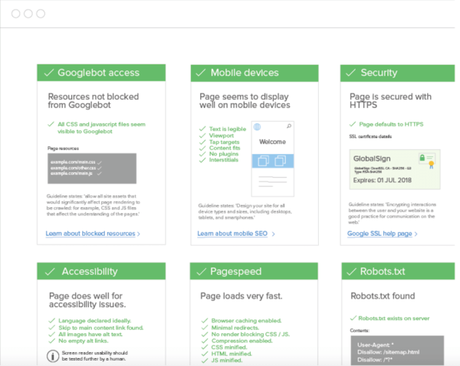 Features
Optimizes page loading times
Adds value to affiliate pages
Blocks useless pages on the website that don't add much value and also hinder ranking
Helps check for unbroken links
Identifies images that should be replaced by text links
Helps decide the right amount of links on a website
Highlights word that target audience would potentially type to find a business page
Integrations
Varvy is web service and doesn't require integration with any platform or application. Agencies must give this tool a try for optimized results.
Pricing
It's a free tool.
p) Soovle
Using the right set of keywords is every business' challenge. In a time where there is no shortage of content, saying the right thing with the correct "phrase" across the online landscape is a hassle. But thanks to tools like Soovle, this problem can be eliminated.
Features
It's simple to use. The agency has to just go to the website and type in the keywords. The tool will then generate terms that have been searched previously in conjunction with the name that has been explored.
Integrations
Soovle generates results from multiple search engines and digital platforms such as Google, Wikipedia, Yahoo!, Bing, Amazon.com, Answers.com, and others.
Pricing
It's a free tool.
Over to you
So many tools, wow! There is entirely no shortage of tools that agencies can use to boost not only the digital presence of their clients but also optimize their own. My advice to you is read this article carefully and make an informed decision. Choose the best tools for your marketing agency!
Have I missed out on any other excellent tool that is apt for agencies? Do let me know in the Comments section!