Home / Goedeker's News / 2016 Goedeker's Appliances Annual Public Service College Book Scholarship Winner!
It is time now to excitedly announce the 1st place Winner of our Public Service Scholarship! The winner will receive $500 in scholarship funds. A big thank you to each and every person who took the time to apply and get everything together that was needed. We definitely wish we could give everyone a scholarship, especially considering how hard you work and how much you sacrifice to help, work, and continue your education. Your energy and strength of character was a breath of fresh air and we encourage you and more to apply next year!
Without further adieu we are sending out all the congratulations to...
Public Service Scholarship Winner: Kevin Kasper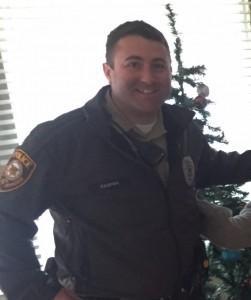 Kevin Kasper is a single father raising two young daughters. He is a Veteran of a Foreign War and a Police Officer with the St. Louis County Police Department. He is also a full-time student at Columbia College.
Here is an excerpt from his essay:
"In my life, I am most proud to call myself a dad. I have two wonderful daughters, Grace and Koele. Grace just turned 9 years old and Koele just turned 5 years old. I decided to go back to school this year and it is due to them. I want to obtain a degree to instill on my daughters the importance of an education. Acquiring an education will benefit my whole family and will give my daughters more opportunities in their lives. They understood the burdens placed on me as I returned back to school this year. My daughters watched me as I came home at 6a.m. and I worked on homework. My daughters watched me as I had my head down in my books. My daughters watched me as I lost sleep to study for a test. My daughters supported me though this and they celebrated with me as I received a 4.0 this last semester. I am proud to be a dad and I know my daughters are proud of me as their dad."
Congratulations Officer Kasper! We wish you luck in your education journey and all future endeavors!
About The Author