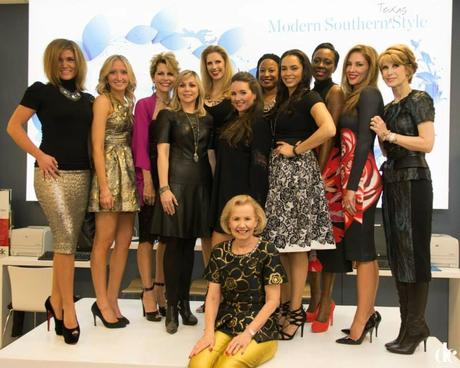 2015 Fashion Stars For A Cause with event founder Yvonne Crum
photo c/o Danny Campbell
Fashion Starts For A Cause is the annual gala benefitting the Suicide and Crisis Center of North Texas. Last Thursday at Belk, event founder and Gala Chair Yvonne Crum announced that Toni Munoz Hunt will serve as Honorary Chair for 2015 and she revealed the new crop of women who will lead the charge in 2015 to raise funds and awareness of this worthy cause. They include: Jennifer Fleming, Jamie Fowler, Leah Frazier, Rebecca Hallam, Caroline Harrison, Dr. Naila Malik, Charmaine Marshall, Dawn Mellon, Jessi Moreau, Dawn Neufeld, Melissa Rountree, and Cathy Williamson. The gala will take place March 20 at Dallas Country Club.
One of the tasks of this group is to sell raffle tickets to raise funds. This year's prize is super tasty and fun! The prize is a "Royal Raffle Dinner Party with Chef Darren McGrady". McGrady was the private chef to Princess Diana and her boys for many years and is quite the personality. The winner will receive:
A four course dinner based on dishes served at Buckingham Palace including food and wine pairing 
Butler service to prepare your table, greet and serve your guests 
Autographed copy of "Eating Royally" Top Selling Cookbook for each guest 
Chef McGrady will join your table, greet and serve your guests 
Consulting with the Royal Chef on Menu Food purchase, shopping, preparation 
Tables set up and tear down 
$5,000 gift card from Belk  
Tickets are $50 each or three for $100 and can be purchased by any Fashion Star or online at http://www.sccenter.org/royaldinner2015.html. The next day, Crum and Hunt appeared on KTXD's The Broadcast with newly announced Fashion Star, Dawn Neufeld, to share how this event started and why this is such an important cause. Click to view the segment: