November 14 was the television premier of the Hollywood Film Awards. In previous years, this particular awards ceremony had never been seen by the general public.  It was founded by Carlos de Abreau and Janice Pennington in 1997 to honor excellence in filmmaking, while also being the "kick-off" to the awards season. The Hollywood Film Awards was held this year at Hollywood Palladium and the red carpet was flooded with celebrities in some amazing and unique fashions.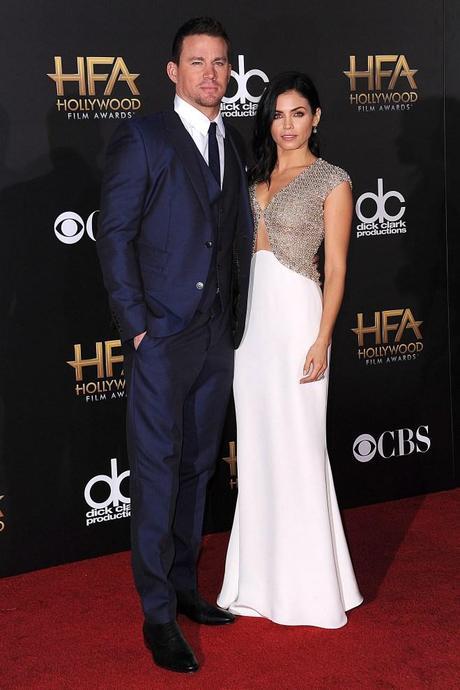 First, is an acutely fashion-conscious couple: Actor Channing Tatum and his wife Jenna. Bright navy is definitely Channing's color with his classic 3-piece blue suit. Being a tall man, the suit needs to be tailored correctly to fit his stature and in this case, it is. Channing off-sets the saturated tone of the navy with a crisp white button-down shirt and matching dark tie. Jenna Tatum looks absolutely stunning in her gown with the grey beaded top and simple white bottom that clings to her curves without showing too much.

In keeping with the "grey" theme, Twilight Saga- famed Kristen Stewart arrived on the red carpet in a modern-looking short dress with a grey mesh turtleneck, flared white short skirt trimmed in that same grey, and a set of matching pumps. With the short cropped hair and complimentary toned make-up, Kristen takes on sort of a quasi-futuristic look.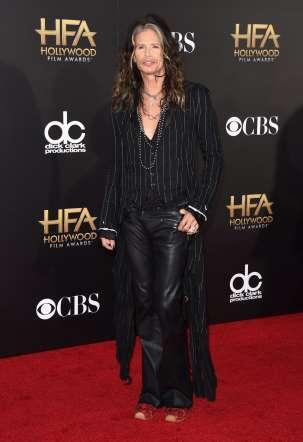 Lastly, is someone who has a flair for the dramatic: Steven Tyler.  His full length black and white pinstriped top-coat is in keeping with Steven's dramatic fashion and is accented by his wide-leg black leather pants and red snake skin shoes. There is definitely no chance that he would be mistaken for anyone else!