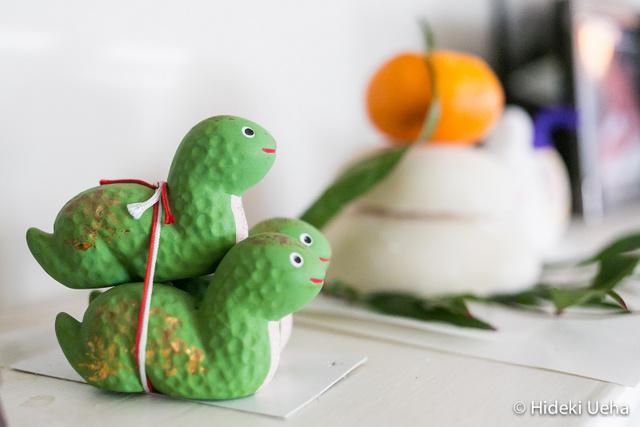 Although almost two weeks have passed since we feasted on both traditional Japanese Osechi Ryori (New Year's food) and non-traditional Japanese cuisine favorites, I'm still basking in the memories of delicious food and great times spent with family and great friends.  (Photo Credit: Hideki Ueha)
My New Year's posts are always a favorite of mine as I enjoy memorializing all the delicious food from our Oshogatsu (Japanese New Year) celebration. Unfortunately, my efforts have been hindered by my temperamental laptop which works perfectly with the exception of its power source. No power = no blog post. Boo! I predict a Genius Bar appointment at some point in the future.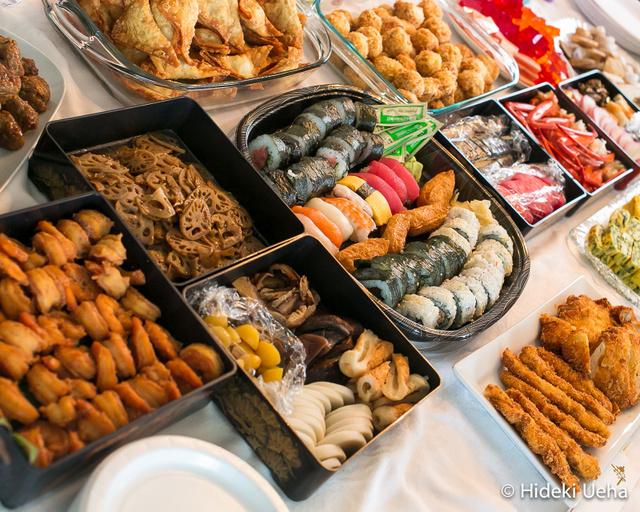 (Photo Credit: 
Hideki Ueha
)
Oshogatsu is one of, if not, THE biggest holiday celebrations in Japan and Japanese culture. Our family has gone through several different versions of Japanese oshogatsu celebrations from times spent with just my parents, brother and paternal grandparents, to just a simple gathering of my childhood family of four, but I must say that our present day oshogatsu gathering of 20 or so family and friends is certainly an annual event worth looking forward to.
For 2013, we added more non-traditional Japanese food favorites to our oshogatsu feast as you'll see in the photo above. Do you spy the chicken wontons and round kabocha korokke or Japanese pumpkin croquettes, above?
Ozoni
As always, my Mom made ozoni, or traditional Japanese mochi soup. It's tasted exactly the same every year since my childhood and it's still my favorite Japanese oshogatsu starter. Recipe for my Mom's ozoni is available here.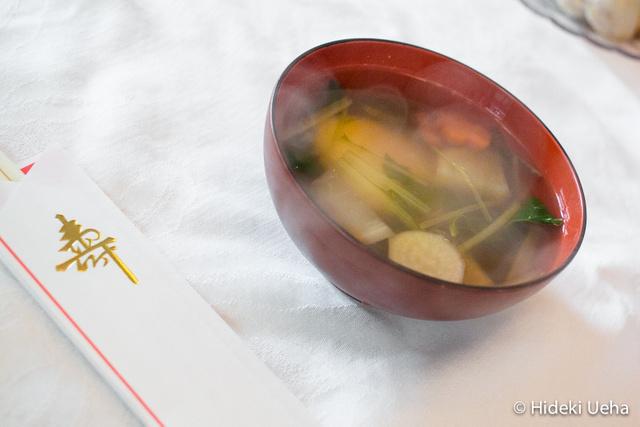 (Photo Credit: 
Hideki Ueha
)
Traditional Japanese Osechi Ryori
We also had traditional kuromame, or black soy beans, (kuromame recipe available here), celebratory kamaboko or fish cake, and kuri, which are sweet chestnuts. For a list of traditional Japanese oseshi ryori (new year's food), please visit my 2011 Oshogatsu post available here.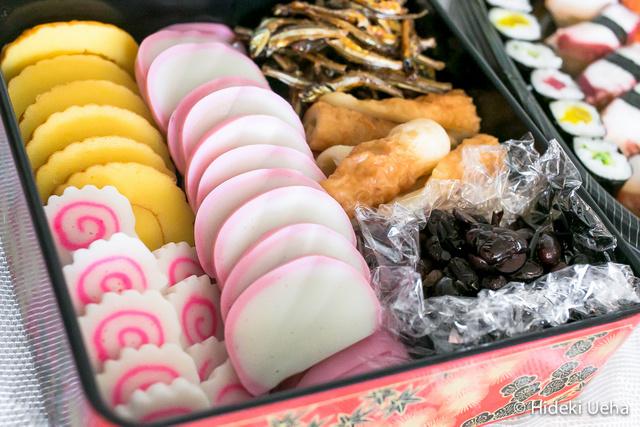 (Photo Credit: 
Hideki Ueha
)
Japanese "Mede-Tai"
Tai, or red sea bream, is considered a Japanese celebratory fish and is often served on special occasions. Don't let the eyeball and the sharp teeth scare you in the photo below! Tai is one of the best tasting fish with a clean flavor, very little fat, and minimal "fishy-ness". It's considered auspicious to eat tai especially on Oshogatsu because it is thought to bring future success and prosperity. Thanks for making this delicious fish Auntie Sumiko!
The Japanese term "medetai" means "auspicious"  and includes the Japanese words "mede" from the word "omedetai", which means "to celebrate", and of course "tai" refers to the auspicious red sea bream, and therefore this fish is sometimes playfully referred to as "mede-tai".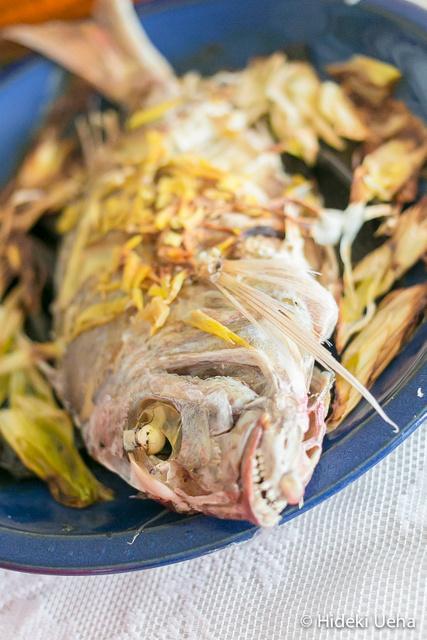 (Photo Credit: 
Hideki Ueha
)
Nimono
In Japanese cuisine, nimono, refers to any dish that is simmered. The nimono you see featured below is made with all different types of vegetables that are commonly used in Japanese cuisine. Nimono is traditionally served as part of osechi ryori but my Mom makes nimono all year round. Practically every other week my mom makes a batch of nimono which is actually low in calories, low in carbs and overall a healthy accompaniment to any Japanese dish. My favorite nimono are the konnyako (made from devils tongue yam) and takenoko (bamboo shoot).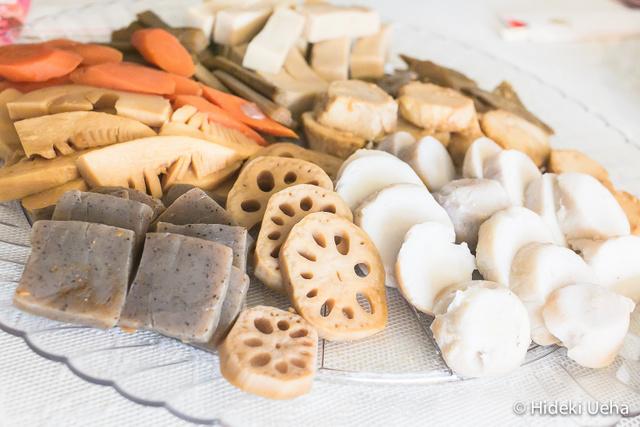 (Photo Credit: 
Hideki Ueha
)
Hourensou Tamagoyaki
Spinach egg roulade or hourensou tamagoyaki is a play on the traditional datemaki or sweet egg roulade that is often served as osechi ryori. We always have tamagoyaki on New Year's since the kids like it.
When Bebe E hit the age of 13 months, I started making hourensou tamagoyaki. It was a favorite of hers and a great way to  incorporate spinach and protein into her diet. Plus, you can cut the egg roulade into small squares that are perfect for little fingers and little mouths. My post on hourensou tamagoyaki is available here.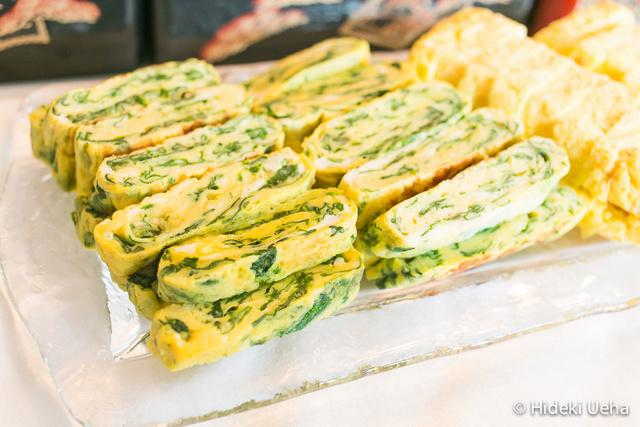 (Photo Credit: 
Hideki Ueha
)
Sashimi
Sashimi or raw fish is a staple in Japanese cuisine and often served as part of a family meal, or on special occasions. Traditionally, it is not considered Japanese osechi ryori or new year's food, but we have always had sashimi at our oshogatsu feast and this year was no different. Below you will find two of my favorite selections of sashimi. Top: Sabazushi – Saba is mackerel and zushi refers to the salted and pickled fish in rice vinegar. Bottom: Maguro is tuna, but I'm not sure whether this was blue or yellow fin tuna.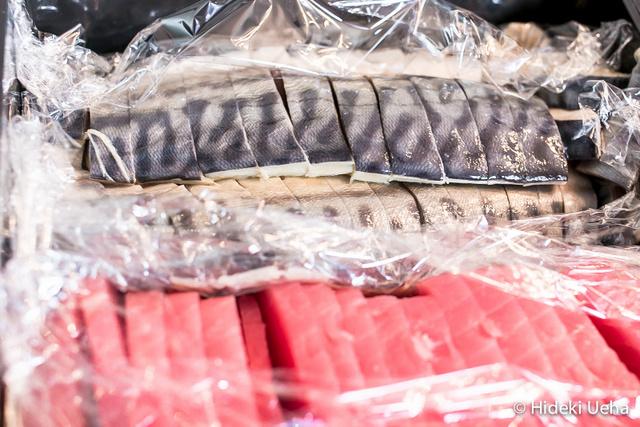 (Photo Credit: 
Hideki Ueha
)
Nigiri Sushi & Maki Sushi
Nigiri sushi is raw fish over sushi, and maki sushi refers to "rolls". Again, sushi is not traditionally considered part of osechi ryori, but it certainly adds festivity to our oshogatsu meal and is a favorite among our family.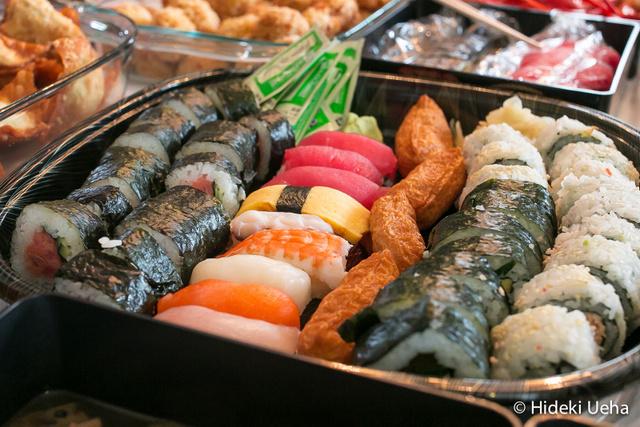 (Photo Credit: 
Hideki Ueha
)
Chirashi Sushi
Chirashi sushi, or mixed / scattered sushi is my Mom's second favorite sushi after nigiri sushi. She's made chirashi sushi or gomoku sushi for almost every festive occasion. This past holiday season, she even made chirashi sushi for our Christmas lunch, which she never does. My Mom tends to keep things simple by making gomoku sushi and serving it as is, but I encouraged her to make our chirashi for oshogatsu more festive. By festive, I mean adding a variety of scattered ingredients on top of the gomoku sushi.
Hidden under the slices of thing egg omelet or kinshi tamago, there was a significant amount of shrimp and kaiware (daikon sprouts) and it truly made this chirashi sushi delicious! My post on celebratory chirashi sushi and gomoku sushi recipe is available here.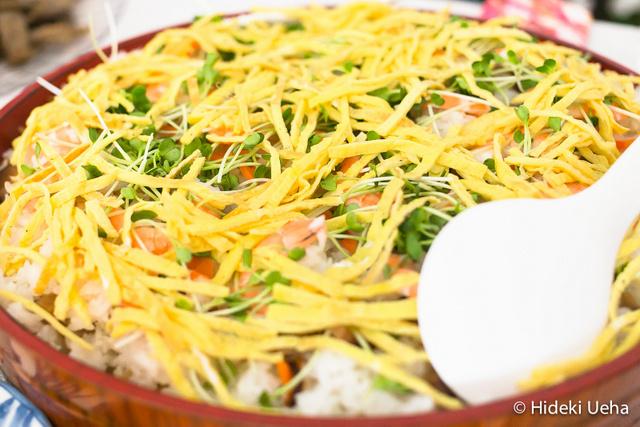 (Photo Credit: 
Hideki Ueha
)
Ebi-Ni
Ebi-ni simply refers to shrimp that is cooked in a simmering sauce. My Auntie Sumiko prepared this dish by slowly simmering shrimp in a savory broth.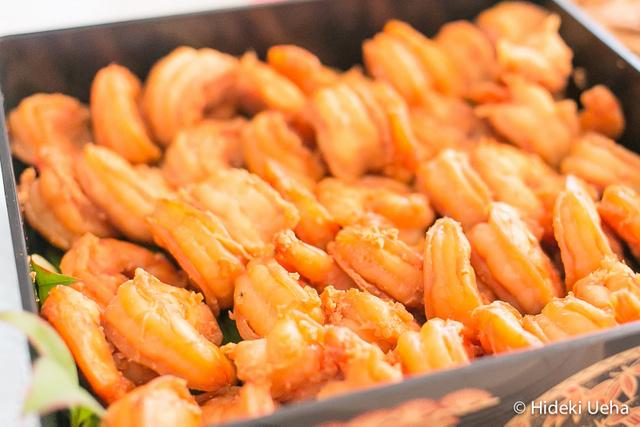 (Photo Credit: 
Hideki Ueha
)
Chicken Katsu
This year, as I mentioned, we had a number of non-traditional new year's food at our oshogatsu feast and I finally broke-in the professional deep fryer we received as a wedding gift (yes it's been sitting around in the box for THAT many years). We, or I should say my husband, fried A LOT of chicken katsu which is a variety of tonkatsu or pork that is battered in panko and fried. I prepare it, and he mans the fryer. Let's just say this division of labor is safer for everyone.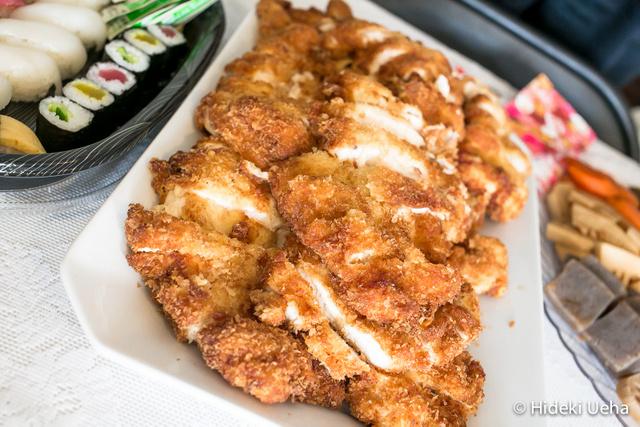 (Photo Credit: 
Hideki Ueha
)
Dessert
For dessert, as always, we had a wonderful variety of goodies. My sister-in-law made these really cute snowman cupcakes. I saw these on Pinterest over the holidays and they looked like too much work for me (I can be lazy at times) but lucky for us my SIL took the time to make these! Thank you, Auntie M!!! Bebe E loved how adorable these snowmen were, although all she really wanted to eat was the frosting and cake.
In addition to these cute little treats, we had an A-M-A-Z-I-N-G coconut cream pie and let me tell you, for a girl who hates coconut, I LOVED Bachan U's coconut cream pie! I ate one large slice at the party and took home two more slices which I quietly enjoyed at home – - – all by myself. We also had a variety of homemade cookies, delicious Jello (which the kids always love), and I made zenzai (red bean soup with mochi) again this year, but the very low sugar version of the usual recipe I make. Next time, I think we'll stick with the original amount of sugar. My Mom's zenzai recipe is available here.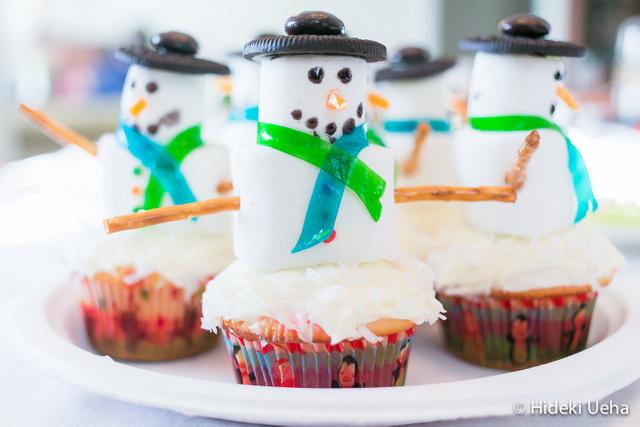 (Photo Credit: 
Hideki Ueha
)
As is the tradition in our family, my vintage Japanese Hagoita or New Year's Paddle and Princess was on display. It is vintage because it was gifted to me by my maternal grandparents at the time of my birth – - –  a few decades ago. Thanks Mom for always taking the time to bring this out of storage and displaying it so beautifully. And thank you for making so much delicious food!
Happy New Year!
May your "Year of the Snake" be auspicious and healthful!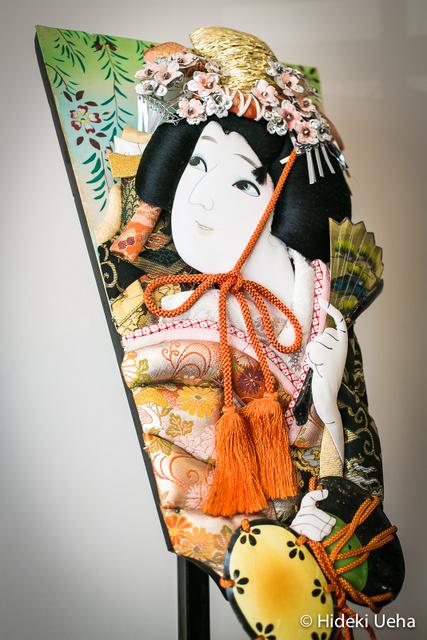 (Photo Credit: Hideki Ueha)