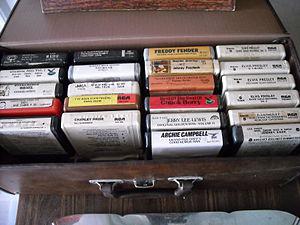 8 track tapes - remember these? (Photo credit: Wikipedia)
Remember 8-track tapes, vinyl albums and laserdisk?  How about the Beta VCR?  While you can still currently purchase a dual DVD/VHS player, you will soon need to bid on them used on eBay if you still insist on watching your VHS tapes.  And now the handwriting is on the wall for DVD and blu-ray disc technology as U.S. consumers embrace streaming technology.
According to new research released by IHS Screen Digest, 2012 will likely mark the year of the beginning of the end, where these current technologies which have enjoyed a long ride in popularity will have to make their way into nostalgic discussions.
Piracy aside, it is predicted that the U.S. consumption of online movies & TV shows will reach 3.4 billion views and/or transactions this year, up 135% compared to 2011; at the same time physical video formats is expected to be about a billion less.
Sr. Analyst Dan Cryan of IHS says that this decline in physical consumption will be gradual, most likely reaching critical mass between 2016 and 2019, particularly in the music sector of the entertainment business.  Cryan asserts, though, that there is still money to be made in physical media for the next few years.  Physical formats are projected to capture $11.1 billion in revenues this year, compared to the $1.7 billion that streaming is expected to generate.  The shift is expected to be relatively gradual as consumers embrace the idea of valuing ownership of a digital file vs. a physical format.
But video streaming services will definitely put the proverbial nail in the coffin this year.  These services account for 94% of paid movie consumption in 2011.  2012 growth will drive the point home to entertainment companies that they need to transition their business models to accommodate this demand, as well as internet providers, who are tinkering with usage-based pricing caps to try and discourage consumers from utilizing so much bandwidth with the popular technology.
Still not convinced that you're ready to relegate your DVD player to the back of the entertainment player in favor of a Roku player?  Conduct your own research into streaming movies and TV shows to determine which of them appeal to you.  Most of them give you a free trial period, as well as an easy way to cancel.  One service that is wildly popular is hulutv, which is known particularly for having entire seasons' episodes available on demand.  Many people like to spend a rainy weekend watching several episodes in a row, rather than waiting for the next episode the next day or week.
Source:  DigitalTrends.com