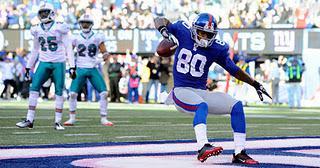 Photo: Getty Images, Patrick McDermott
- Troy Ballard 
I have a serious gripe with the NFL's Pro-Bowl, as players who really don't deserve to go are nominated strictly off face value, and others who work all season and are total studs get left out of that warm Hawaii sun.
Here are 10 players that should have been elected to the Pro-Bowl, but just got flat out snubbed:
Victor Cruz, WR, New York Giants 
I have a buddy who goes to U-Mass, (the same school Cruz attended), and he says there really is only three things to do, 1. Cheer on a failing sports program, 2. Drink, 3. Drink.
I don't know if Cruz has been slamming back magical shots this season, but he has been lights out. Cruz has actually worked his way above Hakeem Nicks in New York as the top receiver, despite coming into the season as a special teams player. It seems that every time he gets the ball in his hands he is a threat to go to the house, and he is also an excellent third down weapon.
Cruz should have been cruising the streets of Honolulu.
Aldon Smith, LB, San Francisco 49ers 
Smith is a Mizzou product that bust onto the scene with a red-hot San Francisco team and has been a key piece to one of the best defenses in the NFL. Generally Smith can get off the corner untouched with excellent instincts and acceleration, and this season has had quarterbacks pulling dirt out of their face mask's 14 times. 
As far as pass-rushing linebackers go, Smith is one of the best. He was totally robbed from a Pro-Bowl with a 49ers team that sent eight of their players to Hawaii.  
Marshawn Lynch, RB, Seattle Seahawks 
Lynch has totally resurrected his career in Seattle, and I actually went as far as to say that he is the most underrated running back in the NFL, earlier this season. The fact is, Skittles or no Skittles, Lynch is a tough hard-nosed runner and is the very life of the Seahawks offense.
I suppose I forgot to mention that he is nearly impossible to bring down, and can make something out of nothing on every handoff.
Andy Dalton, QB, Cincinnati Bengals 
If for some reason Cam Newton was not in the NFL, Dalton would have all but locked up the Rookie of The Year award. For being a second-round pick, the TCU kid has lit-up NFL defenses, and has also kept the Bengals competitive in a tough division. His efforts should not go unnoticed, and deserves more recognition this season.
Plus, Cincy's other rookie AJ Green is going, and the last time I checked, Dalton-Green was a package deal.
London Fletcher, LB, Washington Redskins 
About the only good things coming out of Washington right now are lower taxes and veteran linebacker London Fletcher. For a team that is totally inept in nearly every category, Fletcher still manages to succeed, and is leading the NFL in tackles. Fletcher is the centerpiece to a young and developing Redskins defense, and his effort as both a leader and player, is some of the best in the NFL.
I suppose we might as well just lock Fletcher's name on this list, as he seems to get snubbed every single season.
Cam Newton, QB, Carolina Panthers 
The Panthers may not be winning games, but that has little to do with Newton's performance this season. The first-overall pick has not disappointed, as he has broken just about as many records as he has tackles, and has been a lightning bolt to most NFL defenses. Through the air or on the ground, the Newton-Offense is nearly impossible to stop. He has even made Steve Smith a relevant and dangerous receiver again.
Newton has doubted in college, doubted at the draft, and doubted in Carolina, but he has delivered on every level, but he still was snubbed from the Pro-Bowl.
Willis McGahee, RB, Denver Broncos 
In regards to a player saving his career, Willis McGahee's name should be at the top of that list. Since leaving Baltimore, McGahee has exploded in Denver as an all-purpose back. Call it Tim Tebow, call it luck, but McGahee has been a monster this season and the Broncos wouldn't be where they are without him.
Then again, even I had a hard time looking through the Tim Tebow hype.
Darren Sproles, RB/KR New Orleans Saints 
It's really easy for quality talent to be over-looked in New Orleans, mainly because there seems to be so much of it. But Sproles, who is often not mentioned in the Saints top players, has been total money this season. With the way that Drew Brees has been killing it, it would be easy to overlook a solid running back and an excellent returner like Sproles.
But he is there, and he is good.
Jordy Nelson, WR, Green Bay Packers 
Don't get me wrong, I love Greg Jennings, who was the receiver elected from Green Bay to the Pro-Bowl. But I also believe that a quarterback like Aaron Rodgers can make any receiver look good, but Nelson is a unique talent. There are few receivers in the league that can make big plays like Nelson can, and he has totally stepped up in the absence of Jennings these past few weeks.
Over the top, under, to the left, to the right. It doesn't matter where Rodgers slings the ball, Nelson it always there to catch it.
Cliff Avril, DE, Detroit Lions 
Many are going to be crying that I should have put Matthew Stafford on this list, but to be honest, I just don't think he deserves it. However, Avril, a very underrated defensive end, is having a mind-blowing season, but not getting much attention at all. Count 11 sacks, six forced fumbles, and 36 tackles, to a player who was thought to be middle of the road going into the year.
The Lions defense has played well this season, and a large portion of the credit should be given to Avril, who has emerged as a real threat on the Lions defensive line.
Be sure to follow Beard and Stache on Twitter @BeardAndStache, and also Troy @TroyBallards, Like our Facebook page HERE!