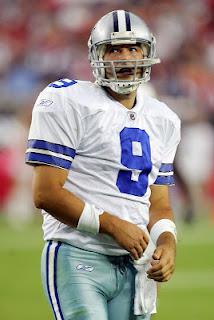 Photo: Zimbio.com
- Troy Ballard
Tony Romo is a lot of things:
- An NFL quarterback
- A new Dad
- Jerry Jones' long-lost son
- Jessica Simpson's old news
- TO's QB.. Man..
- Tough guy (debatable)
- Cry baby (debatable)
But most importantly (not that his baby isn't
the
hottest news right now), he is the quarterback of the Dallas Cowboys. A place where the media is as intense as the blazing Texas sun. A team where anything short of a Super Bowl is considered a failure. And most importantly -- a situation where Romo's free ride has come to a sudden and abrupt halt.
The bubble of Jones' protection that Romo has been living under is about to pop, and the long-time Cowboy has one last shot to save his career in Dallas. The team, and especially the fan base, have become fed-up with mediocrity and are ready to make a serious push for Super Bowl contention.
And that end to mediocrity starts with Romo.
The whole hot/cold thing that Romo does every season isn't going to fly. I'm talking about games where he starts out 8/8 with 130-yards passing and two touchdowns, then the next week he goes 1/12 with 12-yards passing and three interceptions. It's almost become a situation where the team has no idea which Romo it's going to get on Sunday, (or in rare cases the super high-intensity Romo that makes an appearance on
Monday Night Football
).
Another area of improvement that Romo needs to address is his attitude towards the media and fans. There are times during games where it is blatantly obvious that the boo's from the crowd, or the article he read in the Saturday paper, are totally in his head. This plays a major factor into his inconsistency, and he needs to learn how to deflect and ignore, as Dez Bryant would say, '
all dem haters.' 
Don't color me as a Romo hater, because I actually really like the guy. And I am not arrogant, either. I realize that Romo isn't the only issue in Dallas, and there have been games where he has rocked it, and the Cowboys defense gives up a loss. But the majority of the time, it's the Cowboys offense that isn't picking up the slack, and that falls on Romo.
The real killer is that Romo didn't even have a bad season last year. He tossed the ball for over 4,000 yards, 31 touchdowns, and 10 interceptions. Not too shabby of a season, given the talent that Romo had to work with.
It wasn't enough. Romo took a ton of flack for leading a below average and weak offense.
The Cowboys rushing attack was credible up until DeMarco Murray was injured, but after that if fell into total disrepair. Bryant was totally unreliable, Miles Austin was injured for most of the season, and Jason Witten's age is finally starting to show.
With that in mind, Romo didn't do too bad last season. But people are going to look at two numbers -- wins and losses. That's it.
But the sad fact of the matter is that the NFL is a win-now league, and Romo hasn't been won anything other than that smoking hot wife he has. In reality, he is going to get one last shot in 2012 to make a
serious
improvement with the Cowboys. If he falls short, don't expect Jones to hand him any favors, and more than likely, Romo would end up unemployed.
If he does lead the Cowboys to something more than a playoff-missing or one and done season, maybe Jones can keep his long lost son around in Dallas for a few more seasons. After all, he already has the Christmas cards printed.
Be sure to follow Beard and Stache on Twitter @BeardAndStache, and also Troy @TroyBallards, Like our Facebook page HERE!