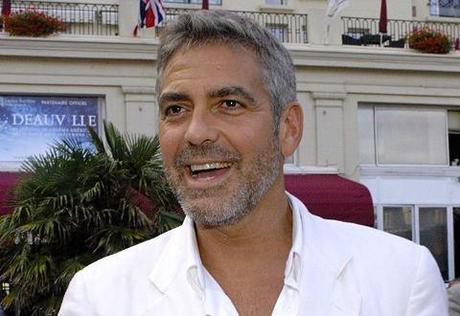 George Clooney: Oscar-worthy?
French black-and-white silent film The Artist firmed up its credentials as Oscar front-runner with a leading three Golden Globe awards, which were dished out Sunday night by comedian Ricky Gervais in Beverly Hills. The Descendents, another leading Oscar candidate, was awarded the Best Dramatic Feature prize and its star George Clooney walked off with the Best Dramatic Actor gong.
Much of the pre-Golden Globes chatter had focused on whether emcee Gervais would offend Hollywood A-listers with stinging joke at their expense as he did last year. But Gervais generally and some say, disappointingly, played it safe: Screen International's Jeremy Kay said he'd been "declawed." "He went from supervillain to eunuch in the space of one year," sniped Nikke Finke at her snarky Deadline Hollywood live blog.
The Artist was named Best Comedy or Musical and also earned statuettes for lead comedy or musical actor Jean Dujardin and composer Ludovic Bource. Meryl Streep was named Best Dramatic Actress for her portrayal of ex-British Prime Minister Margaret Thatcher in The Iron Lady and Michelle Williams prevailed in the musical or comedy category for her turn as Marilyn Monroe in My Week With Marilyn. In the other key categories, filmmaking legends prevailed: Martin Scorsese was named Best Director for Hugo, Woody Allen landed screenplay honours for Midnight In Paris and Steven Spielberg's The Adventures Of Tintin took the animation prize.
"I want to thank everybody in England who let me trample all over their history," joked Streep in her acceptance speech.
In the TV categories, British talent and productions fared well. Downton Abbey was named best mini-series, Kate Winslet (Mildred Pierce) won best actress in a mini-series and Idris Elba scored for his turn as a rugged detective in mini-series Luther.
The Artist  versus The Descendants. Peter Bradshaw of The Guardian said that the Golden Globes indicate that The Descendants has a real shot at Oscar glory. "Some commentators this morning are saying that Michel Hazanavicius's glorious silent movie The Artist was the evening's (and by implication probably the year's) clear winner with its three awards … I'm not quite so sure about this. Famously, the Globes distinguishes between drama and comedy or musical, and Alexander Payne's bittersweet The Descendants has won convincingly in this first category, taking home best picture and best actor for its star, George Clooney." Bradshaw suggested that The Artist and The Descendants are locked in a battle for the best film Oscar: "The Artist is fractionally, but I think only fractionally, ahead of The Descendants in the race for which film gets to be the single headline winner of this year's award season. Cynics can see that both films have that vital upper-middlebrow off-mainstream quality – a cut above, but not too challengingly difficult – that can capture the award-voters imagination … The Artist is still ahead of the field. But I think it could be a neck-and-neck race between Jean Dujardin in his dinner jacket with his dog under his arm, and George Clooney in his Hawaiian shirt."
Golden Globes are an unreliable bellweather. Christy Grosz of Variety reminded readers not to read too much in to Golden Globes results when predicted Oscar gold: "though once considered a precursor to the Academy Awards, the Golden Globes have become merely a complementary event since Oscarcast moved from March to February in 2004. Instead of Globe winners getting trophies while Academy voters still have a month to fill out ballots, Oscar voting closes on the eve of the Globes telecast." With that in mind, Grosz encouraged yesterday's losers not to feel too downcast given the Globes have lined up with the Oscar's best picture only twice in the last decade, "when 'Lord of the Rings: The Return of the King' swept the Oscars 2004 and 'Slumdog Millionaire' took home multiple statuettes in 2009."
Virtually lifeless awards show. Brian Lowry of Variety described the televised awards ceremony as "lifeless" largely due to the fact that Gervais didn't get mean. "With people anticipating another celebrity flaying, Gervais reserved his harshest barbs for NBC and the Hollywood Foreign Press Assn., exhibiting his iconoclastic streak by (repeatedly) biting the hands feeding him. 'So, where was I?' he began, before likening the HFPA to the corrupt immigrants in 'Boardwalk Empire' and quipping that the Globes are to the Oscars 'what Kim Kardashian is to Kate Middleton,' which actually sounds about right. In terms of naughtiness, Gervais danced up to the line with jokes about Justin Bieber and the Jodie Foster-directed 'The Beaver,' but otherwise – except for a later expletive – there was little to make the room or censors blanch … Beyond Gervais, the show was virtually lifeless, characterized by lots of acceptance speeches that droned on without a hint of spontaneity or magic … little reinforced the customary 'expect wackiness' vibe."
Nude dresses in vogue. Monica Corcoran at Deadline Hollywood concentrated on who wore what on the red carpet. She lamented that the red carpet "felt more like a Baltimore debutante ball than a ribald Hollywood awards show. Updos didn't crest like tsunamis, diamonds seemed to be hibernating, and the only cleavage worth ogling came compliments of Sofia Vergara and Salma Hayek." Turning to trends, Corcoran noted the sheer number of nude tone dresses. "But a bevy of blush gowns hardly induces fashion envy. Charlize Theron, Angelina Jolie, Kristen Wiig and Kate Beckinsale all chose the tame epidermis hue, though Jolie's slash of crimson at the neckline of her Atelier Versace gown — like a gash to her clavicle — certainly added Shakespearean drama." Corcoran singled out "statuesque fashion-forward icon" Tilda Swinton, who wore an ice blue Haider Ackerman skirt suit, as her best dressed celebrity: "The red carpet always seems to part for Swinton and she deserves it."
White hot looks. Sarah Fitzmaurice of The Daily Mail picked up in the trend for pale looks: "stars shied from color stepping out instead in pale, cool and snow-inspired hues for a series of white hot looks." Fitzmaurice insisted that Theron "wore one of the most dramatic dresses of the evening and her Dior couture gown set the tone for the plethora of stars stepping out in light coloured ensembles."